I'm a big fan of VLC and know you are too, Dave, but one thing I've never figured out is whether there's a way to use VLC to watch a movie, but Cast it via Chromecast or share it via AirPlay from my Mac?
You're spot on that I am a big fan of VLC, the open source video player that can handle just about every possible video format on the Internet, along with tons of additional useful features and capabilities. It also works great on Windows, MacOS, you name it. All free to download at videolan.org. Really, one of the best open source apps I use on a daily basis.
Having said that, however, the user interface does take a bit of getting used to, and while it supports Chromecast, it's incredibly non-obvious where that feature is found, to the point that most people have probably long since just accepted that VLC and Casting are just not compatible. To be fair, there's a new 4.0 release of VLC coming some time this year – 2021 – that is supposed to introduce a completely new user interface, but whether that makes Casting and AirPlay easier remains to be seen.
So for now, let me show you how I "Cast" my VLC window to my Vizio TV with built-in Chromecast and then how I use AirPlay on my Mac to also push out the video window onto my AppleTV device…
HOW TO CAST A MOVIE FROM VLC WITH CHROMECAST
Let's start out with a baseline. Here's VLC on my MacOS 11 system, ready to play a movie: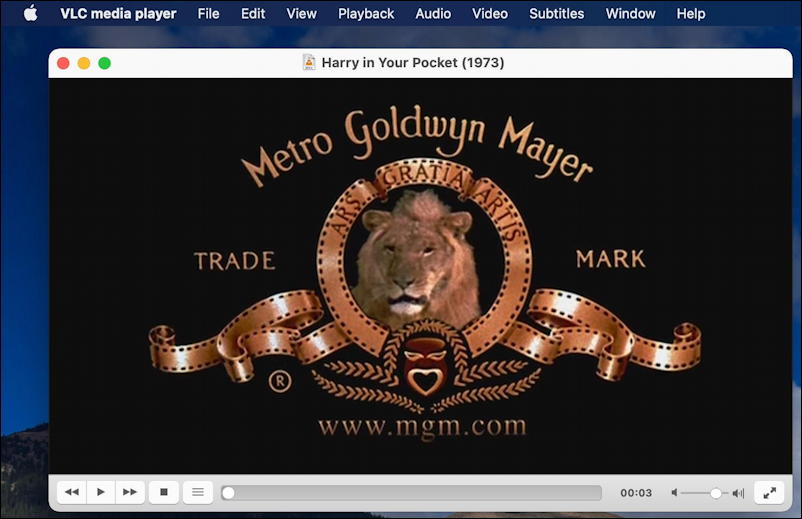 In this case, it's the amusing 1973 comedy Harry In Your Pocket starring James Coburn, as shown in the title bar. The play controls, volume, progress bar, even full window zoom feature are all along the bottom, so it's pretty darn easy to work with. But notice along the very top: The Mac version – VLC Media Player – has quite a few menus because it's really incredibly flexible.
To Cast the video to a Chromecast capable device, bring up the "Playback" menu: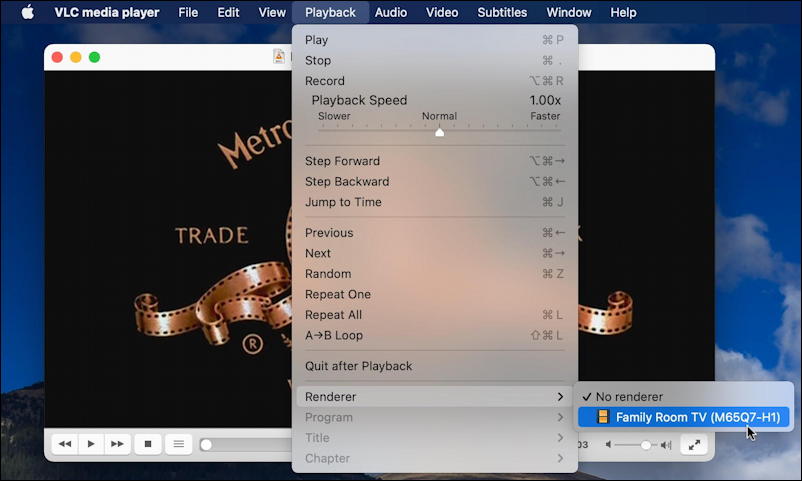 If you choose "Renderer" from the Playback menu, it will list the Chromecast capable devices it can find on your local wifi network. Does it list them as "Chromecast" or does it prompt "Cast to…" or have anything that would clue in a user that "Renderer" is also "Cast…" or similar? Nope. Again, my hopes are that this is one of the obvious things to fix in the next version of VLC.
Be that as it may, however, choose your Cast-compatible device — in my case "Family Room TV (M65Q7-H1)" — and that video window will be wirelessly sent to my TV, along with the audio. Easy, really! Here's the result: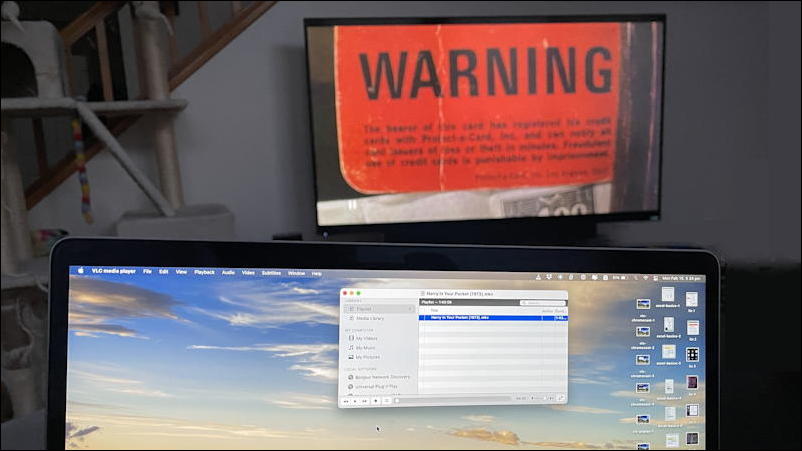 Yes, the "Warning" is from the opening titles of Harry In Your Pocket, not some sort of VLC warning!
Notice on the source computer that you still have all the controls. You just get the playlist window with the controls (rather confusingly) on the bottom: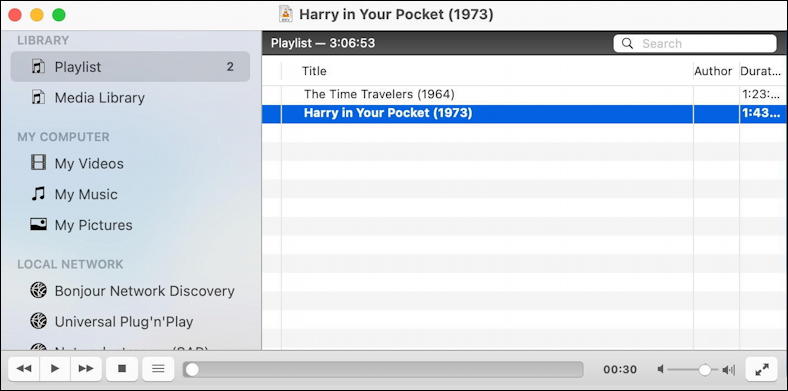 That's it. That's how you "Cast" a video from VLC directly to your Chromecast-compatible device. In my experience it works great and is a rock steady connection with no hiccups, glitches or other problems. I like watching a movie while I'm working on my computer too, so it's a great matchup.
HOW TO VIEW A MOVIE FROM VLC ON YOUR TV VIA AIRPLAY
While Apple traditionally holds its tech licenses pretty tightly, there are quite a few open source AirPlay programs available for various platforms. Why none are integrated into VLC is a puzzle, however. Indeed, what I would like to see is a new button right on the player bar that is a "share" icon and offers quick access to both AirPlay and ChromeCast for its many, many fans. Perhaps some day.
Meanwhile, the easiest way to push out your VLC movie to your AirPlay compatible receiver, either an AppleTV unit or a TV like the Vizio that has AirPlay built in to the system, is to use the MacOS AirPlay screen sharing feature. It's accessible right from the Control Center, which you bring up by clicking on the two tiny switches icon on the menubar: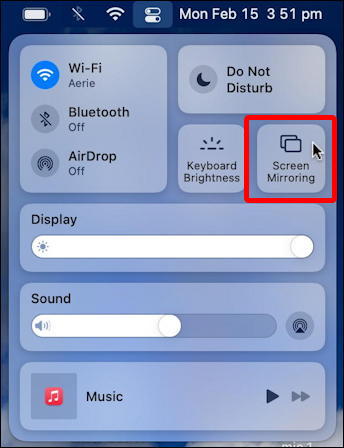 As highlighted, choose "Screen Mirroring". If it's not showing up or isn't clickable, check to ensure that your AirPlay receiver (TV, AppleTV) is on the same wi-fi network as your computer. That's a must for any screen sharing, either AirPlay or Chromecast.
Click on "Screen Mirroring" to proceed and you'll see a list of known AirPlay devices: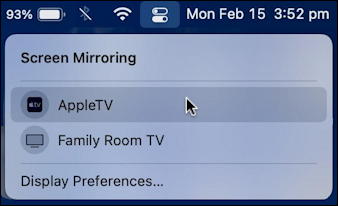 In this case I can go straight to my television by choosing "Family Room TV" (note it's a different name than earlier with Chromecast) or just choose my AppleTV unit, ingeniously named "AppleTV". I'll choose the former and the TV flickers into life and shows either my actual desktop on my computer or a new, separate computer display screen with menubar, etc. The Control Center view changes too: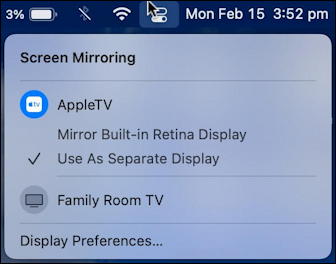 Since I want to keep using my computer while I'm watching, I choose "Use As Separate Display" but it's certainly easier – and darn useful – to use "Mirror Built-in Retina Display" so someone can watch on TV what you're doing on your computer. If you're using it as a separate display, you can now drag the VLC playback window onto the second display (TV), then click on the double arrow to maximize the widow and press PLAY to get started with your movie. If you're mirroring, just expand and play directly!
Having sound problems? On a Mac go into System Preferences > Sound and ensure that your output is set to the TV or remote device. On a Windows machine you can do the same from Control Panels > Audio (or just search for 'speaker' in Control Panels).
That's it. You're up and running, either with AirPlay or Chromecast. My experience is that Casting works much better, but I have colleagues who swear AirPlay is more stable, so try one and if it's problematic, try the other! And now, back to that movie…
Pro Tip: I've been writing about VLC for years. Please check out both my Mac help area and Windows help area for lots of useful tutorials on this program and many, many other common problems and challenges while you're visiting! Thanks.