Is there any way to boost or promote a particular tweet on Twitter? Is that done through Twitter advertising?
You're asking a question that warms the hearts of the people at Twitter who are responsible for the company actually earning money, not just sharing crass one-liners and the latest breaking news, real or fake. When you look at your Twitter feed you might think it's just a "fire hose" of information displayed purely in temporal order, but there's more going on behind the scenes and a number of different ways you can get involved for your business too.
Not only that, but you aren't limited to promoting or boosting tweets you've already sent out, you can also create tweets specifically for a Twitter advertising campaign too, or, smarter, create a batch and let the Twitter ad engine test and identify which gets the best result through analytics.
But let's start at the beginning. I'm going to promote one of my tweets already published, since that's probably the easiest, and to do that, I'll start by going to the ad engine:
Once you get to the twitter advertising area, it's a whole different world to the rest of Twitter, on its own URL and with a somewhat different interface too. To get started you need to click on "Create campaign" on the top right, as shown:
Once you specify that, you'll get an informative screen that lets you choose the type of campaign you want to launch based on your goals: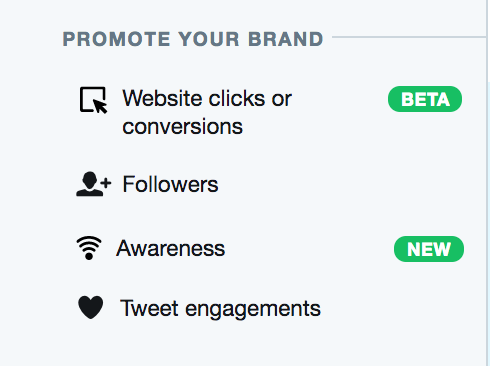 In my case, the purpose of the tweet I want to promote is to get people to click on the link and visit my Web site. Your goal might be different, but let's assume it's the same. Click on "Website clicks or conversions". Here's the helpful info from Twitter: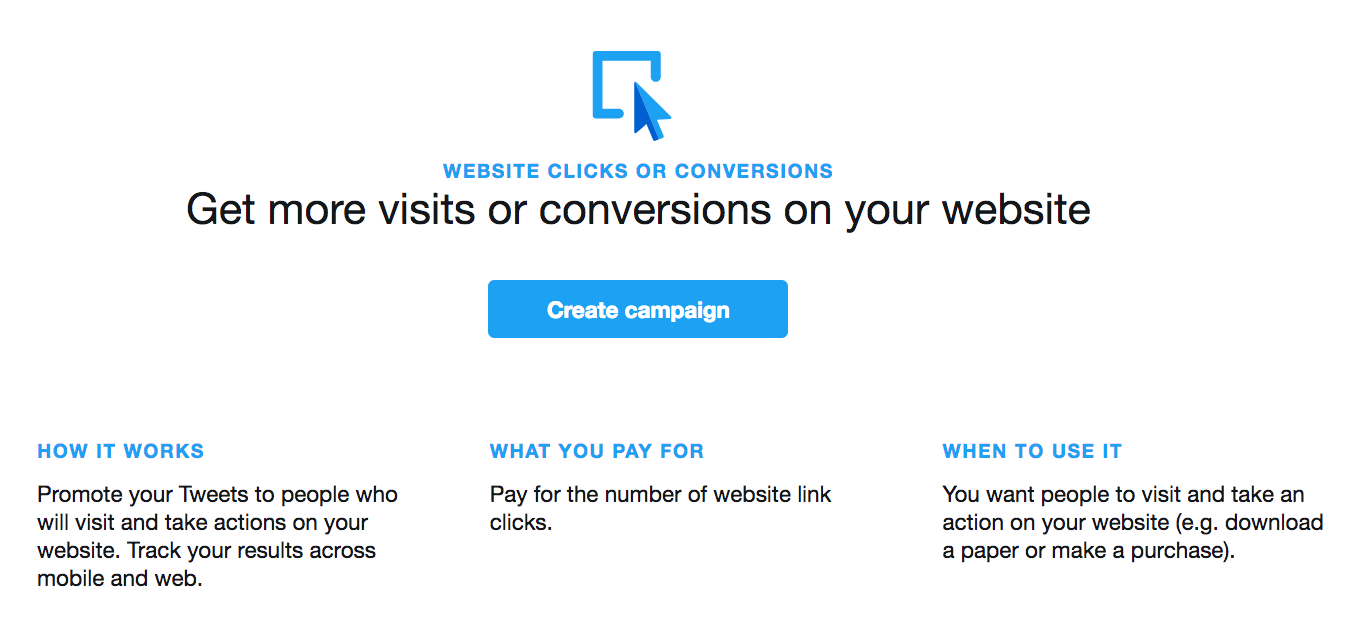 Almost ready to actual start setting things up (yes, it's a bit tedious, particularly compared to the simplicity of Facebook's "boost post"). Now, finally, you're in campaign setup!
There are four parts to setting up a Twitter campaign, so let's go through them one by one. To start, give your campaign a name and decide if you want to start immediately or specify a start and end date: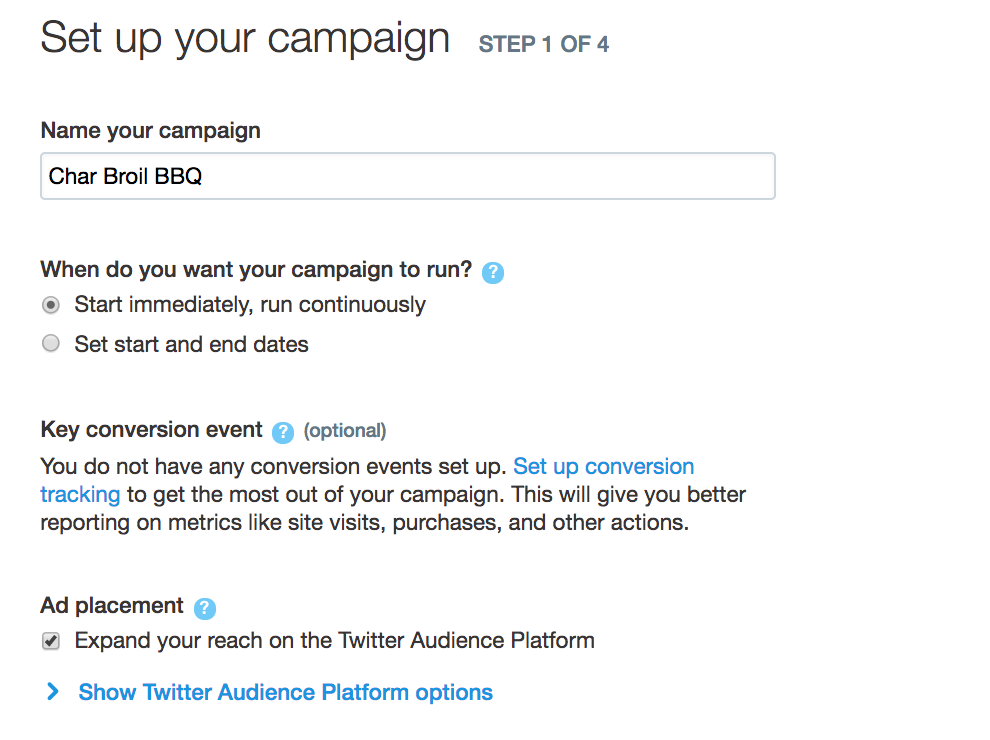 Next up is the most interesting part, in my opinion, specifying the characteristics of your audience. For my Char-Broil BBQ campaign, I'm going to specify a male audience in the United States: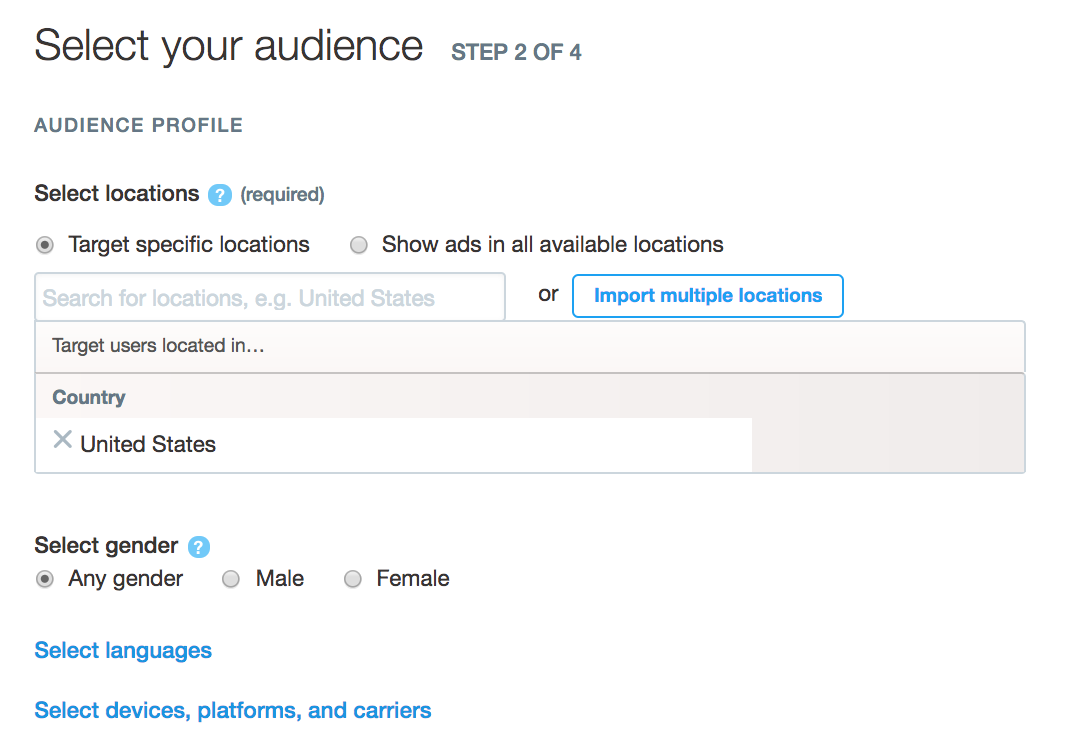 Further down are more demographic options, which is where it can be really open to your creativity. I'm going to specify that the people who see the sponsored tweet have already indicated they're interested in cooking too: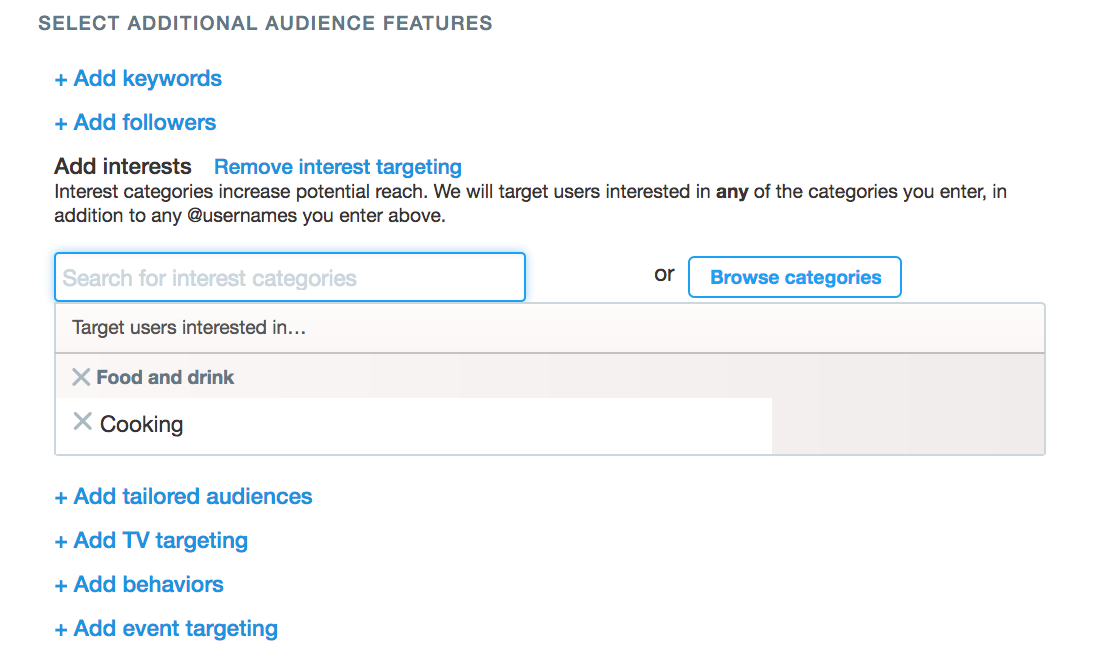 As you can see, you can add keywords, specify only people with a small – or large! – following, specific interests, TV focused targeting, behaviors, and even specific events, if you want to advertise associated with a specific event like a movie opening or a music festival. Cool!
As you proceed, Twitter shows you a running estimate of audience size: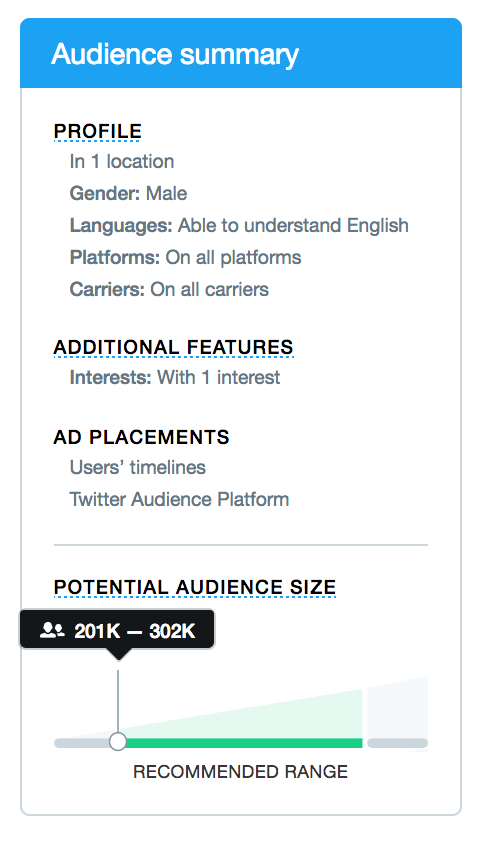 Looks good to me! Next step – and for many people the most important – is to set your ad budget for this campaign. As you can see, you can specify a daily or overall budget, or both. I recommend that you always specify a total budget so you have no surprises when the bill arrives: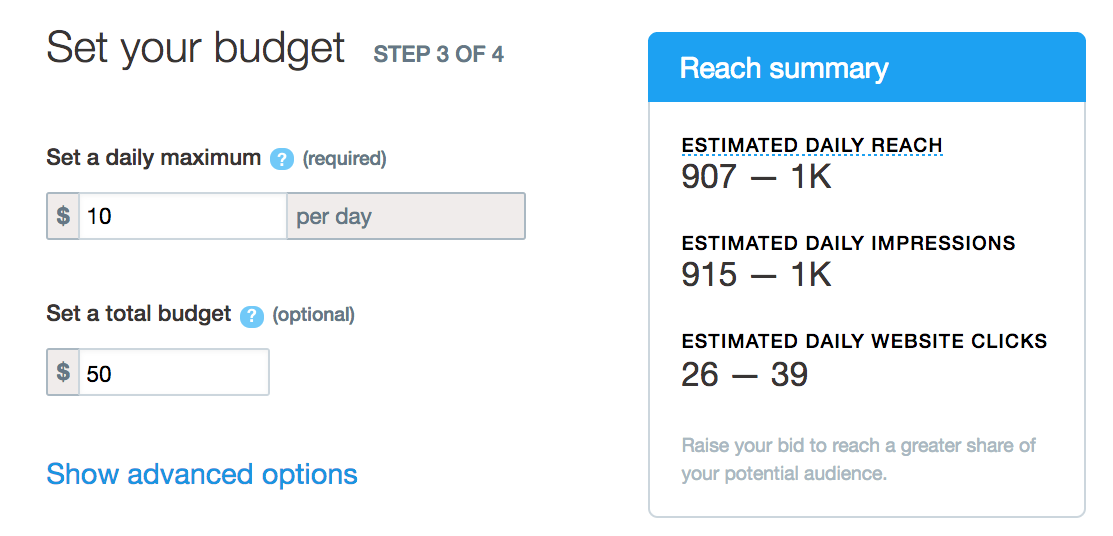 Notice here that once you set the budget the estimated reach can change too. A bit weird, but if you pay more, you get seen by more. Also, you can see that I've specified a total budget of $50: you don't need to have thousands of dollars to advertise on Twitter!
The fourth step is to choose or create your actually ad creative, the tweets that will be shown to people who match your demographic and psychographic characteristics:
Because I'm going to promote an existing tweet, I'll need to change "Promoted-only Tweets" to "Organic Tweets" as shown:
Ah, there's the tweet I want to promote, the one with the chicken on the grill. To select, I simply click the tiny checkbox on the left edge. There are actually two tweets I'm going to slip into this campaign: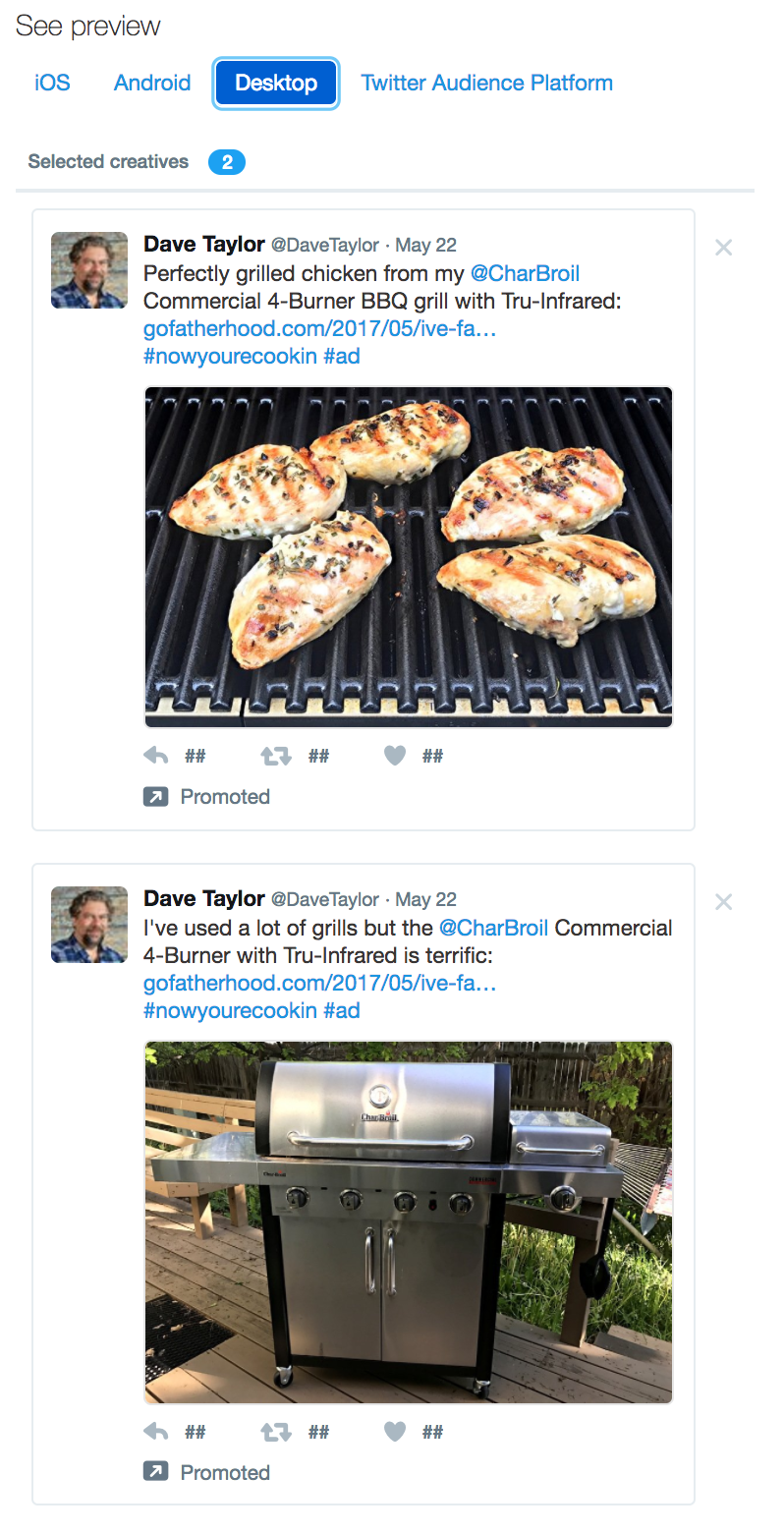 Looks good! Two interesting photos, two different tweets. Let's pull the proverbial trigger!
That's done on the very top of the page:

See the green "Campaign is ready to launch"? It's a lie. You'll find that out when you click "Save" or "Launch":
Really, could they have come up with a less helpful error message? After much digging, I realized that the problem was back at step #1, where it showed "Show Twitter Audience Platform Options" there are some hidden – but critical to specify – values: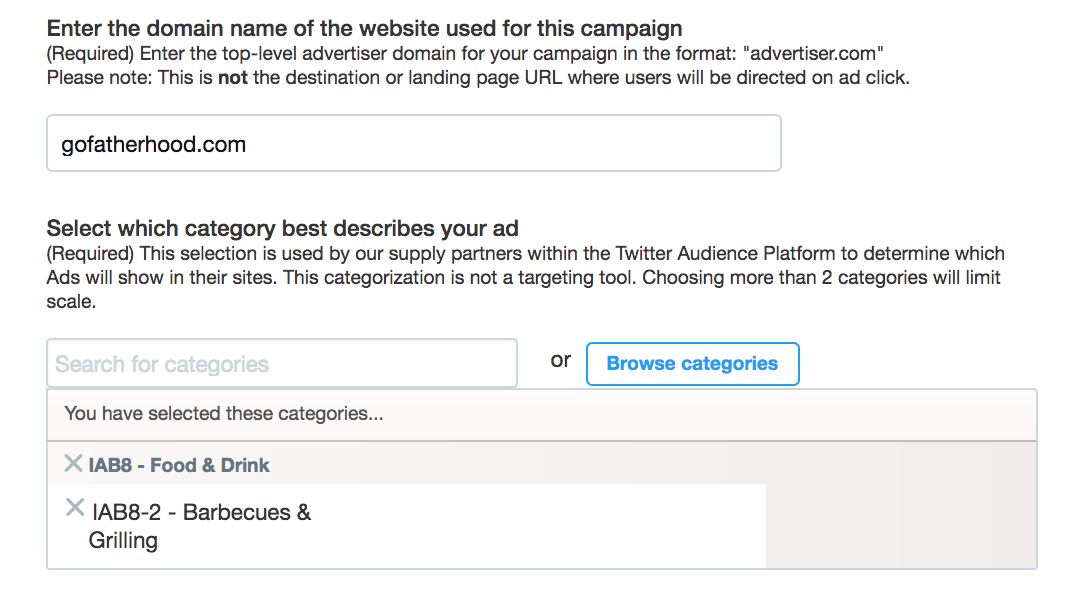 Once you have those specified, you're finally read to launch your ad campaign. Click on "Launch" and this time it goes live and starts to log user activity when shown your tweet or one of your set of tweets. That's it. Now let it run for a few hours or a day, then go back into the ad engine and you can see your analytics. Hopefully your ad will go great and drive lots of traffic!