I have 2-step verification enabled on my Amazon account so that when I go to log in, it also asks for a PIN code that is sent as a text message to my phone. Nice and secure. Except when I downloaded the Kindle app for my new Windows tablet, it doesn't know how to work with the 2-step verification and won't let me log in. Dumb. How can I log in so I can read my Kindle books on my Windows tablet??
Amazon isn't the first company to offer the improved security of 2-step verification in a way that results in all of its apps to then have to be updated rather significantly to support the better user security system. The idea of 2-step verification is certainly easy, moving your security to a "what you know" and "what you have" status. You log in regularly with your account and password (the "what you know" part), then the server sends a 4-6 digit one-time code to your cellphone (the "what you have" part) that you then also enter on a secondary screen to prove you're the real user.
Unless the app doesn't support the greater security, in which case you're somewhat left in the cold.
Different companies deal with this situation differently. Google has you create temporary passwords on a per-app basis, but what Amazon does with the Kindle app is rather unique: you actually append the code sent to the end of your password to log in to the Amazon system within the Kindle app itself. Weird.
It's best shown, so let's have a look.
First off, your nemesis, the Kindle app for Windows:
Okay, so "nemesis" might be a bit strong!
In any case, tap on it to launch the Kindle app and it shows a generic startup window: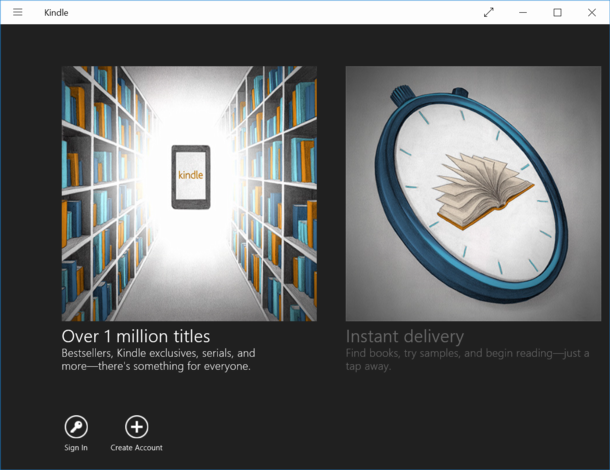 Since you already have an Amazon account, you want to sign in, accomplished by tapping on the "Sign In" button on the lower left.
This produces a login screen, nothing exceptional here. I'm logging in myself…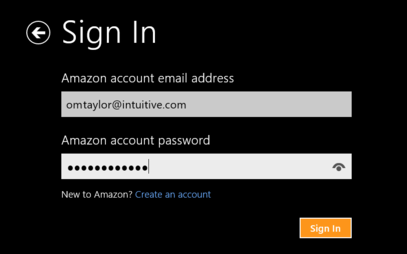 A click on the bright orange "Sign In" button and it should proceed to the send a secret verification code phase, right?
Well, sort of. Instead of it going to a second screen and saying "code sent, enter here", however, it just shows a failure message: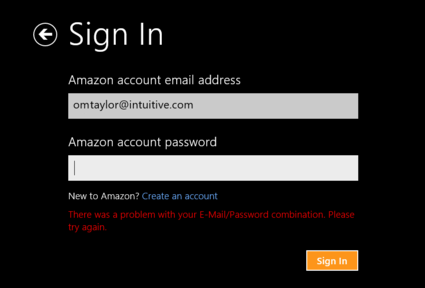 (yeah, red on black is hard to read. Amazon, are you paying attention?)
What's important to know, however, is that simultaneous to you getting the error message "There was a problem with your E-Mail / Password combination. Please try again." you're also getting the secret one-time numeric code sent to your smartphone! In fact, here's what showed up on my iPhone screen:

Ah, now we can proceed. As I said earlier, the key is to append the secret code to the end of your password. So if your password was "BigDog1" (not a great password) then you'd use "BigDog1812994" as the password to log in to the Kindle app on your Windows 10 tablet.
Once you do that, lo and behold, it works and I'm logged in!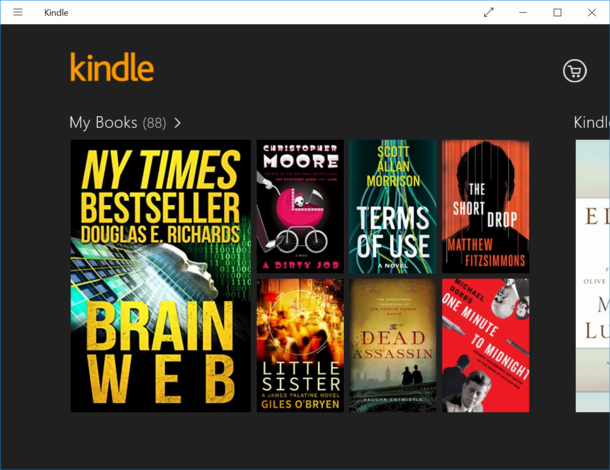 So that's the secret for logging in to your Amazon Kindle account from the Win10 Kindle app. Not so obvious at all, but with some careful typing as you enter your password, it should work fine!