My Apple Watch Edition is on order and I'm psyched to get it. In a month or so. Stinks. In the meantime, I keep reading about apps that are great for the Watch. Is there any way I can start downloading them so that they're ready to copy when the device finally shows up?
Congrats on your Apple Watch acquisition and sorry for the wait. I know what it's like: here at AskDaveTaylor HQ we ordered an Apple Watch within five minutes of pre-orders becoming available and are still waiting for it to show up. Fortunately we did get a ship notice earlier this morning, so that's good, but we want it in house, not just in some UPS plane flying around the United States!
And an "Edition" unit. Nice. They're definitely smart looking and assuming that the Apple Watch lives up to its hype and promise, it'll be a very smart smartwatch indeed.
In terms of preparing, the first thing I'd suggest is that you go ahead and order yourself a second charging cable. You know you'll want one at the office or in your car, so easier to get that ordered now than have to wait for it and be frustrated. Here's a handy link: Apple Watch Magnetic Charging Cable.
The app situation for the Apple Watch is a bit fuzzy at this point. Apple's said that there are over 3,000 Watch apps available already, but most of them seem to be existing apps (Instagram, Twitter) that magically know how to format their data if run on a Watch. So it's likely you already have a lot of "Watch friendly" apps if you have an iPhone or iPad.
Go into iTunes on your Mac or PC, however, and you'll find that you can't search for apps that are also Watch friendly, though you can get the App Store app for your iPhone to get 'em: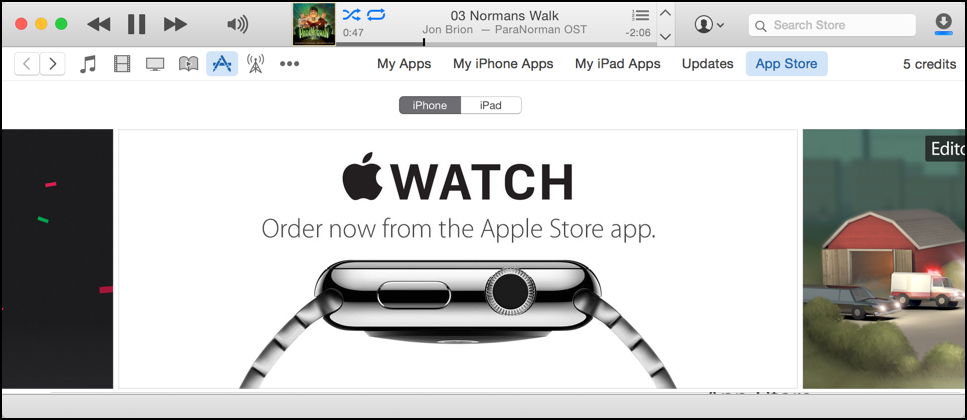 Marginally helpful, I suppose.
The best option, however, is a new app that just magically showed up with the latest iPhone iOS update: Watch. The icon for this iPhone app looks like this:
Click on it – you can launch it even if you don't yet have your Watch – and you'll see a help screen:
The secret is the buttons along the bottom, which are enabled. Click on Featured, the icon with the star symbol, and you'll suddenly be in the Apple Watch App Store: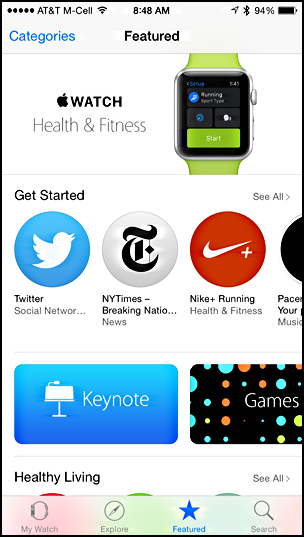 Now you can peruse to your heart's content, finding good apps, games, utilities, and other software that you can queue up to copy to your Apple Watch Edition once it shows up.
For example, the NYTimes app is well reviewed by early Apple Watch owners, so let's tap on it to learn more about it:
Looks like it has 78 reviews and an average of 4.5. Not too bad.
I'm not a fan of in-app purchases but they're usually easy to sidestep as needed, and heck, you can always delete the app if you don't like it once you get your iWatch, right? Oh, oops, I mean "Apple Watch". 🙂
To save the app, ready for loading, simply tap on the "Open", "Buy" or, in this case, cloud icon with the downward arrow (which denotes that I've previous acquired or downloaded this app but don't currently have it on my iPhone). It then downloads…
That's it. Once you sync your Apple Watch Edition (or any other version) with your iPhone, you should be able to decide which of the Watch compatible apps you want to copy onto the device. Easy.