I'm a bit confused. I find cool pictures and choose "Set as Wallpaper" on my Linux PC. Works fine. Until I change it again, then the system's forgotten the previous image. How can I build a library of wallpapers? Running Ubuntu on an Intel system.
As you have learned through experimentation, there are two types of desktop wallpaper in Ubuntu Linux: permanent additions to your system's wallpaper library and temporary images that are set until a newer image is selected. What's a bit frustrating is that the temporary wallpapers process is much more obvious and easier, which undoubtedly causes many users to be surprised and frustrated when their favorite new wallpaper vanishes without warning. The important difference is whether you're setting an image as the wallpaper or adding it to your wallpaper library.
Let's have a closer look with the latest version of Ubuntu Linux and you'll see what I mean…
HOW BIG A WALLPAPER IMAGE?
The question to ask before you proceed is how big your wallpaper needs to be so it looks crisp and sharp on your computer. That's easily ascertained by going into Settings, actually. Choose "Display" and it will show your current monitor resolution:
You can see above that my display is running at 1728 x 1080. This means that I need a wallpaper that's at least that resolution. Conveniently, 1920 x 1080 is "full 1080p HD resolution" and is bigger than my display, so it'll work perfectly. In fact, it's a very common size, as is obvious when I do a Google image search for "wallpaper" and it suggests the dimensions as part of the search:
I like space themes and sci-fi so I'm searching for "alien landscape wallpaper". You can choose "beautiful flower gardens" or "cute kittens" or "sunsets" or anything else. There are billions of images in Google image search so you definitely will not stump the search system.
GETTING TO THE ACTUAL WALLPAPER IMAGE
What you're seeing displayed in the search results is a thumbnail generated by Google's internal engine, so you don't want to just save the image you like. You want a bigger version! Click on one that appeals and a window with more information will appear: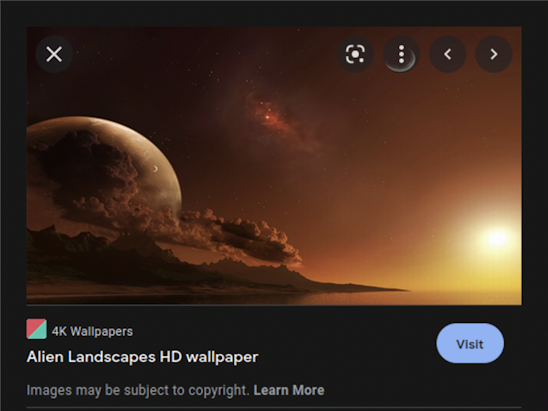 For smaller image tasks like placeholders in documents, this slightly larger image works fine: Just click and drag it onto your Desktop. But for a wallpaper, getting the largest possible resolution will yield the best results. Click on "Visit" to visit the site instead. In this instance, it's 4K Wallpapers and the wallpaper shows up completely surrounded by ads and other content. I'm just showing the key info: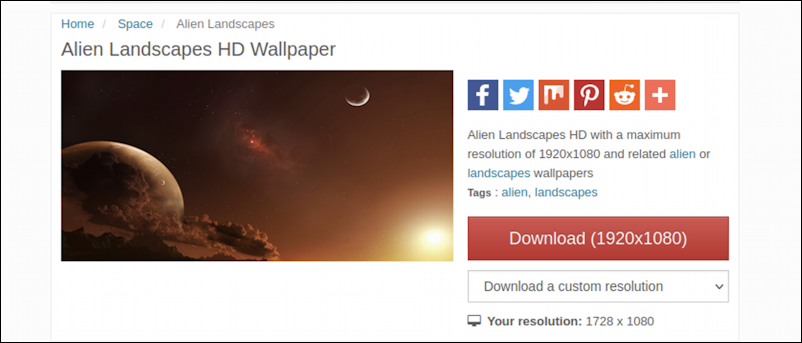 These sites are built with the intention of bringing traffic to monetize through ads, but they do have large libraries of great wallpaper images, so there's nothing wrong with their approach to making a buck or two, right? Anyway, you can see that it's auto-detected my screen resolution, which is pretty slick. The default download is 1920 x 1080 and that works fine. Click on "Download (1920×1080)" and it… opens up the image in another tab!
Right-click on the image once it loads and you'll be at the fork in the road that causes so much wallpaper confusion in Linux: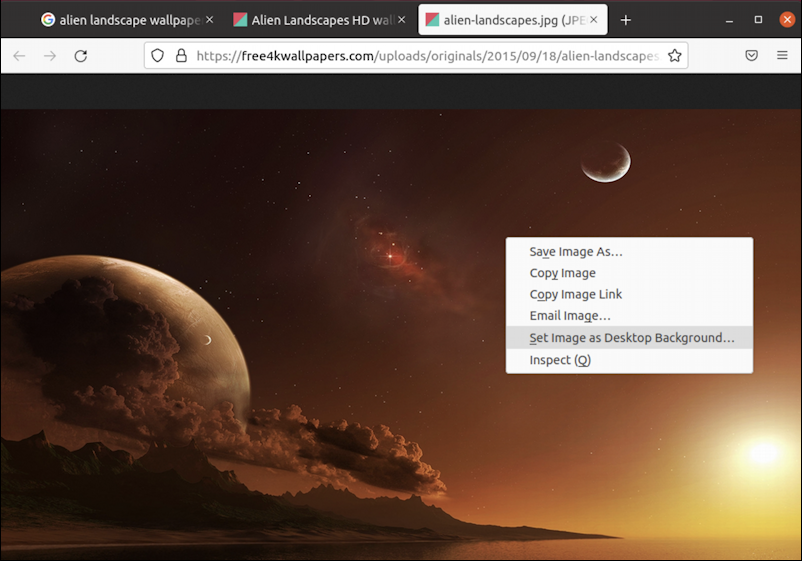 As you can see, there are two useful choices: "Save Image As…" and "Set Image as Desktop Background…". Choose the latter and this window pops up: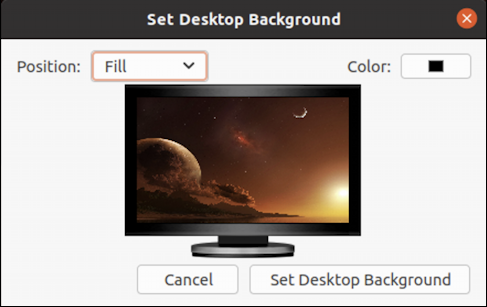 Seems like the right path, but it's not. This is the way to have your beautiful new image be temporarily set as your desktop wallpaper, to be forgotten as soon as you choose another image. So how do you add it to your wallpaper library instead? Choose "Save Image As…" and save the image to your Downloads folder.
CHOOSE A WALLPAPER WITH SETTINGS > BACKGROUND
Now the most important step: Go back into Settings and this time choose "Background" on the left side. It will show all the default Ubuntu wallpaper images: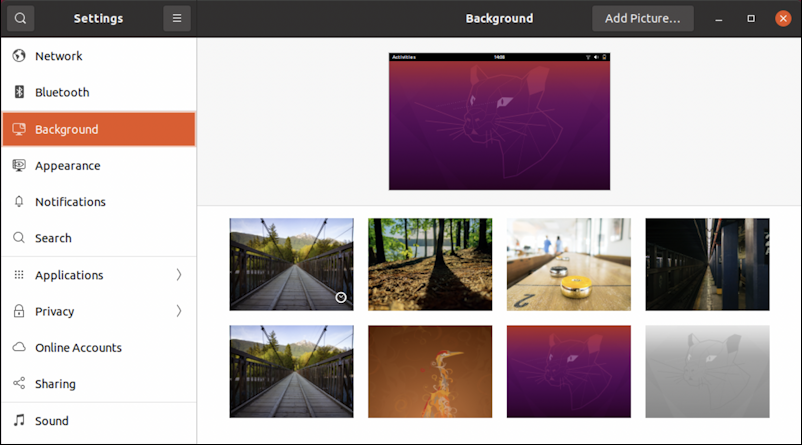 It's not immediately obvious, but there's an "Add Picture…" button on the top titlebar (what it's doing on the titlebar is baffling, but that's another story entirely). Click on "Add Picture…" then navigate to the Downloads folder:
There's our image! Sweet. Choose it, and it'll show up in the settings window but won't actually be set as the wallpaper. No worries. Simply click on it and you'll choose it as your wallpaper:
This time, however, if you choose another wallpaper, this image remains in the library and can be then chosen another time if you prefer. Over time, you can build up a great library of beautiful wallpapers using this technique!
Pro Tip: I've been writing about Linux since the dawn of the operating system, and Unix before that. Please check out my extensive Linux help area for lots of additional tutorial content while you're visiting. Thanks!