My parents are traveling in Africa and I want to be able to quickly see what the time is where they are in Johannesburg, South Africa, before I try to text or call them. I know that the iPhone has a Clock app as part of the built-in software, but how do I add a specific country clock to the list?
I've been a fan of the Clock app since I first got my phone, actually, since I live in MST, my parents live in PST and my sister lives in AKDT. To keep track of what time it is for everyone, it's darn helpful to have a clock app that shows all the different time zones at once. When World Cup action was happening, I added Johannesburg too, so I could figure out the time difference during matches.
It might be that I'm a inveterate tinkerer and am constantly fiddling with my gadgets, but if you've figured out how to manage your phone favorites, you've got 90% of the skills you need to figure out how to add or tweak your clocks. If you've added a new weather location in the iPhone weather app, you're at 100%!
Let's have a look so you can see what I mean.
When I launch the Clock app and tap on World Clock on the bottom, here's what I see: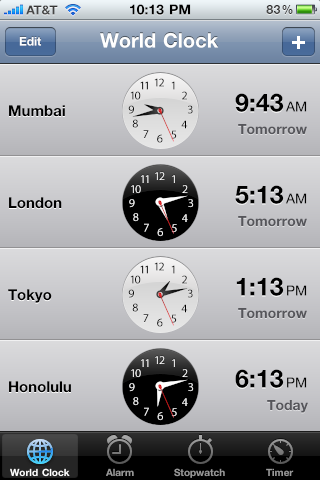 As you can see, I am currently tracking the time in Mumbai, India, London, England, Tokyo, Japan and Honolulu, Hawaii. Why? Not sure, actually. Two are on my want-to-visit list, and two I've been to more than once.
Notice that the app tracks daytime/nighttime: black faced clocks denote that it's nighttime in those cities, while white faced clocks indicate daytime. Helpful if you do international work!
Tap on the "+" button on the top right and you'll be at a data input screen:
Enter the first few letters of the city you desire – in this case "jo" – and it'll pop up with a list of matches: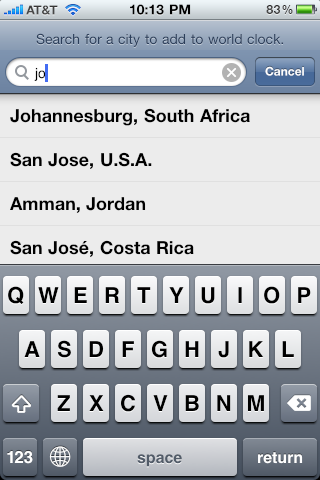 Tap on the matching city "Johannesburg", and it automatically places it at the bottom of the current city list and shows the time there: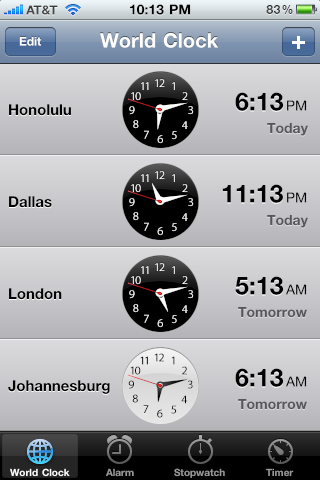 Want to make changes to the order of clocks or even remove one? Tap on "Edit" in the top left corner, then tap on the small red circle that appears on the left, as I've done with "Dallas" below: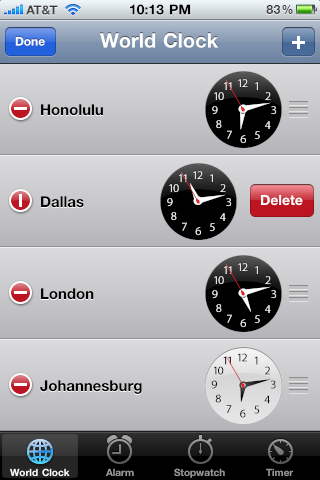 Delete that clock entry by tapping on "Delete" or reorder your clocks by tapping and dragging on the three small horizontal lines just to the right of the clock face: drag up to move it nearer the top and drag down to drop it lower down.
When you're done, remember to tap on "Done" in the top left corner.
Hope your parents have a great time in South Africa!