Turns out that even the old Kindle units can store and play some of your favorite music if you're so inclined. There's not much space on them compared to a modern iPod, however, but if you have that favorite sonata or best-of album that's great background music while you're reading or otherwise interacting with your Kindle, it can fit the bill perfectly.
For the Kindle Fire, it's easy and quite similar to the way you play music on an Apple iPad: once you start it going, you can switch to other apps (like the reader app) while still enjoying your tunes. It's all good, in other words.
There isn't yet a nice media management app for the Kindle Fire yet, however, so you're rather on your own in terms of getting the music onto the device in the first place. Fortunatley, you've found this tutorial so you're ready to go!
As a first step, plug your Fire into your computer. I'll demonstrate with a Mac, but the process is completely identical for Windows users too. Plug it in, and here's what you'll see: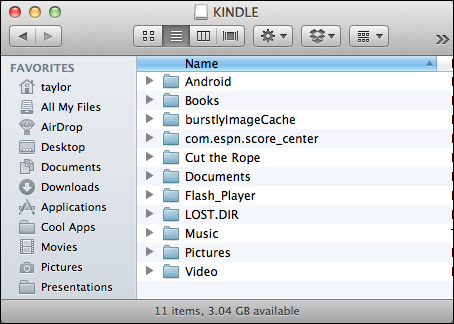 Unlike last time when we had to worry about converting the video files from AVI format to the MP4 format that the Kindle Fire prefers, this time we're going to just drag and drop our MP3 files (tip: if you have AAC files from songs you've purchased through iTunes, you're out of luck. They have a built-in copy protection and won't play on the Fire. Try ripping a few music CDs instead: the resultant music files should be in MP3 format and ready to go).
To find the music that's in your iTunes library is a bit tricky, however, because it's buried pretty deeply on your disk. Open up a second Finder window (
File
–>
New Finder Window
from the menu) and navigate thru this path:
Music –> iTunes Media –> Music
Now you should be looking at folders, one for each musician or artist you have in your iTunes collection: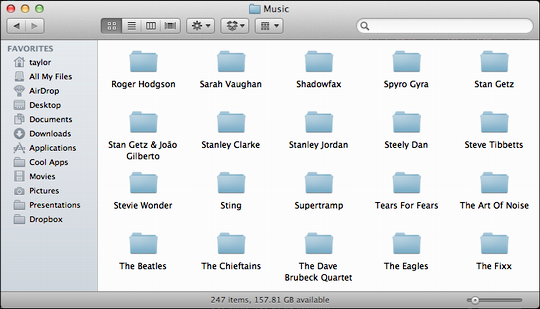 Pick an artist you'd like to enjoy on your Fire or, if you have a lot of material from an artist, open up their folder and you'll see subfolders with each of the albums you own, as I'm showing here for
Steely Dan
:
Either way, move the two Finder windows around on your screen so that you can see them both simultaneously, then drag and drop an artist folder (or individual CD folder) onto the
Music
folder on the Kindle device. I'm copying the amazing, perfectly engineered CD
Aja
from the band, one of my favorite albums…
That's it for the computer. Now you can unplug your Kindle and you're ready to go.
Oh.
Yeah, you probably want to know how to actually
play
the music too, don't you? 🙂
From the Home screen on your Kindle, look for "Music" along the top:
Tap on it and you'll move into the Music player and get a nice overview of the CDs (albums? I don't know what to call collections of music any more!) that you've dropped onto your Kindle Fire: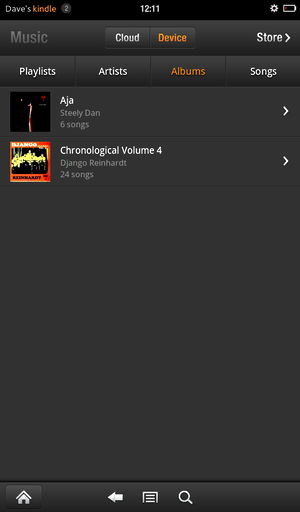 I can't imagine two more different types of music than the old scratch jazz of Django Reinhardt and the lush rock of Steely Dan, so they're a great pair. Different moods, different songs. I'll pick
Aja
…
Since I'm going to be catch up on current events, what better song than
I Got The News
? I tap on it and…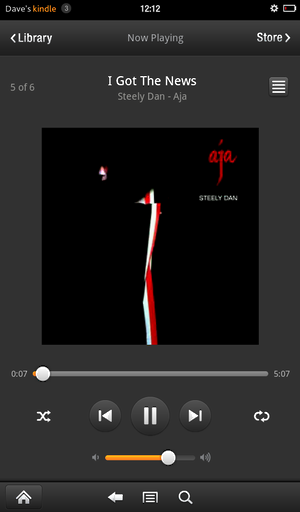 Sounds beautiful and, credit where it's due, the Kindle music player is very thoughtfully designed and easy to work with. It's a nice addition to the capabilities of the Fire, and now you know how to add your own music whenever you want.