I've been inspired by your Facebook fan page, Dave, and have one of my own. Now that I have it, though, I'd like to be able to inclue a "like" box on my blog so that people not only see a link to the fan page, but see a few members, etc. I have seen it done on other blogs but can't figure out what they did. Is it a Wordpress plugin?
This is something I've been thinking about adding to my site too, so your timing is good: it spurred me into exploring and figuring out the solution. Turns out that the capability to add a little mini-Facebook area to your blog (or any other page you manage, of course) is built-in to Facebook, but it's a bit tricky to find and, more likely than not, it'll move by the time you change it as the UI is ever-evolving. No WordPress plug-in required!
What I'm assuming is that you aren't interested in just a "Like" button, but in something that's more sophisticated and useful to your potential fans, something where they'll see it, read through what's there, and click on "join" or "like" and join your Facebook family too. Hope I'm right! 🙂
To start, go to Facebook and log in to your account. Now, on the left side, click on:

Once you click on "Ads and Pages" you'll see a list of the pages you're administering. Mine looks like this:
As you can see in the highlight, you want to click on "Edit Page" here. Now, scroll down and look on the right side for the following:
That's what we want. Click on it and if you're like me, you'll see a very slick ad box for someone else's fan page. Not sure what's up with that, but we'll fix it to reference my fan page in a second. For now, here's what you'll see: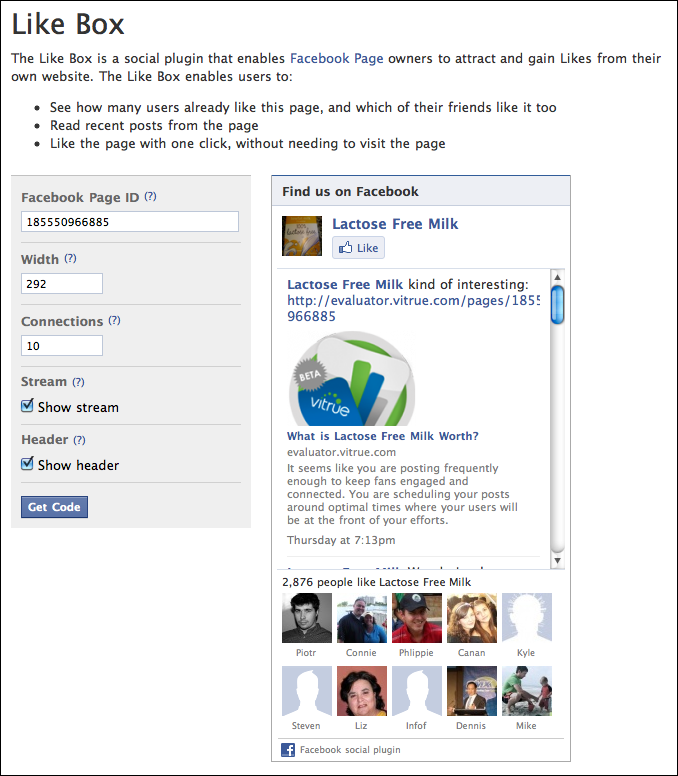 Unless you have lots of screen space to devote to this widget, I suggest that the first thing you disable is the news stream from the group. Do that by unchecking the box adjacent to "Show stream".
Now it's a bit more manageable: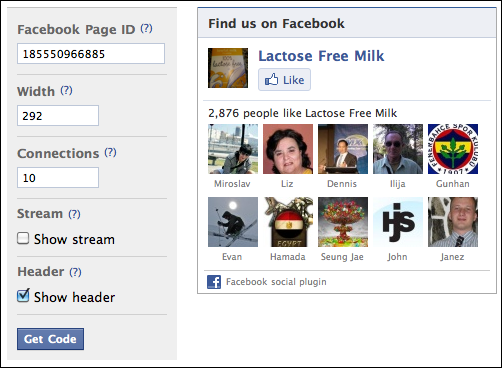 Let's fix things so that it's highlighting my Facebook fan page. To do that you will probably need to open up a new tab onto Facebook, then go to "Edit Page" again. Notice the URL address bar in the browser. It'll look like this:
The numeric sequence at the end — in this case 207652508738 — is what we need in the "Facebook Page ID" box. Select it in the address bar, copy it, then paste it into the box. Suddenly you're looking at your own fan page:
Notice here that I've limited it to show five fans, but the box hasn't shrunk down and now has some empty space. Not so good. One last tweak I'll make is to have it be a more standard 250 pixels wide by changing that field:
Looks good, so click on "Get Code" and the scary HTML pops up:
Simply copy and paste the code in the first box, an
iframe
, into the HTML source of your page or blog template, and you should be good to go!
Here's the end result:
Neat, eh?