Hi Dave! I have been getting used to a new Chromebook running ChromeOS and it's surprisingly Windows-like. But I really miss having the date along with the time on my Taskbar. Is it possible to add the date to the ChromeOS Taskbar?
You're right that ChromeOS, the system that all Chromebooks run, is surprisingly like Windows. So much so that I think the vast majority of PC users could switch to Chromebooks with just an hour or two of training. There are differences, of course, including the complete lack of a Start menu but it's also intended to be a streamlined experience. Everything has a different name, however, so what you are referring to as the Taskbar is actually known as the "shelf". Kind of a dorky name, if you ask me, but I'm going to refer to it that way herein anyway!
ChromeOS is on its 90th version as I write this in spring, 2021, so you'd think that the feature set would be reasonably stable. It's not. In fact, cool new features are continually being added as the development team realizes that there are more and more features users want from the PC world. One of the more recent has been the ability to take screenshots of your Chromebook screen — I wrote about it here: How to capture your screen on a Chromebook — and as of version 90, you can add the date to your time display on the Shelf!
ARE YOU RUNNING THE RIGHT VERSION OF CHROMEOS?
First off, let's peek at the Shelf so we know what we're talking about:
You can see the time on the right, but no date. If you want to see the date, you can simply click on the time to bring up the Shelf shortcuts menu, of course: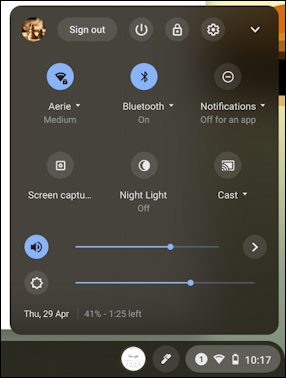 See it on the lower left? Thu, 29 Apr. But who wants to click to see the date, right?
To enable the date display in the Shelf, go to flags and settings. Easiest is to jump to chrome://flags within Chrome. You'll see something like this: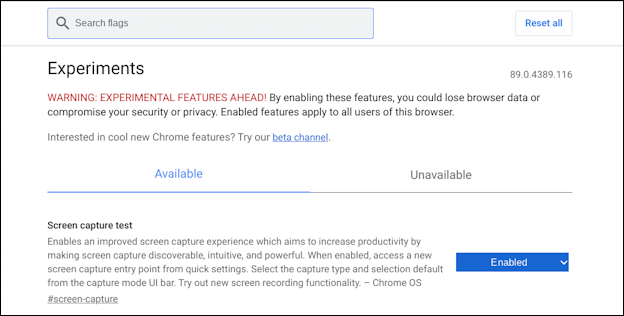 You can see that I've enabled "Screen capture test" so I can get screen captures. Presumably, at some point, it will stop being a 'test' and move out of experiments and into regular settings.
More importantly, however, notice the search box at the top. There are a lot of experimental flags and settings in ChromeOS so you really don't want to just scroll through 'em. Instead, search for "show date". If you see this result…

Then you aren't on ChromeOS 90 or higher yet. A solvable problem!
HOW TO UPDATE YOUR CHROMEOS
Go back to the Shelf pop-up shortcuts menu and choose "About ChromeOS" from the Settings menu (the gear icon). It'll take you directly to this window: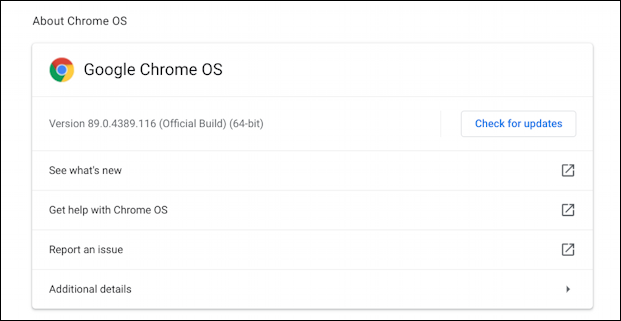 Notice that I'm running Version 89.0.4389.116 (Official Build) (64-bit). More importantly, notice that there's a Check for updates button. Heck, don't just notice that, click on it!
Since there is a more recent version, it'll immediately start downloading the new ChromeOS and updating your Chromebook:

Interestingly, it doesn't tell you what version it's updating it to, but that's okay, newer is always better!
Eventually, it'll be time to restart to get the new OS. As always, make sure you've closed all app windows and saved all your working files as needed. Then click on "Restart"

Once it restarts, you'll go directly back to the About ChromeOS but this time there'll be a newer version number shown!
NOW YOU CAN ENABLE SHOW DATE IN TRAY
Now that you're running the newer version of ChromeOS, go back to chrome://flags and search for "show date" again and this time you'll find that there's a matching experiment:
Did you notice the word "Tray"? It turns out that while ChromeOS refers to the overall Taskbar as the "shelf", but that small area on the lower right that includes the time is known as the "Tray". Now you know some additional ChromeOS nomenclature!
Click on "Default" adjacent to "Enable Show Date in Tray" and you'll see there are three options:
Choose "Enabled", as shown, restart again (you have to do that after most any setting change) and this time there's a new entrant on the Tray on your ChromeOS Shelf:
Mission accomplished! Next up, let's see if the ChromeOS engineers decide to add a tiny weather icon as that feature is poised to launch on Windows 10 any day now…
Pro Tip: I've been writing about operating systems for many years. You can find a lot more useful tutorials in my computer basics help library here on the site, along with a dedicated Chrome OS and Chromebook Help area too. Why not check it out while you're visiting?