I have been getting a lot of email messages in my spam folder that invite me to 'unsubscribe' from a mailing list. But I'm not on those mailing lists! What's the deal with these email messages?
Spammers and scammers have no lack of imagination when it comes to exploiting and manipulating us to make certain choices that are good for them, but not so good for us. Sharing passwords, sending them money, even just "confirming" our identity by sharing information like mother's maiden name, current address and, yes, even social security number are just a small sampling of their exploitive attacks. Our reaction must be vigilance and skepticism to stay safe online!
A lot of scammers are quite versed in human psychology and that's what is at play with this new wave of unsubscribe spam. Think about it this way: If they sent you a message inviting you to join some random mailing list, you'd ignore it, right?  But if they tell you that you're already on the list then you're more likely to get testy about it — "I didn't sign up for your stupid mailing list!" — and click that unsubscribe button.
The irony of the whole situation is that by clicking the unsubscribe button, you're actually confirming that your email address leads to a real human who reads and responds to email messages, meaning you'll get more! not stem the flow of some imaginary mailing list. Pernicious, eh?
But sometimes it's even more subtle than that. Let's look at a similar email message out of my own inbox:
Email from what list? What are they talking about? Why don't they know my actual name? It's all very shady when you think about it. But let's poke around a bit. First off, see that tiny grey triangle adjacent to the recipient's name (in this case "me") or email address near the top? Click on it and you'll get more information on the sender:
Note: This is all in Gmail, of course. Other email programs will have similar information, but a slightly different path to display it.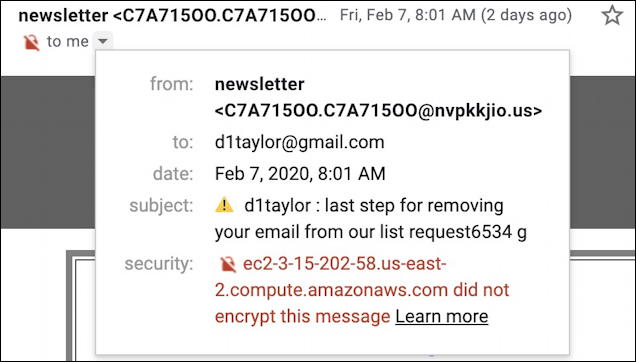 The email not being encrypted is curious because it suggests it's not from a normal email program, but the biggest issue is that from address. Look at that domain: nvpkkjio.us. Sound bogus? It is. Try going to it and you'll find it's not even a registered domain name. If this company is emailing from a fake domain name, it's a sure bet their request is bogus too.
Put on that detective hat and let's look a bit further. You can always view the original source to an email address (and see what a button will do before you click on it) by using the "Show original" feature off the three-dot menu: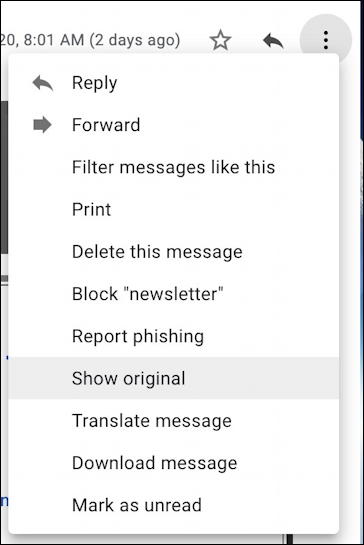 A modern formatted email message can be quite confusing, but even without knowing a single line of code, check out the first thing that jumps out:

"Thank you for choosing Enterprise. We look forward to making your next rental experience more rewarding."? What the actual heck? This is the text that would be shown in an email program that can't display HTML and fancy formatted email. In other words, it's just random junk they used to fill in a box. Why Enterprise? No idea, but I'm sure that the company has nothing to do with this spam.
Scroll down a bit further and there's an interesting thing going on here with this email:

Any HTML that starts with <a href= is a link, and you can see above that the link is a "mailto:" with a list of email addresses. But what's really interesting from a code perspective is that the entire email message is a link which means it doesn't matter where you click, you'll trigger this link and mailto.
Now a mailto isn't too dangerous because it literally will just pop up a compose window like this:
Again, cries of "what the actual heck?" are entirely appropriate! I call this particular approach whack-a-mole: One of these email addresses is legit and will record that you requested an unsubscribe (e.g., that you're a hot email address for lots more spam!) and the other 24 addresses? Possibly legit, probably bogus. Notice some are .com but there are .ua (Ukraine), .ru (Russian), .by (Belarus) and even .kz (Kazakhstan) and a lone .eu (European Union). Which is the real spammer? Do you really want to find out?
So that's probably way more info than you ever wanted to know about why scammers are now sending unsubscribe emails to you, how they are still scam, and why the best strategy remains to just ignore and delete. Stay safe out there!
Pro Tip: I've been writing about computer and Internet basics for many years. Please check out my computer basics help area for lots more useful and informative tutorials!