After reading that Facebook might or might not access your microphone to analyze the environment around you, I'm completely paranoid. Where can I check on my iPhone 7 what apps can access the microphone and turn them off?
You're right that Facebook has been a bit ambiguous about exactly what's going on with it accessing your phone's microphone. It's darn troubling. Facebook insists it "does not use your phone's microphone to inform ads or to change what you see in News Feed." But even if Facebook is in the clear, can we trust that every single app and program that has access to the microphone is using it only when we think and only how we're expecting?
Fortunately iOS, the operating system that runs on your Apple iPhone, is pretty locked down so it's really, really hard for apps to gain access to the microphone other than through the official paths. And that means you have the ability to see a list of every program on your phone that's requested microphone access, which you've granted, and even a way to easily turn off access if you just don't really trust some of 'em.
Android's a bit more of the wild west, but there's a similar feature if you're not an iPhone owner.
With an iPhone, however, just jump into Settings and swipe top-to-bottom to reveal the search box. Then type in "microphone":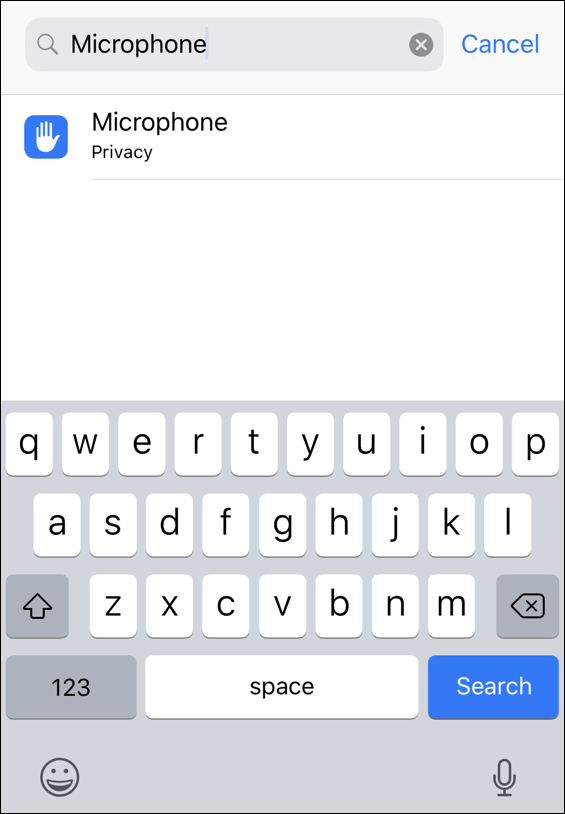 There's one match, as you can see, and it's exactly the right one, in Privacy!
Tap on it to jump straight to the correct spot. It will show you a list of every app that has requested access to your microphone and which you've granted that permission:
You can see that I'm pretty open with my permissions, allowing just about every program other than Instagram access to my microphone. I never post videos on Instagram so it doesn't need access. But a closer look makes me wonder a bit why other apps are needing microphone access, like Nest and Nexia. Both part of my home security system, I really don't need a voice interface to use them. Or SleepScore Max, a sleep analysis program. Why does it need access to my mic?
To revoke access is easy, just tap and drag to change the switch setting adjacent to the program:

While you're here, by the way, tap on the "< Privacy" on the top left so you can see all the other privacy settings you have access to within iOS 11:
Quite a lot to pay attention to, isn't it? Let's have a glimpse at just one as a quick example: Camera. If you're concerned about what apps can access your Microphone, I'm pretty sure you'd be curious about your camera too, right? Tap on "Camera" and you can see:
Lots and lots of apps need access to my camera. Why? Well, that's on an app-by-app basis, of course, but as with anything else, if you're uncomfortable with a specific app having access to your camera, you can disable it the same way you can disable microphone access.
Hope that helps you wrest back control of your privacy. It's important.
Pro Tip: While you're here, check out our extensive iPhone help area too, please. Thanks!