I'm a bit confused: on the top right of every screen of my Google Mail [Gmail] account I see a small white circle with a black bell in it. What exactly is that and what's its purpose?
I take it by your question that you aren't involved with Google Plus at this point, because it's a shortcut to bring up your Google Plus notification / status window and it's incredibly useful. If you're on Google Plus, that is. If you aren't using the Google answer to Facebook's overlord status in the social media world, then it's just a little bell that sits there and doesn't ever ring. 🙂
If you're a Facebook user, however, you'll be envious by the time you finish reading this post, because Google has smartly integrated Google Plus into every other Google property. In fact, it's all neatly stitched together so if someone leaves a comment on one of my YouTube videos, for example, I'll see it in this status window too, which is about 100x more useful than me having to go to YouTube to find out what's going on.
But let's start at the beginning. Here's what I bet you're seeing:

See that bell? Yeah, nothing's happening, so it's just, well, a bell. Not very interesting at all.
But since I have lots going on with Google Plus [tip: follow me on Google Plus, you can see what I'm doing there!] I more often see it as a number that denotes how many notifications I have pending:
Before we check it out, another quick tip: the little 3×3 grid is darn helpful too to help move around the various Google properties: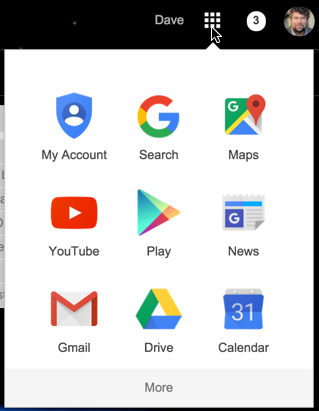 It's worth checking out "My Account" if nothing else because you can double check that your security and privacy settings are as you want. But that's the subject of another post!
For now, let's get back on topic. When I click on the number in the circle I get that darn useful notification window pop-up above whatever I'm doing:
Now you can see how it's useful. But wait, it's a fully functional window too, not just a notifications window as you find in Facebook. So if I click on the third entry, the note from Christian, here's what happens: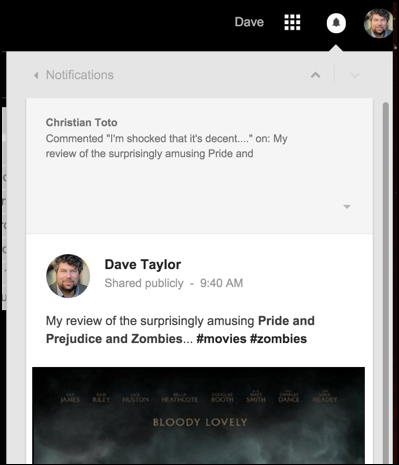 Interesting, and you can see more details about the post I made originally at 9:40am, but it's when you scroll down within the notification window that you realize how powerful this is:
Now you can see, it's Christian's entire comment, and even an input box where I can respond with my own comment. If I hover the cursor over the timestamp an otherwise hidden "+1" button shows up too, the Google Plus equivalent to the Facebook "like". All here within this pop-up window, with whatever I'm doing on Gmail (or any other Google property, as it turns out) still just sitting there, ready to go when I'm ready to return to it.
Finally, when I'm fully caught up, clicking on the restored bell icon reveals the good news:
Note even here it's useful: you can click on "Previously read" and go back to review all your other engagements and interactions on Google Plus. Again, all within this pop-up window.
It's one reason I really like Google Plus. I really appreciate the ability to stay focused on what I'm doing in Gmail, Google Maps, Google Docs, whatever, and swoop in quickly to see what's going on with my Google Plus (and YouTube) account, then jump right back. Super easy.
Hope that helps explain things. See ya on Google Plus!