I have an older Lenovo Nook reader that runs Android and have no idea how to update the Nook app itself on the device. Is there a trick to it? Please help me out, I don't want to have to drive to my local Barnes & Noble to find the solution!
I haven't heard much about the Barnes & Noble "Nook" readers from Lenovo in a while, but they're really interesting little Android devices with various Nook apps added. The unit I have turns out to be a very versatile color Android tablet, though it's old and slow at this point. It's also running Android 10 and doesn't seem to want to update to a newer version of the system (the latest for tablets is Android 12).
Still, a good device is a good device, and while it might be a bit less snappy than a brand new unit, once you're reading an ebook, does it matter if a page turn is 0.16 seconds or 0.92 seconds? Nah, it really doesn't. So let's talk about updates, because there are three parts to the question: The operating system, the apps on the tablet, and the Nook software. Well, turns out that #2 and #3 are the same thing, but let's start with the system update first.
HOW TO UPDATE ANDROID ON A NOOK TABLET
Start by logging in to your B&N Nook tablet then launching the Settings app and going to System > System Update. The updates look quite a bit different than on an Android phone, here's what I see once I've downloaded the latest Android update, but not yet installed it:
Lots of small print, but what you want to check is the bottom where it offers an "Install" button. Backed up your most important files? You don't have to worry about your ebooks since they're stored within the Nook system. To proceed, tap "Install". After a few minutes – or longer! – it'll finally restart running the very latest version of Android for the device.
UPDATING ANDROID APPS ON A NOOK
If you have a Nook that's a custom ebook reader only, this obviously won't apply, but if you do have an Android version, keep in mind that it's really just a Lenovo Android tablet with some Nook software added. This means that the Nook software is essentially a bunch of different apps that coexist with all the other apps you might have added to the unit. The main control system for them is the Google Play store. It'll show up on your Nook home screen: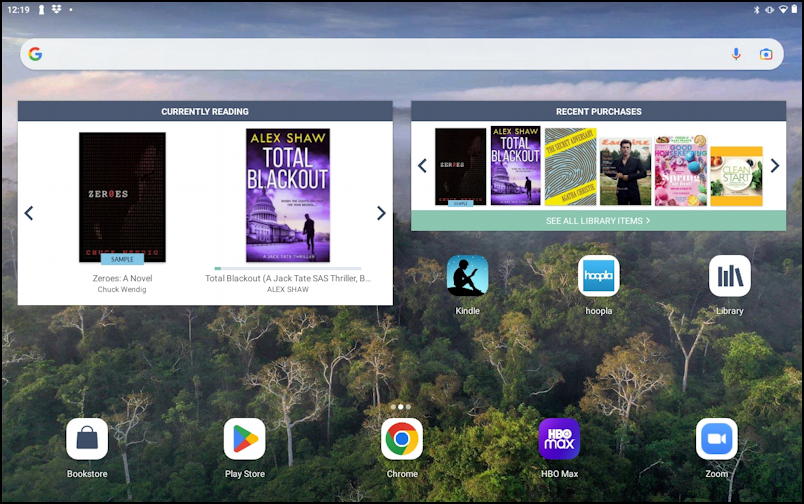 See it along the bottom, second from the left? Tap on "Play Store" to proceed. Then tap on your portrait photo on the top right of the Play Store screen and choose "Manage apps & devices" from the menu that pops up. You'll be in "Manage apps & devices" and it'll probably look like this: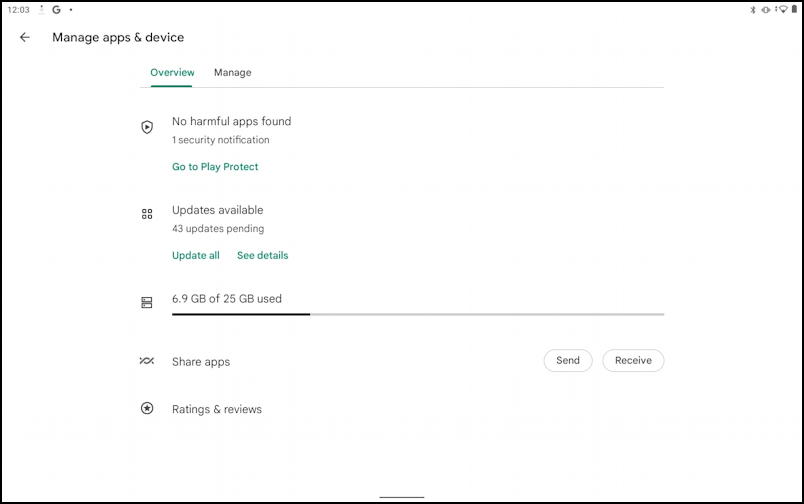 You can see that I have a lot of updates to apply! 43 of them, in fact! From this point it's possible to just tap on "Update all" but I always like to tap on "See details" instead, which reveals exactly which apps have updates available:
I've highlighted one of our key applications for this tablet too, the "B&N NOOK App for NOOK Devices". No special effort required, just tap on "Update all" on the top right and it'll start grinding away. This process can take quite a while; it took me almost an hour to update every single app.
Then, finally, I tapped on the "Install" option from the System update and wandered off to get a cup of tea. (yes, it can take a while). The result?
NOOK READING APP IS NOW B&N NOOK APP
The first thing that happens is that I get a splash screen from the NOOK app telling me things have changed and updated:
If you can't read it, the screen says "The NOOK Reading App is now the Barnes & Noble NOOK App, your home for all Barnes & Noble digital content." It goes on to explain that the device now also supports audiobooks (hurray!) and even works with Android Auto (you can plug your NOOK into your car!)
The home screen hasn't changed dramatically, however:
Worth noting is that you can check the version number of this app from the Profile area. Tap on "Profile" along the bottom, then tap on the gear icon on the top right of the screen.
I'm running B&N Nook App version 6.1.0.26 [Update! I'm now running 6.5.1.28]. What are you running?
That should get your system updated and hopefully will let you get back to enjoying your fancy color Android-powered Nook device. Good luck!
Pro Tip: I've been writing about ebook readers since they were first introduced. Please check out my Kindle and Nook Help area for more tutorials and articles.