I read that there's an update to the operating system firmware on my HTC One phone. How would I know if it's actually available, and how do I update my smartphone?
For the most part, modern smart devices take care of their own firmware updates and there's not much we humans have to do other than make sure that we have reliable backups and ensure the devices connect to the network every few days or so. Smart phones are a bit different, however, because they are permanently connected to the Internet through the cellular carriers.
The problem is that an operating system firmware update on a mobile phone like the HTC One can be a big block of data which can be expensive on a metered Internet data plan. Some carriers solve that by having the update come from their server so that they can omit it from your measured service, while most phones can be set up to wait for a wifi connection before they download big files like an update. I prefer the latter, personally, and it's another good reason why even a cellphone like the HTC One needs to join a wifi network now and again.
When there is an update available, the phone generally tells you too. Like this:
That's hard to miss.
As it suggests, tap on the notification on the top of your screen…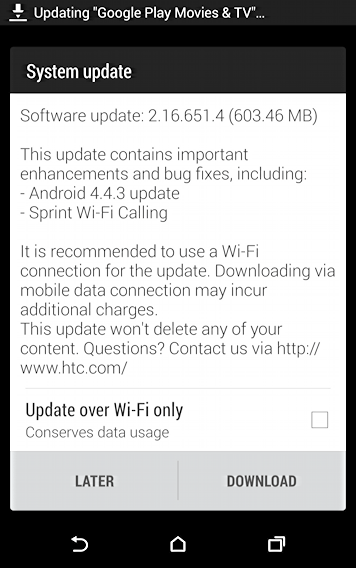 Notice that in this case, I can tap on the checkbox adjacent to Update over Wi-Fi only before I tap on "Download" — or I can simply tap on "Later" — to avoid data usage charges against my cell plan.
I'll just proceed by tapping "Download" and the long wait begins as the data downloads.
The status of the download can be shown in your pull-down notifications screen:
You can also then tap on the notification to get a bit more information about how it's going:
And a while later…
This is the "watched pot" syndrome: if you watch the progress bar, it'll move more slowly than if you just go do something else. Well, maybe not, but it'll sure feel that way!
Eventually it will finish the download and a new window will appear indicating that the Android OS update is ready to install: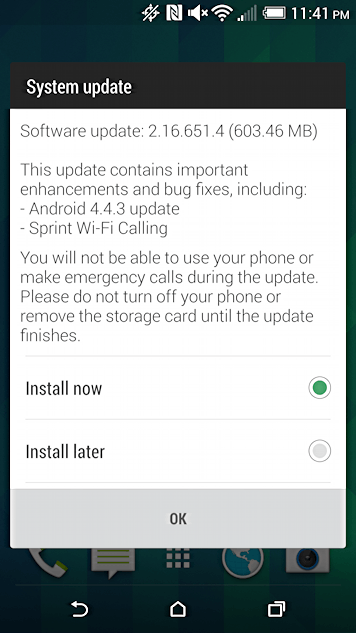 If you're ready to go, tap "Install now" and then "OK".
Then the phone will shut down and restart after a few seconds, showing an install progress bar:
When the phone finishes installing the operating system update, it'll again restart, and this time it'll update all of your apps to work (though what that actually means is a bit of a mystery to me).
The display will look like this:
Eventually it'll finish optimizing all of your apps and likely restart again.
And it's done. You're updated. Congrats!