My favorite local coffee shop just changed the password on its wifi network and now I can't connect. How do I "forget" the old Wi-Fi password so I can update it? MacOS 14.1
While those of us with home wireless networks probably change our password about as often as we see comets streaking across the daytime sky, I've always marveled at commercial businesses that leave their password the same for months or even years at a time. If you never change your password, odds are incredibly good that eventually neighbors, neighboring businesses, even people camping out on your doorstep are tapping into your network connection. Maybe not a big deal from a bandwidth perspective, but from a security perspective, not so great.
The companies that do change the password, however, then inherently push frequent clients into figuring out exactly what you face; how do you change the saved Wi-Fi password for an existing network that you've already favorited? You might even have it set to auto-connect so you can just get straight online with no fuss at all. Until now, and that darn new password.
Not to worry, Apple's engineers have gotten a lot better at this, so much so that it's quite easy for 99% of cases now. On older MacOS systems, the symptom is often that it tries to connect but never succeeds, never actually telling you that it's the password that's wrong. MacOS 14 Sonoma has cleaned a lot of this up, fortunately, so whether it's a favorite network or not, if you have a bad password, it will simply prompt you to enter a new one. Well, 99% of the time. Here's how to deal with the easy (and not so easy) possibilities…
BEST CASE SCENARIO: ENTER NEW PASSWORD
What you hope to see if you try to connect to a Wi-Fi network with a bad password is this prompt:
By the fact that it's already showing a password [masked with the "••••" sequence] you can see that there is a saved password in the Keychain Access system, and, by implication since this prompt is appearing, it's wrong.
Don't be surprised if your Mac suddenly offers alternative connection choices, even while you might be considering asking about the new password…

That's from my iPhone and many times it's the easiest of all possible solutions (though it's more of a workaround than a solution to the wrong password in your Wi-Fi database).
To fix the problem, simply type in the new password. I suggest you check "Show password" to confirm you get it right:
Joined. Done. Easy.
WHAT IF THAT DOESN'T WORK?
Sometimes that just doesn't work because for whatever reason the Mac system itself doesn't report that the password is invalid with the prompt for an updated password. It happens. In that instance, you just never connect but never get a meaningful error message either. My suspicion is that it's a security through obscurity setting in the router, but in any case, if you just can't seem to connect…
If you cannot make the connection work, try turning off your Wi-Fi and turning it on again (the switch at the top of the Menubar "wireless connection" menu, as shown below). No go? Then choose "Wi-Fi Settings…" from this same menu: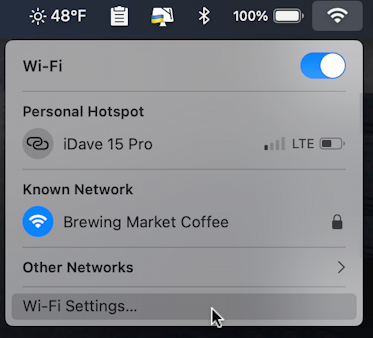 You can also just go to System Settings > Wi-Fi to get to the following window:
As shown, you should see the network in question on the "Known Network" list, in which case you can click on the "•••" link to bring up the menu and "Forget This Network…".
Close the window and now it'll be brand new with no saved password, so you should then be able to choose it and immediately be prompted for its access password. Done.
In extreme cases, you might need to go into Keychain Access to find and remove the Wi-Fi network. Easiest way to proceed is to use Spotlight to search for "Keychain Access" and launch it. Search for the network name, then delete those entries (or try changing the password directly in Keychain Access). Still can't connect? Then ya might need to perform some elaborate voodoo ceremony or bring your own hotspot. Good luck!
Pro Tip: I have been writing about MacOS since the very beginning and have hundreds of helpful tutorials and how-to guides here on the site. Please check out my Mac help library for lots more useful articles while you're here!