Tired of the shortcuts on new pages in your Chrome browser pointing to uninteresting sites you'll never visit? Here's a guide to customizing, renaming, deleting, even adding new shortcuts to make 'em actually useful. Focused on Chromebook's ChromeOS, it'll work anywhere you can run the Chrome web browser too…
Look at something often enough and you'll stop actually noticing it and what it says. This is true for street signs in your neighborhood, stickers on your car bumper, and aspects of computer software interfaces. For example, what's the tagline on the top of your favorite Web site? You probably don't remember, even though you might have seen it hundreds of times. It's how our brain processes information, but it also means that we can stop noticing things that could actually make our computers easier to use.
A case in point are the shortcuts that appear on empty windows in the Chrome browser. I'll be considering a Chromebook for this tutorial but since Chrome is just about identical across Windows, Mac, Linux, and ChromeOS, this is just as applicable if you have a different OS. In fact, you might be saying "what shortcuts? what are you talking about?" because it's been that long since you decided they were useless and began to ignore them. Let's fix that!
CHROME BROWSER SHORTCUTS
Go into your Chrome browser – if you aren't already – and open up a new tab. This is a blank window, but odds are good that it'll have a wallpaper, search box, and lots more. On my Acer Chromebook, here's what I see: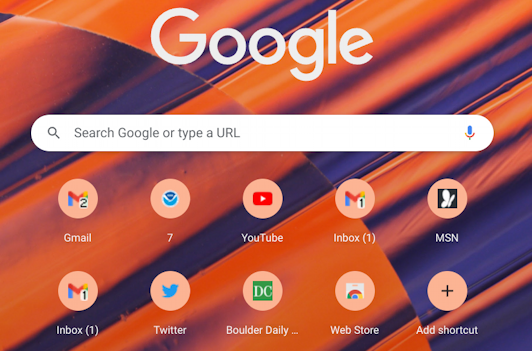 Some people think of this as the Google home page because of the search box, but you're not on www.google.com, it's just a blank page (though it serves a similar function). The big difference? The shortcuts below the search bar. After a while, they can get a bit messed up, as you can see. One is called "7" and there are three shortcuts all taking me to Gmail. Inefficient!
Move your cursor over the region of a shortcut and a small "•••" button appears on the top right:
Click on it and a tiny menu appears for that particular shortcut:

I'm going to start by using the "Edit shortcut" option to fix up that mysterious "7" shortcut.
RENAME & REMOVE CHROME SHORTCUTS
A window appears to allow me to "Edit shortcut":
It's the National Weather Service web site at forecast.weather.gov, so I'm going to rename it "Weather". "7" is definitely not memorable or mnemonic! A click on "Done" and notice it's changed:
While I'm here, I'm going to remove the second Gmail shortcut called "Inbox (1)". Clicking on the "•••" produces that same menu over the icon (not great placement!) and I'll choose "Remove". It vanishes, with everything else moving closer to the top. A status bar appears for a few moments:
Not too hard. Now you know how to rename shortcuts and get rid of the ones you don't want.
ADD SHORTCUT TO CHROME BROWSER
Want to add a new one to the blank window list? Click on the "+ Add Shortcut" button and the same edit window appears, but it's blank. Fill it in with the name you want for the button and the appropriate URL:
If it's a site you've visited before, it'll automatically be assigned the favicon graphic to the button:
If I add a shortcut to a site I haven't been to before, like UCSD, it instead appears with a generic image:
Once I visit the site, however, Chrome is smart enough to assign the appropriate favicon icon to the button:
And that's it. Now you know just about everything about Chrome browser shortcut buttons, including how to delete, rename, and add more. Fix it all up, then start using them!
Helpful Tip: I've been writing about Chromebook systems for many years! Please check out my extensive Chromebook help area for hundreds of useful tutorials and guides! Thanks.