I've just moved from an iPhone to an Android phone and really miss AirDrop, which made it really simple to transfer photos from my phone to my iMac. Is there an equivalent on the Android side that works with Mac systems?
It's amazing that after years of developing software to make it seamless to switch phone calls, Web browsing and so much more between your mobile and desktop device there isn't a standard file transfer solution. You can use Bluetooth file sharing, but that's byzantine at best on the mobile side and while "Nearby Share" seems promising on the Android side, it's only been implemented on ChromeOS (of all places) so far, though there are rumors of a Windows implementation. Android to Mac? Without having the device plugged in? You're kind of outta luck.
The solution most people use is a variation of what we used to call Sneakernet: either texting or emailing the photos to yourself so that they also then appear on the Mac side. Or you can use a cloud-based solution like Dropbox, but that's a lotta work for a simple file share. Fortunately, a lot of developers have looked at the problem and tried to create simple and elegant solutions. The challenge is that you need software on both devices, which means they need to be good at software development for both Android and MacOS.
ENTER UBIDROP (AIRDROP FOR ANDROID)
Into this chaos and competing with a lot of poorly rated Android apps endeavoring to solve the problem is a slick new app called Ubidrop, which can best be described as AirDrop for Android. It doesn't quite tap into the AirDrop software layer on the Mac system, however, so you have to install a lightweight utility on the Mac side and install an app on the Android side. It also requires a license after the 7-day trial but you can get started without any investment if you want to try it.
UBIDROP: THE MAC EXPERIENCE
On the Mac side the program's easy to install. Launch it and the program will tell you how to proceed: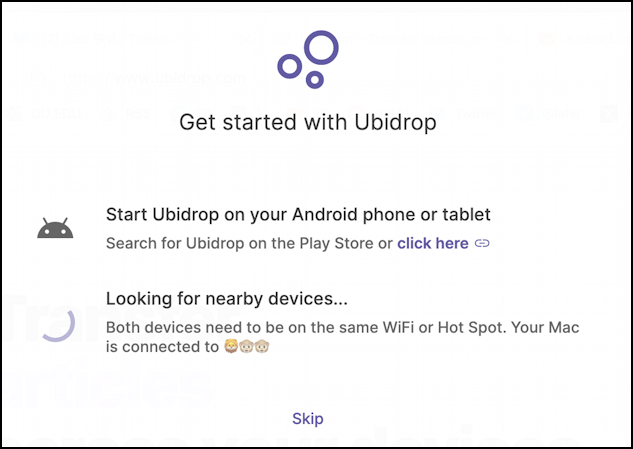 As it indicates, the only requirement is that both devices are running Ubidrop and both are on the same wireless network. No Bluetooth required (which is good, because Wi-Fi is much faster than Bluetooth file transfer).
Once connected the app window will change to explain what you can do: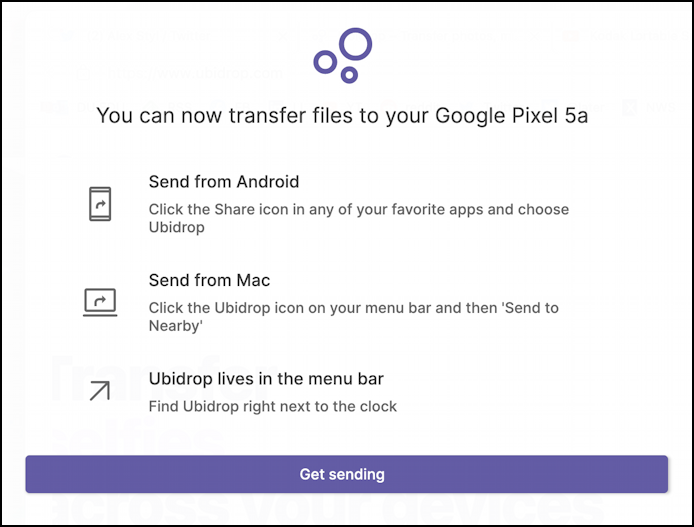 Click on "Get sending" and it's ready to go on the Mac side. Now you can easily access the function menu right from the Menubar: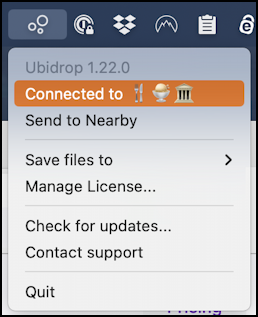 The developer explains that if you keep an eye on the emoji, you can affirm that your Android device is connected to your own Mac device. A bit cryptic, but it's interesting, at least!
SENDING A PHOTO FROM MAC TO ANDROID
Let's say that I want to send a photo from my Mac system to my Android phone, a Google Pixel 5a. Easily done, I just choose "Send to nearby" from the menu, which produces a list of possible devices, just as AirPlay does:

Looks good. A tap on "Google Pixel 5a" and the photo is sent:

About as easy as it could get. What about on the Android side?
UBIDROP: THE ANDROID EXPERIENCE
On the phone, you'll want to install the Ubidrop app from the Google Play Store. Launch the app and you'll see a similar explanatory screen: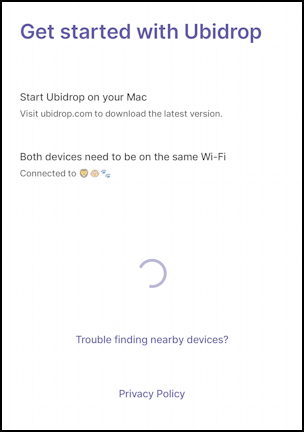 Notice that the Android phone has found the Mac version of Ubidrop (see "Connected to" in the middle). That's it. Make sure you have the app running and you can now just find things to share and share them via Ubidrop. Well, if you know where to look, that is.
SHARING A PHOTO FROM ANDROID TO MAC
For example, in Photos, I have this lovely picture of my daughter's dog:
As you would think, a tap on "Share" gets me to the main sharing area in Photos. It shows:
Here's where you need to know something about Android: It has a lot more sharing options but you have to hunt to find them. Tap on "More" (the "•••" button), then swipe up from the bottom to reveal all the options. One of them will be Ubidrop: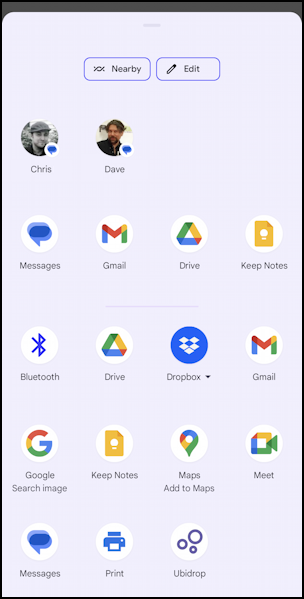 To be entirely candid, I had no idea that there were so many share options, so this is beneficial knowledge whether you want to try out the app or not. We do, of course, so I'm going to tap on "Ubidrop".
This shows a list of eligible devices – and you can run Ubidrop on a Windows computer too, offering more than just the one other device here if you configure things properly – including my Mac, M1 MacBook Pro. A tap on that and the photo is sent:
That's it. The photo shows up on my Mac Desktop, full size, ready to edit, share, archive, print, or whatever else I want to do. All in all, an app that does exactly what it promises, with no fuss, no hassle, and as long as you remember to have the software running on both devices and have them both on the same wifi network, no hiccups!
You can learn more about Ubidrop, the veritable AirDrop for Android app, at the developer's Web site.
Pro Tip: I've been writing about Android and Mac systems forever! Please check out my extensive Android help area and Mac help area for over a thousand useful tutorials and guides! Thanks.