I use LinkedIn for business, but I'm not looking for a job. Which means that the available job notifications in my feed are annoying. Is there some way to disable them so I don't see jobs on my LinkedIn feed?
Disabling job match notifications seems a bit like going to Amazon but not wanting to see what's for sale, going to PetSmart online but not being interested in pets, or even Match without wanting to see matches! LinkedIn began as a job database site where employers and potential employees could meet, so wanting to disable that seems a bit counter-intuitive. Over the years, however, LinkedIn has definitely grown and expanded far beyond its original vision, so I do actually understand how you could find the site useful without being in the market to hire anyone or to get a new gig of your own.
Fortunately, like most of the big social media sites, LinkedIn has quite a lot of ways you can fine-tune what shows up in your newsfeed, ranging from people you can hide to specific categories of content – like available jobs – you just don't want to see. No judgment. 🙂
On my LinkedIn feed, here are two jobs that popped up a few days ago: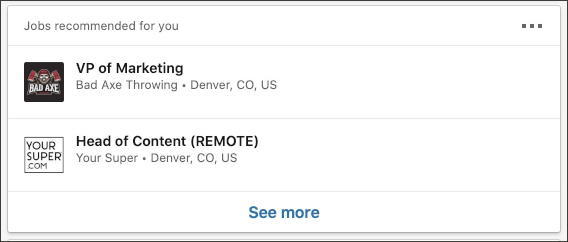 Bad Axe Throwing and Your Super. Hmm… but I'm just not looking for jobs at all, recommended or otherwise. Now the quick and easy way to get rid of these is to click on the "•••" on the right, which brings up this menu:

"I don't want to see this post in my feed" suggests you can get rid of recommended jobs, but instead, let's go into Settings and look at the many ways you can finesse this notification to meet your specific needs.
LinkedIn settings are all accessible off your mini-profile pic on the top right:
Choose "Settings & Privacy", then navigate to Communications:
As you can see, there are a lot of notifications you can manage within LinkedIn. In this context, however, just go ahead and click on "On LinkedIn". Now you're just one click away, as shown:
Finally, click on "Jobs" here and there are a decent number of different options to let you fine tune exactly what you see:
Now you can turn off Jobs entirely (the first control on the right) or you can opt to have some still appear, while others are disabled entirely. That's it. You can also navigate around in the Settings to tweak and modify other categories of notifications too if you'd prefer.
Pro Tip: I've been writing about LinkedIn since 2003 when I joined. Please check out my extensive LinkedIn Help area for lots more tutorials and guides. Thanks!