I'm creeped out, apparently the Facebook app on my iPad has access to my microphone and is always listening to what's going on around me? How do I turn that off rather than just quit Facebook enentirely?
I still haven't figured out their thinking, but you're right that the mobile Facebook app, on the iPhone and iPad at least, is now able to listen in when you're using the program. What's even more disturbing is that your mobile devices also constantly report where you are with GPS lat/long coordinates, so if you think about thousands or millions of mobile users with location + audio stream information coming into Facebook, well, it's like a surveillance dream where they can triangulate sounds (like gunshots). Add in voice recognition and they can pinpoint the location of people anywhere in the grid.
Facebook says that it's for TV and music sharing, that it's "Using your microphone and music apps lets you share the TV and music you're currently playing to your posts."
Maybe, but without us explicitly granting permission at that moment for that feature, it's also darn creepy!
Thing is, disabling the microphone access isn't where you'd think it would be. Facebook has lots of settings in the iOS app, but it's not one of 'em. Instead, you need to go to "Settings" and within the Settings app find "Facebook":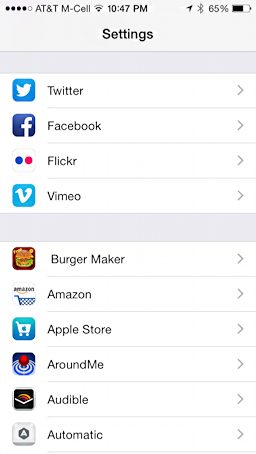 Tap on "Facebook" and you'll see information about your configuration: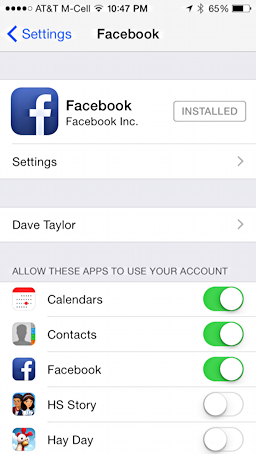 See "Settings" just below the Facebook icon? Tap on it.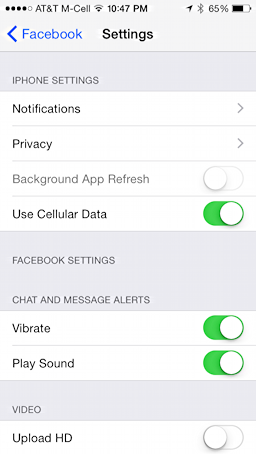 One more step, click "Privacy".
Note: If you're running iOS 7 you won't find this setting here. I'll show how that works in just a moment, so stay tuned!
There it is! Tap on the slider adjacent to "Microphone" to turn it off.
Done? Good!
Now, while you're here, tap on "Location Services" too.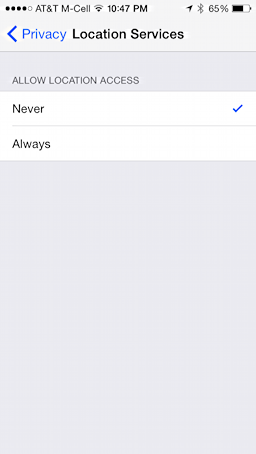 That's how you turn off location services where Facebook identifies where you are when you post a status update, even without you necessarily wanting it to do so.
So darn nosy, this app!
Now let's say you're running iOS 7, which is probably the case on the day I post this article, but not for much longer. In iOS 7, you need to go to "Settings", but then go straight to "Privacy", not to the settings within the Facebook app itself. With iOS 7, your Privacy screen will look like this:
See the "Microphone" option? Tap on it and it'll show you all the apps that you've allowed access to your mic:
In this instance Facebook isn't actually properly installed on this iOS 7 iPhone, so it's not showing up, but if it did, you can enable it, as Google, Google Maps and such are enabled, or you can again change the switch value and disable access to the microphone, as Instagram does above. Either way, solvable!
Now you should be safe within Facebook. In terms of the new Facebook Messenger app? Stay tuned, I'll have an article about that too!