I'm making the move from a Mac desktop to a new Linux system instead. I'm also switching from Chrome on my Mac to Firefox on the Linux system too, which brings up the question: How can I easily migrate my Favorites bookmarks onto the new system?
For just about as long as there have been Web browsers there have also been the ability to save your bookmarks and to both export and import them. Buy a new computer? This is typically how you transfer across your Favorites. Switch operating system? A bolder move and, yes, easily done with Export and Import features. The good news is that the resultant data file is in HTML and is in a standardized format so Chrome, Microsoft Edge, Safari, Firefox, Opera, and many other browsers smoothly interoperate. Thank goodness!
The greatest challenge with this task might be actually figuring out where the export and import buttons are located. In addition, most browsers import your bookmarks into a separate area, often called "Bookmarks" or something. But if you're like me, you don't want a folder on your Favorites bar in the browser, you want your actual Favorites! Let's get it done…
EXPORT BOOKMARKS FROM GOOGLE CHROME
I'm going to start with Google Chrome on my Mac system. As you can see, I have a strip of Favorites along the top of the browser window:
It's just below the address bar and includes Canvas, DU.EDU, RSS, FB, and so on. Click on "Bookmarks" on the top menubar on your Mac system and in addition to all of your bookmarks, it also includes a couple of handy shortcuts at the top:

Choose "Bookmark Manager" and this is revealed: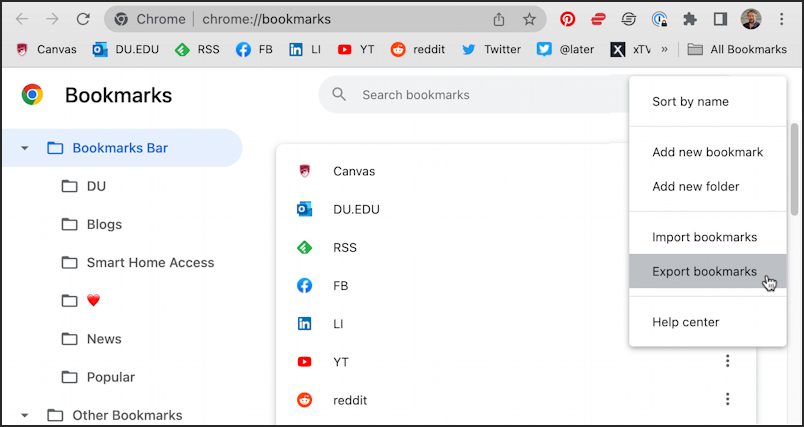 You can get there with the shortcut chrome://bookmarks if you prefer. At this point, there's a "•••" link on the top right of the actual bookmark manager window. A click and the above menu is displayed. Choose "Export bookmarks" and save your bookmarks as a file.
Now copy that file across to your Linux system – it might be easiest to just email it to yourself! – and you're ready for part two.
IMPORT BOOKMARKS INTO FIREFOX
On the Linux system, save the bookmarks file in a known location, then launch Firefox and click on the three-dash icon on the top right, then choose 'Bookmarks'. The following menu appears: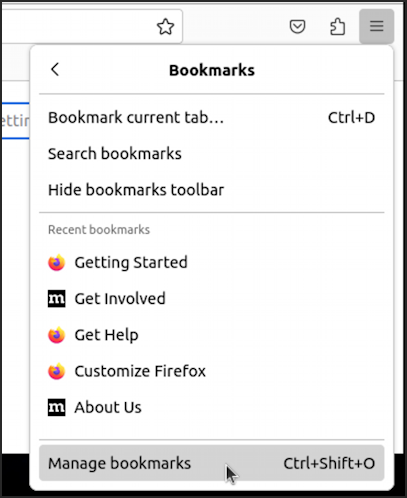 It's easy to miss, but notice on the very bottom the "Manage bookmarks" option. Click on it or use the handy Linux keyboard sh0rtcut Ctrl-Shift-O. In the new Bookmark Manager window there's an option right in the center: "Import and Backup". Click on it.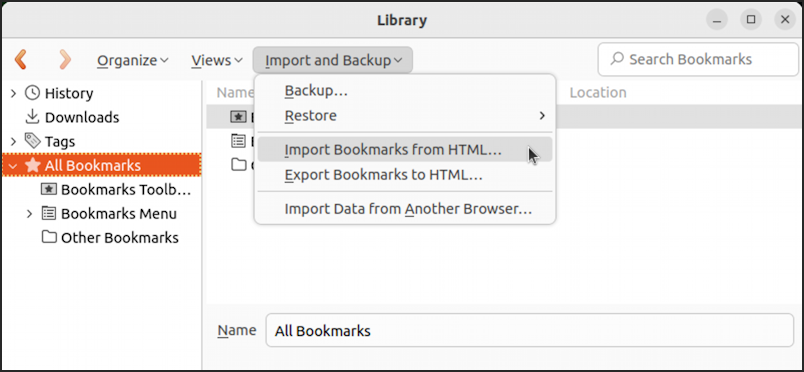 As highlighted, choose "Import Bookmarks from HTML…" and select the file you've copied or transferred across. It generally imports in a flash and you're then looking at the Bookmark Manager and wondering where all your new bookmarks were added!
Turns out that it's going to be in yet another folder within "All Bookmarks" > "Bookmarks Menu":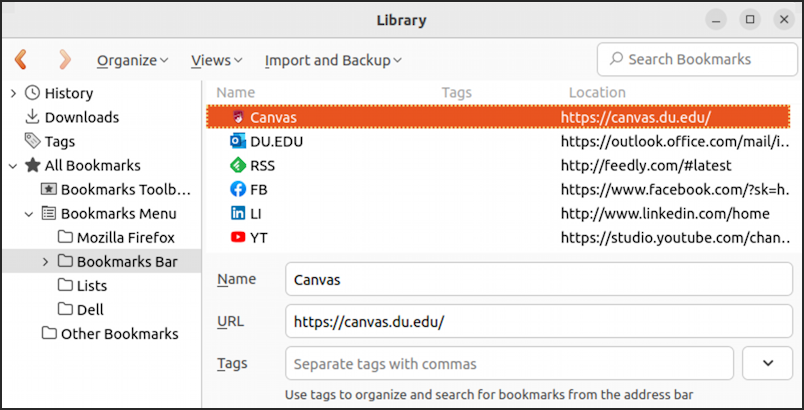 Why do they all show up there? I cannot say. A smarter design would have the browser ask you where you want them imported, but it's an easy fix. First, find your bookmarks, as just imported. Then use Control-A to select your entire set of Favorites or Bookmarks and drag and drop them onto the "Bookmarks Toolbar" folder:

Once you've done that, the bookmarks will show up in the Firefox browser. Except…
CLEAN UP EXTRANEOUS FIREFOX BOOKMARKS
The issue is that there are already a couple of bookmarks on the toolbar in Firefox, so these will all be added after those. Like this: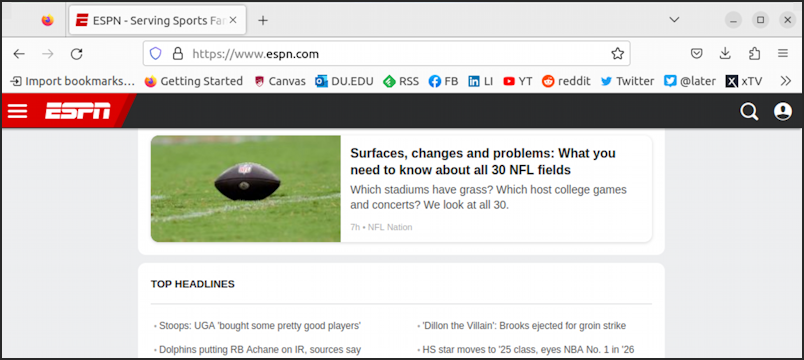 "Import bookmarks…" is helpful, but I just did that. "Getting Started" is also something I don't need for Firefox, and it's probable you don't either. To delete these two and finally get everything set up just how you want, right-click on the Bookmark. Yet another menu appears: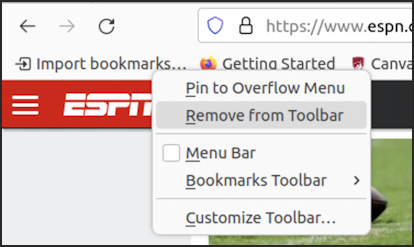 If you're thinking that "Remove from Toolbar" is the best choice, you're right! Get rid of the bookmarks you don't want and you should be all set. Welcome to Linux.
In fact, did you know I have a lot of Linux tutorials here? Please check out my Linux help library for lots more useful articles!