Tired of having dozens of tabs open and having to suffer through the inevitable slowdown that results from that many open pages? Turns out Google Chrome has a powerful history system – with search! – you should use instead…
In the very earliest days of the Web, browsers had a single window you used to explore Web pages. If you wanted to have more than one open at the same time, you either tried to have more than one copy of the browser itself or had different browsers so you could have more than one running simultaneously. Then tabs came along, a way to keep one page open while you popped over to another page. Handy, though over time people began to really rely on them.
And when I say "rely" I mean "have more than a few dozen tabs open at once" rely. Some people have fifty or more open as a way to save pages they want to read or explore later, but don't want to find again. Logical, but the problem is that an open page consumes computer resources, even if its videos aren't playing and its animated GIFs are dormant. Do that across fifty Web pages and you're using a whole lot of computing resources even if your frontmost page is blank.
But here's the thing: You don't need to save pages as open tabs when Google Chrome and other Web browsers have smart and powerful history features. Let's have a look, and also check out how to delete all that history too…
TOO DARN MANY TABS?
Starting with a baseline, here's what Web pages look like when you've got a lot of tabs open too:

As you open more and more tabs, each gets less space, and it becomes quite a challenge to recognize all those site favicons (the tiny logo icon associated with a Web site). For example, what's the blue GS with "Goo" next to it? Or the "•••" with "Wor" next to it?
Instead, once you've opened up a Web page, just close it again. As long as you remember something about the page or domain name, you can find it again. In Chrome, for example, your recently closed tabs are directly accessible with a single mouseclick:
Not only that, but if you have sync enabled, it will show recently closed tabs – and site history – for other systems too. Notice in the above that I can see the most recently closed tab from my Chromebook too!
ALL ABOUT GOOGLE CHROME HISTORY
Where things get really interesting is when you choose the "History" option – or use Command-Y or the History option from the menubar if you're on a Mac – and get to the History tab. Yes, tab. The history list shows up as a tab, ironically: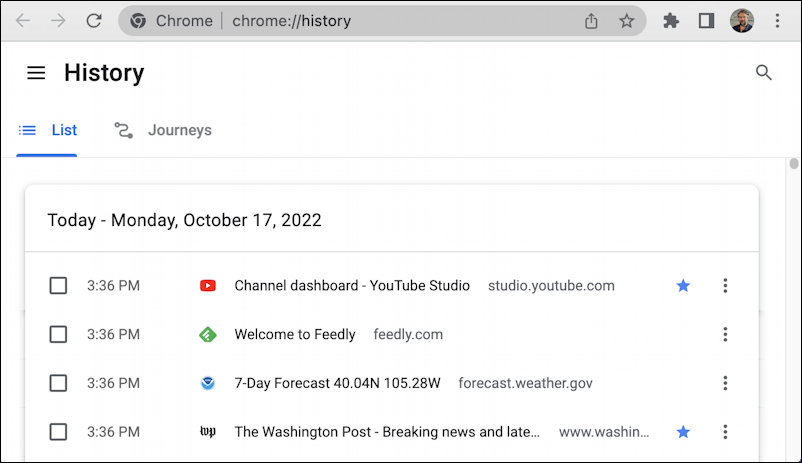 Notice it's a different list than the previous image. This is pages visited by time regardless of if they are still open in a tab or closed. It's… everything. In fact, it also weaves in history (sorted by date and time) from other instantiations of Chrome if you're a sync'er.
You can browse the list and when you find something of interest, click on the '•••' link to the right:

If you want to see what other YouTube pages you visited, choose "More from this site". Want to remove this link? "Remove from history" does the trick. If it's a bookmarked site, as my YouTube channel dashboard is [see AskDaveTaylor on YouTube to check out my channel], you can choose "Remove bookmark" to end that categorization.
But look back two images and you'll notice that there's a tiny magnifying glass icon on the top right. Click on it and you can search your browser history. Even if you have thousands of pages included. I'll search for "Disney" and instantaneously it shows every matching URL: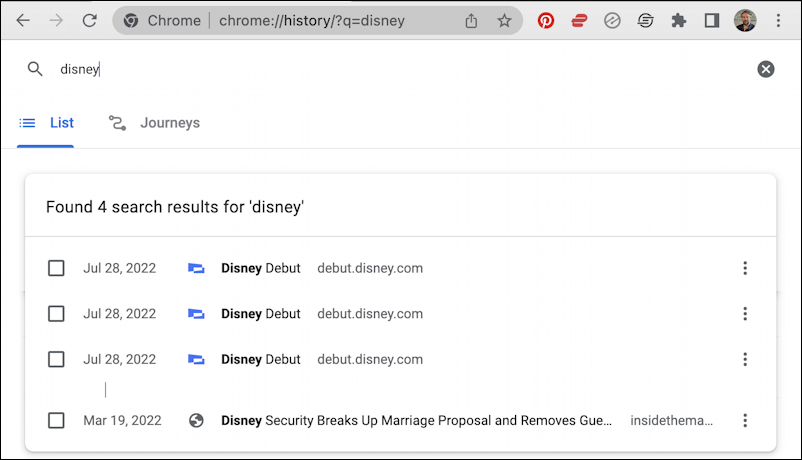 I get Disney+ screeners to review, so you can see when I last logged into the Disney Debut site to check out some programming. Three times on July 28! Prior to that, there was an article about Disney from InsideTheMagic that I viewed way back in March of this year, over seven months ago.
For any of them, I can easily click on the title to open that page or use the "•••" link to remove it from history or find even more that are similar. Super handy.
But what about if you want to wipe all your history? You can do that too.
HOW TO DELETE YOUR BROWSER HISTORY FROM CHROME
The easiest way to navigate the endlessly-changing Google Chrome settings is to use a URL shortcut. Go to chrome://settings/privacy and here's what you'll see:
Lots to consider, but for our purposes, choose "Clear browsing data" and one of the options is browsing history:
Easy enough, check what you want to delete and click "Clear data". Gone. Now, of course, you'll want those open tabs because you can no longer search your history to find older pages, but at least you've erased traces of your gift shopping or similar!
Note: If you use Microsoft Edge, Firefox, Safari, or any other modern Web browser, you'll find that they all have a similar history search feature – and history removal tool – so do try that instead of having your dozens of tabs open. Your computer will run faster and you'll be delighted!
Pro Tip: I've been writing about Google Chrome for many years and have an extensive Google Chrome Help area. Please check it out to find lots of additional tutorials and guides while you're here. Thanks!