I'm new to Reddit and notice that there are "coins" in the program and one of the options, when I go to respond to someone, is to "award" them. Coins, I presume. What's the deal?
Reddit has a couple of different worlds depending on what device you're using to access the site and what "view" you're using. Mobile, web or third-party app, however, there are two currencies of the realm; karma and coins. You're probably more familiar with karma as it's something you earn by having others vote your posts and comments up (e.g., as being smart, funny, or useful) and lose by having people downvote your contributions. Post a lot, get a fan base, and you'll find that your karma can move up into the hundreds, thousands, or more. Be endlessly snarky and critical, however, and you can have a negative karma, which adversely affects the chance of you having your posts seen in the first place.
Coins are a bit more interesting, however, because they model a busker's tip. Like what someone's posted? Upvote 'em to boost their karma. Really like what someone posted? Then you award them coins to reflect your approval. One reason coins are used sparingly on the site – you might never have received any after years of participation – is that you have to pay actual money to acquire them. Let's have a closer look…
HOW TO ACQUIRE COINS IN REDDIT
When I'm looking at a Reddit post in the Desktop  view, I often see the following along the top navbar:
The "C" icon is coins and by being yellow, it indicates that I have some free coins – or an award – I can claim without payment. Yeha!
Meanwhile, when I'm viewing a post, along the bottom is an "Award" option:
I've highlighted it above. To actually award this user for their query about the game Dune: Imperium, however, I need to have an award or some coins. That's most easily done by clicking on the "(C) Free" link on the navbar…
You can see the economics of this here too; 500 coins is $1.99 USD, 1100 coins are $3.99 and so on. More importantly, look at the first option with the bright orange button: "Free Award to give out". Okay, I'll choose that instead of buying coins…
A click on "Claim" and here's what I see:
This sort of click-to-claim interaction is very Reddit. What is it? A click reveals that it's…
… the Hugz award! Woot!
HOW TO GIVE SOMEONE ON REDDIT AN AWARD
Now let's jump back to that post about the board game Dune: Imperium and click on the "Award" link along the bottom: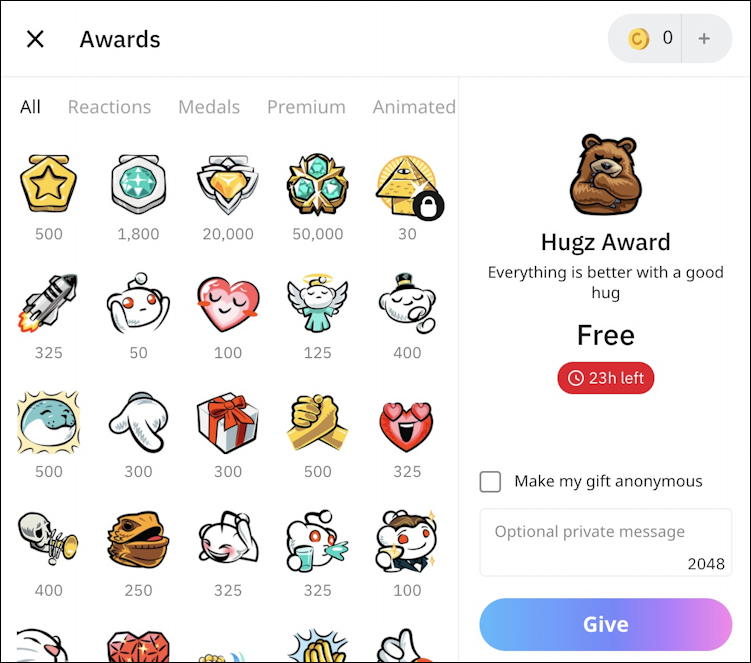 Now you can see the economics of Reddit; If I buy 500 coins, I could give one gold star, 5 hearts, 10 Snoo's (Snoo is the Reddit mascot), and so on. I have the Hugz Award to gift someone, but my coin balance is still zero. That's okay, it's the Hugz Award I want to grant.
Easily done by clicking on "Give" (and notice that you can give it anonymously if you prefer). You'll see this confirmation:
That's it, done.
Now the top line of the post has a tiny bear icon:
Oh! And the yellow icon on the navbar has changed too:
That's it. Grab a free award if you have one available or spend a few dollars to acquire coins and you can be awarding people's posts like an O.G. Redditor and earning a bit of karma for yourself along the way too.
Pro Tip: Just getting started with Reddit? Check out my Reddit help library for other helpful tutorial articles to get you up to speed while you're visiting the site. And do feel free to follow me – u/ask-dave-taylor – on Reddit too. Thanks!