I just learned that by default, anyone who has an Xfinity Internet connection through Comcast also has a publicly accessible Internet hotspot in their home. No thanks! How can I disable that before I have someone hack my network?
Lots of Comcast Xfinity customers are rather alarmed to learn that whatever they've set as their Internet router password, it's automatically also a public hotspot for any of the millions of Xfinity customers who might be in the area. If you're in a dense community like a big apartment building, there could be dozens of people who might pop onto your network for their Internet access (particularly if their network is slow or goes down). Xfinity even explains that there are millions of hotspots available and once you've logged into one, you'll automatically connect to others every time you open up your smartphone, tablet, or computer.
Before you panic, however, know that Xfinity also has a team of excellent network security specialists and that the hotspot tech is built around what's known in the industry as a 'sandbox'. The idea is that your local area network is completely separated from the xfinitywifi network traffic coming from public users, so that (theoretically) there's no way that they can sneak onto your network or your own devices. I mostly trust that, but if you can disable this feature, why not do so?
THE PROBLEM OF HOSTING A PUBLIC HOTSPOT
My immediate neighbor in Boulder, Colorado came to me a few days ago, quite alarmed. "I changed my network password and I am still seeing notifications of strange devices connecting to my network. What's up?" She ended up having an Xfinity tech come to her home to diagnose the problem, anxious that hackers were constantly jumping onto her network even with her password changes. The culprit? The fact that she was also advertising a free wifi hotspot – xfinitywifi – and that some neighbors appear to have used that network for some of their smarthome devices.
Certainly seems benign, right? But the problem is that she was running the Xfinity software in full security mode (always a good idea) so was seeing notifications like the following from the Xfinity security app on her phone: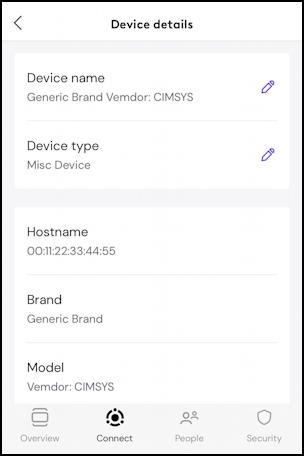 She doesn't have any CIMSYS devices in her home, but once the tech realized that neighbors were utilizing her hotspot (probably inadvertently, thinking "xfinitywifi" was their own network) he counseled her to disable the feature. The good news is that you can do so too if you prefer, either from the Xfinity website or directly in the Xfinity app.
DISABLE XFINITYWIFI HOTSPOT FROM THE WEB
If you're not an Xfinity subscriber, or if you have your own router or modem, you won't be advertising as a public hotspot, so nothing to worry about (though other providers might have similar systems). To check, go to the Xfinity Website, specifically this URL: customer.xfinity.com/#/settings/security/hotspot Before you proceed, double-check that the padlock in the browser is closed and it indicates the site is indeed part of Xfinity.com.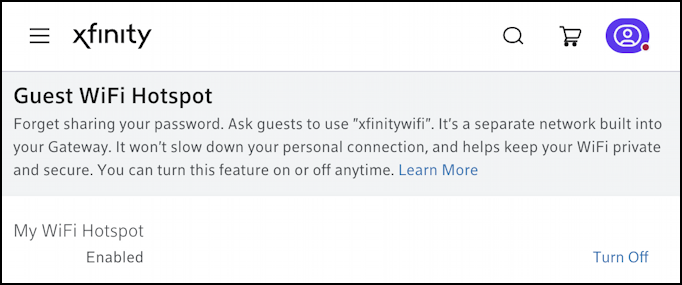 Handy having a URL that takes you directly to the right place, isn't it? 🙂 At this point, you can read what Xfinity says:
"Forget sharing your password. Ask guests to use "xfinitywifi". It's a separate network built into your Gateway. It won't slow down your personal connection, and helps keep your WiFi private and secure. You can turn this feature on or off anytime."
Want to turn it off? I don't blame you a bit. Simply click on the subtle "Turn Off" link on the lower right of this screen.
You'll get a confirmation: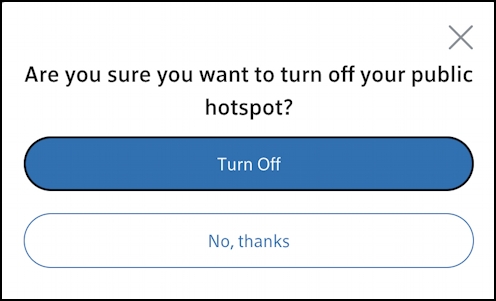 According to Xfinity, there's probably no reason to disable it, but given my neighbor's experience, I suspect that security-conscious households might just want to err on the side of privacy and click "Turn Off".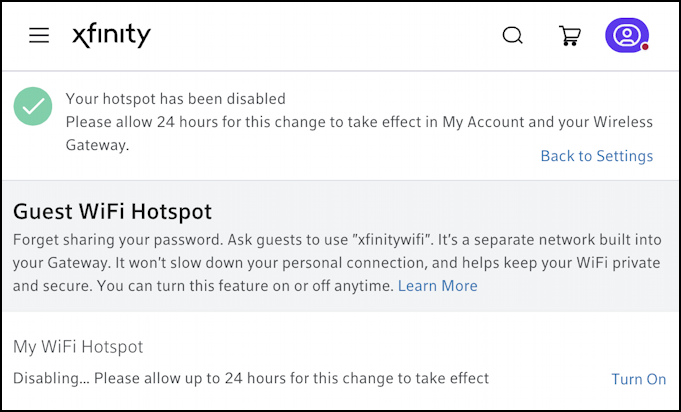 Apparently, it doesn't immediately turn off – which is a bit weird – so Xfinity warns that it might take 24 hours for the change to take effect in your account and your gateway. Okay, 24 hours, then it's off.
DISABLE XFINITYWIFI FROM THE MOBILE XFINITY APP
What if you don't want to open up your computer or do everything on your mobile device? No worries, the Xfinity app for iPhone, iPad, and Android also allows you to disable xfinitywifi public hotspot, though it's a bit more tricky. Start by going into the App then choosing "Connect" from the toolbar along the bottom. It'll show your router: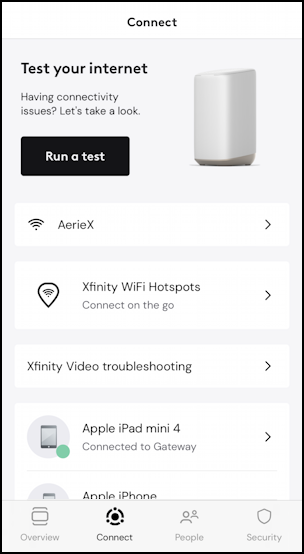 The troubleshooting and test features are worth remembering if you ever have connectivity issues, for this task you'll want to tap on the name of your wireless network. Mine is called "AerieX" so that's what I'll tap on.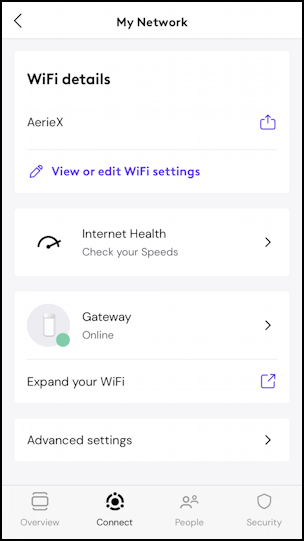 None of those are what you seek: Tap on "Advanced settings" at the bottom instead. It's going to get a bit more complicated, but don't worry, I'll help you navigate this area…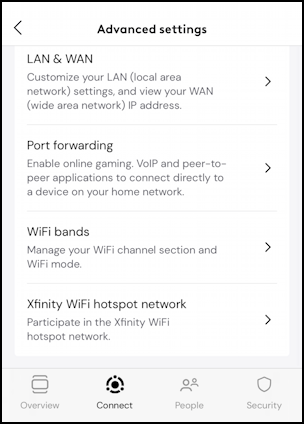 Swipe down as needed until you see "Xfinity WiFi hotspot network" (shown as the very last entry, above). Tap on that and you'll finally be in the right place to actually disable the hotspot: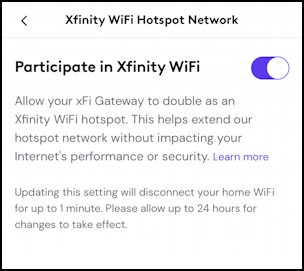 Not quite the same text – this warns that your WiFi network might go down for a minute or two – but it's still where you can opt-out if you prefer. Simply tap on the slider button and after confirming, you'll have disabled xfinitywifi on your personal router. Well done.
Pro Tip: I've been writing about technology and the digital community for many years. You can find lots of my articles here in the Computer and Internet Basics area!