Between our smart devices, our computer systems, our wearables and our smart appliances, there are a lot of operating systems in the mix now. And sometimes the best apps and games are available for one but not any others, which can be quite frustrating!
Enter Remix OS, an early stage project that lets you run a multi-window version of the popular Android OS on your Mac or Windows computer. And it's free…
The Remix OS project started out as part of a Kickstarter campaign for a device called the Remix Mini. It funded, the mini-PC shipped and you can even buy a Remix Mini with 4K support at Amazon.com that's perfect for powering your less intelligent TV and turning it into a great media station if you're curious. What makes the unit interesting is that it doesn't run Windows, doesn't run Linux, doesn't run Mac OS X. It runs a custom "remix" of Android designed for multitasking.
What's really cool is that the Remix team decided to release all their mods and updates to Android as a free download, which means that you can get the exact same operating system on whatever Intel-based computer you'd like. For free.
To try it out, the company burned us a flashdrive with a bootable Remix OS system and we gave it a whirl.
Or tried to, at least. Turns out that it's in a late alpha stage and the development team is just starting to understand the extraordinary complexity of "the Intel world", which means that it was rather difficult to find a system that was fully supported and worked properly. The Dell XPS 13 wouldn't boot off a flashdrive, VMWare couldn't figure out anything about it, and while we got it to run on an Apple MacBook Pro, it was only barely usable, as you'll see.
Still, the important thing to recognize on a project like this is the potential, and being able to have access to the world of Android software on a laptop or desktop system is a really cool idea. So we'll forgive all the glitches.
On the Mac side, the MacBook Pro is easily booted into Remix OS by holding down the Option key while it starts up. This offers an additional choice: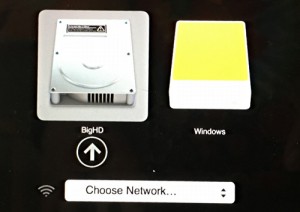 The confusingly named "Windows" is what you want to select for Remix OS, at which point it gives you the choice of whether to run in Guest mode or Resident mode, as described:
In the interest of having software you install be around the next time you log in, I'd choose Resident mode to proceed. Pick your favorite, then press Return and you'll see that Remix OS is actually built atop a Linux kernel, as different elements launch and fire up.
Eventually, Android will be running and you'll be logged in:
The window you can see in the above screen shot is the Google Play store. Running in a window. How cool is that?
You can also see the icons from various other apps that are available. In fact, there are a ton of Android apps and games available, including Kill Shot Bravo:
All good. Until you start to try moving around and find out that the MacBook Pro's curious clickable trackpad isn't quite properly supported yet, which makes it a very frustrating interaction device as the cursor hops around while you're just trying to double click an icon! That's easy to solve, fortunately: Just plug in a proper two-button mouse.
Other problems are more difficult to ignore, like the problems with the graphics driver that cause screen captures to be, well, broken:
This isn't a scene out of Close Encounters of the Third Kind, it's just a display driver not working right.
Skip trying to take screen shots and you can survive this, but then there's another driver problem, as illustrated in this short video:
Screen flicker adventures with Remix OS…

Posted by Dave Taylor on Monday, January 18, 2016
Even with all these hiccups, Remix OS shows a lot of potential and as it gains wider support it's quite possible that we'll be able to buy super cheap refurb laptops and desktop computers and run a sophisticated, windowing, multitasking version of Android and have yet another choice for primary operating system. Keep up the good work, Remix team, and let's see where things are in 6 months!
Learn more about Remix OS at the Remix OS Web site!