I love Netflix, but sometimes my friends tell me about programs that they can watch but I cannot. I understand, Netflix has regional licenses and rights so can't release everything globally. But whatever. I want to watch these shows. Can I use a VPN to watch these programs, and if so, which VPN works best?
Used to be that if Netflix detected that you were using a VPN it would refuse to play any content. Frustrating when so many savvy Internet users have a virtual private network setup to protect their privacy and security while online, but Netflix had to toe the line with its regional content licenses. If it hasn't purchased global rights, like the Studio Ghibli films, it only shows them in the regions that are safe. Star Trek? You can watch it on Netflix Mexico, but in the USA it's missing because CBS Online has the US broadcast rights. Friends recently vanished for US viewers too, and the film Booksmart was global, then non-US only because Hulu bought the rights. DC's new series Titans? Same. Confusing, no question.
Which leads to the question of if you use a VPN and choose a connection point that's in a country with regional rights to Netflix content that you don't have in your home country, will it work? First, let's ask if it's legal. I checked with Netflix and they said "If you are using a VPN, you will only have access to our worldwide catalog." I pushed a bit harder, asking if it's a violation of their terms of service to try to use a VPN to spoof your location and was told "you can try". Challenge accepted!
Let's start with Netflix on my Apple iPhone 11 Pro. I logged in and searched for two popular shows unavailable in the United States: The banal TV series Friends (oops, sorry, a judgment crept in there 🙂 and the new DC series Titans. Here's what happened when I searched: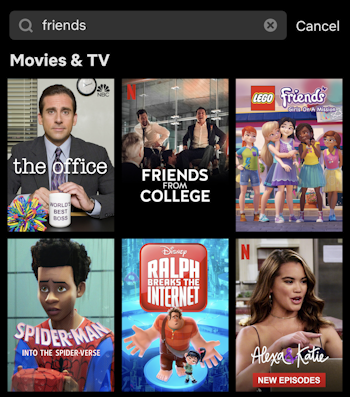 Instead of Friends it suggests The Office. Not really the same show, but…. how about when I searched for Titans?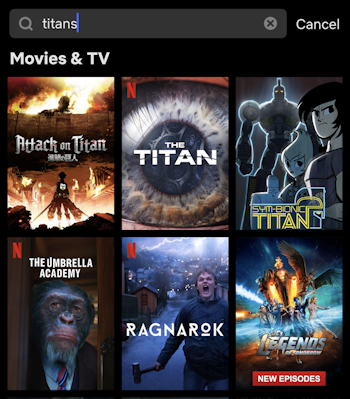 Attack on Titan shows up instead. Not the same show at all.
But what VPN to use? As it happened, Surfshark had reached out to me to try out their VPN service, promising that it was Netflix friendly. Okay, so that's what I used. Super easy to set up and install on an iPhone (along with a zillion other devices). And so I decided I'd appear to be in Canada rather than Colorado USA: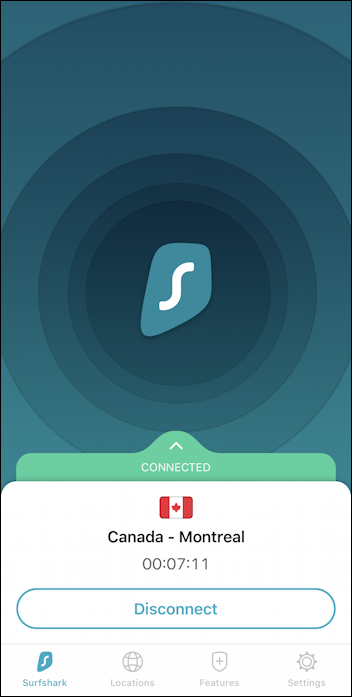 Now jumping back into Netflix, what happens with those two searches?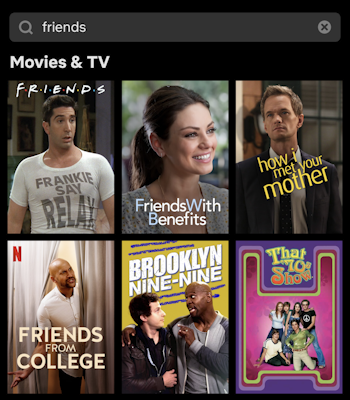 Hey! Friends shows up. Not only that, but the list of matches is quite different from the US choices, isn't it?
And that DC Universe teen TV series Titans? Again, completely different results: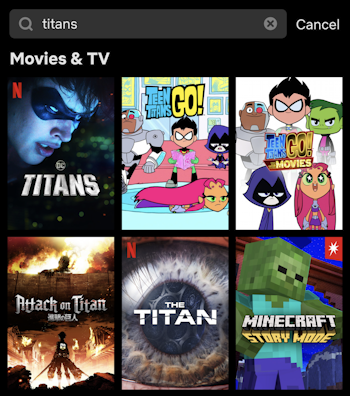 It's possible this is all just global content since Netflix help online states "When using a VPN to access Netflix, your region is hidden, so Netflix displays content that is available to all regions globally." But either way, being able to access content that's not available in the USA through a simple VPN utility? A solid option. Oh, and if you're wondering, yes, it works: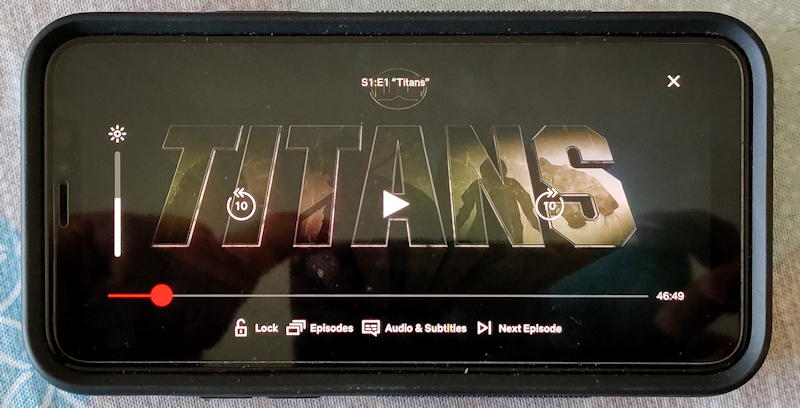 I then tested the same sequence with ExpressVPN and found that it too let me access this non-US content on Netflix. Does Surfshark have an approach to using a VPN that's even more invisible to Netflix? That's what they say. Either way, if you want to watch some content that's left Netflix for you or isn't available in your own country, a VPN service like Surfshark is definitely worth exploring!
Pro Tip: I've been writing about online basics, VPN security and lots more, so please do check out my computer basics and security help areas while you're visiting the site!
Note: The Surfshark link is an affiliate link. You pay exactly the same, but I get a modest commission to help keep this site up and running. If you prefer, just go to surfshark.com to sidestep the affiliate link.