The TV channels I get seem to think that a movie that's 10 years old is a classic. Hardly! How can I watch films from the 1940s and 1950s on my PC instead? Hopefully, for free, I don't have the money to pay for a subscription.
Back in the 1940s and 1950s if you would have told your friends that someday just about every movie ever made would be available with just a few clicks, they would have thought you were a nutter! Today, however, even cable services have on-demand services you can access (typically through your cable box and remote) that offer hundreds or even thousands of films from all eras. The selection might be a bit less than stellar and it's common that you can find the second and third installments of a film series, but not the first, but still, it's pretty amazing what's available.
Then there are separate streaming services, all of which compete to have the largest film library too. Hulu, Netflix, Amazon Prime Video, HBO Max, even Paramount+ has thousands of films in their on-demand library. If you have a SmartTV you can install the associated apps and often access much of the content for free if you're willing to put up with a few ad breaks during the movie. One nice thing is that when these streaming services do switch to ads, they often have a countdown indicator so you know if it's a 30-second interruption or 5 minutes, long enough to make a quick cup of tea!
All of those services – and probably your cable service – also have Web-based interfaces, allowing you to log in and access the same film and TV libraries accessible on your computer too. Imagine laying in bed, watching a favorite classic comedy on your Windows tablet or PC. Nice.
But even if you don't have any streaming services and are accessing over-the-air TV or plugging into a basic cable package from your residence, dorm, or apartment complex, there are options. I'll outline two that I suggest are worth exploring, but keep in mind that if you have a favorite actor, genre, or studio, you can also search for that online and specify that you just want video results. In many cases, that'll get you a link to watch the film right there in your browser.
ACCESS THE CLASSIC FILM LIBRARY ON YOUTUBE
One of the best places to look for films is YouTube, to many people's surprise. With the millions of videos uploaded every day (even AskDaveTaylor has a YouTube channel; check it out!) it's no surprise that people upload movies too. But studios also make videos available and YouTube itself has added thousands of films to its library. One easy way to find the film archive is to scroll down on the menu on the left side of the YouTube home page: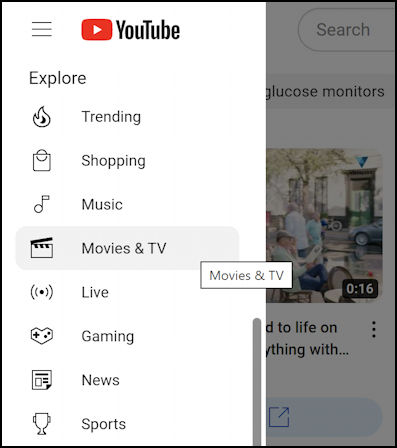 While YouTube has films to rent, there are also thousands of free choices too, some supported by advertising, others that just stream from beginning to end without a single ad. It even suggests a few movies: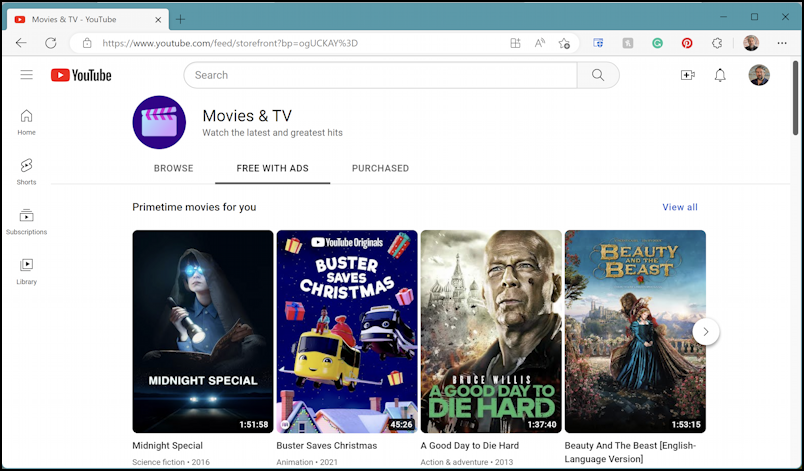 Notice I've clicked on "FREE WITH ADS" to narrow things down. You can click "View all" to browse, or, of course, you can also search for a specific film (or TV series, for that matter). Then you'll watch it directly in your Web browser on your PC tablet, laptop, or computer. Lots of good stuff worthy of your attention.
But there's an even better option if you want to turn your PC into an on-demand movie player…
WATCH FREE MOVIES ON TUBI
There are not only lots of pay streaming services that have specific apps for Windows computers, there are also free streaming services you can find and install too. Do a search on "classic movies" in the Microsoft Store and there are lots of options that appear: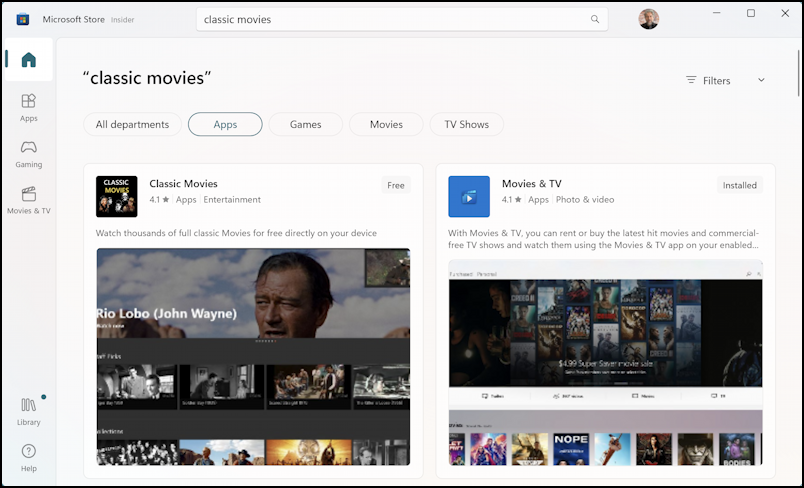 You can see that there's a "Classic Movies" app, but to be candid, I'm always a bit leery about streaming channels from unknown developers lest they have too many ads, low-quality film streams, overly small libraries, or are even streaming illegally copied films with in-app purchases.
Instead, Tubi is a really interesting option, having also started as an indie channel that's now owned by Fox Corporation. Big money means a development team that has produced a rock-solid application and a rather astonishingly broad library of content – and live TV streams too.
Scroll down in the Microsoft Store or search for Tubi to find it in the Store:
It works with Microsoft Edge, so you'll want to ensure you have that on your PC too. Probably, you already do!
To install, click on "Get", then launch the app and either sign up for an account or sign in with your Google account. Easy enough, and you only have to do so one time. Once I've logged in, here's the app's main screen:
You can see along the top the "Browse", "Tubi Kids" and "Live TV" options, but there are also categories and a search feature. It doesn't take me long to find a classic Italian-American B-Movie to watch!
You can see that the display of Hercules Conquers Atlantis (1961) is crisp, colorful, and shown within an interface that makes it easy to control your viewing experience. You can leave it as a resizeable window if you want it on screen while you read the news or check your email, or you can set it to full screen, dedicating your entire PC screen to the film. Move your cursor over the film itself and lots of controls appear, including closed captioning (including the ability to change caption text size and more).
Really easy to work with and this is but one of many, many options. And now I need to wrap up because Hercules is poised to, well, conquer Atlantis and how can I miss watching this cinematic masterpiece?
Power Tip: I've been writing about Windows for many, many years and have an extensive Windows 11 help library here. Please check it out while you're visiting. Thanks!