I have a couple of friends I follow on Facebook who post gorgeous photographs. I'd like to use some of them as the desktop wallpaper on my computer. Is that possible? If so, how do I save a Facebook image or photo as a wallpaper image?
Used to be we needed to buy CDs of photos to have images large enough to use as desktop wallpapers on our computers – I probably have a couple in the basement! – but nowadays there are a million beautiful images posted every single day. While you cannot just save and use any image on the Internet for commercial purposes, it is generally considered "fair use" for you to use it for your own Mac or PC without paying a license fee. Frankly, how many people actually see your desktop wallpaper anyway, particularly if you're still working or studying at home?
Not only that but both Mac and Windows have really easy shortcuts to set an image as your desktop wallpaper on your computer. Which reminds me, you didn't specify if you're on a Mac or PC, so I'll offer up instructions for both. While lots of things are different, in this instance, they're almost identical (though Linux does not offer the same option, unfortunately).
HOW TO SAVE AN IMAGE FROM FACEBOOK
There you are cruisin' through the Facebook feed and you bump into a great photo or other image. Maybe it's not something your friend created, just something that they've reposted or found on the Internet. Like this Ghostbusters (the original 1984 version of the film) publicity still:
Sometimes you can click and drag images onto your Desktop, which is the easiest, but if that's not working try either right-clicking (on a PC) or control-clicking (on a Mac) to bring up the contextual menu for that particular image. It's browser specific and will probably look like this: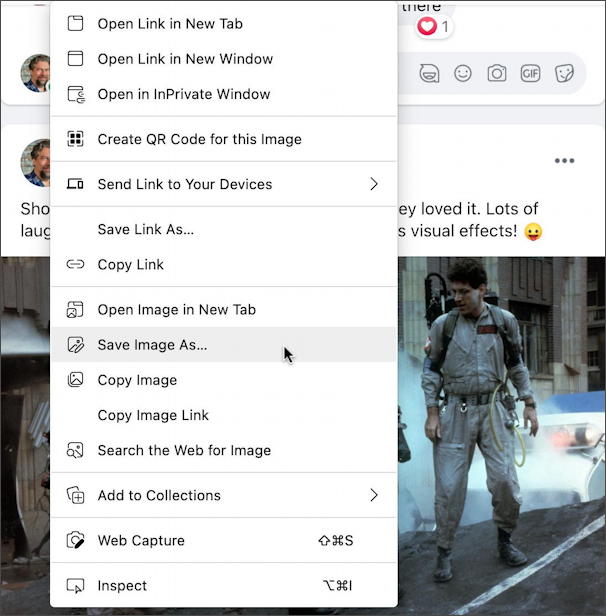 This is from Microsoft Edge on the Mac, but most every browser has the same basic function. You want to choose "Save Image As…" then pay attention to where it's saved and give it a good, mnemonic name too.
That's not an option? Then you can always do a screen capture and get the image that way!
SET DESKTOP IMAGE AS WALLPAPER
Once the image file is on your computer, it's time for another right-click / control-click. On the MacOS 11 side, you'll see this menu appear: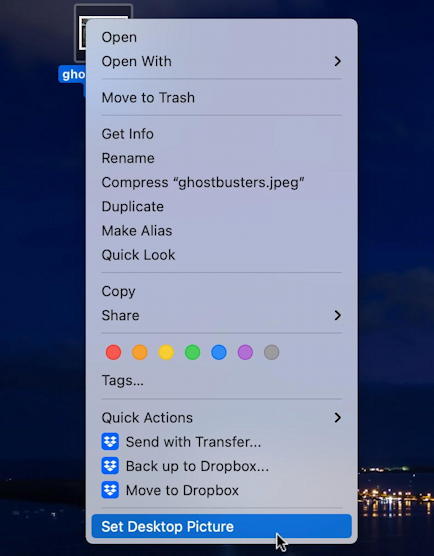 As highlighted at the bottom, you'll want to choose "Set Desktop Picture" and after just a moment or two, your selected image is set as your new Desktop wallpaper. Like this:
What about if you're on a PC? No worries. Right-click on the image file and this menu appears in Windows 10: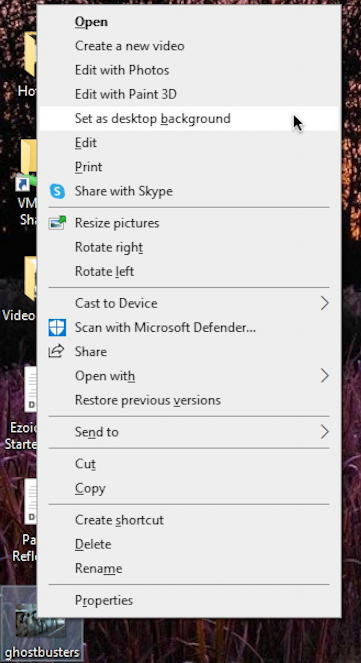 A bit harder to see, but this time it's "Set as desktop background" and you'll have the image set as your wallpaper!
Done. Not too difficult at all!
Pro Tip: Please check out my extensive Facebook help library for tons more useful tutorials while you're visiting, along with my Mac help and PC help libraries. Heck, while you're at it, why not follow AskDaveTaylor on Facebook too? Thanks!