I notice when I RSVP to meetings through meetup.com that everyone else going has a pithy and interesting biography. Where do I find mine and how can I write or update my own meetup bio?
No question, the greatest challenge with the dozens – if not hundreds – of different social sites is keeping everything updated and remembering what you have written where. Your kids get older, you change jobs, your marital status updates, your favorite artists change or you get a new hobby. Great, but where do you need to update your bio or profile to ensure it's always up-to-date? Well, that's a big topic so let's just focus on the popular meeting management and event planning site meetup.com. I'm a big fan and have been involved for quite a few years, sometimes hosting and managing groups, other times just being a participant.
Which means that I haven't updated my bio in years. In fact, I haven't even seen my bio on the site in years because it never shows you your profile information, just that of everyone else attending a meeting. They, of course, all see yours, however, so unless it's blank, they're probably all seeing obsolete information, right? Let's fix it!
First off, here's how I typically interact with Meetup.com: I get an invitation to a meeting. In the email invitation I can see the bios of people who have already RSVP'd that they are going to attend: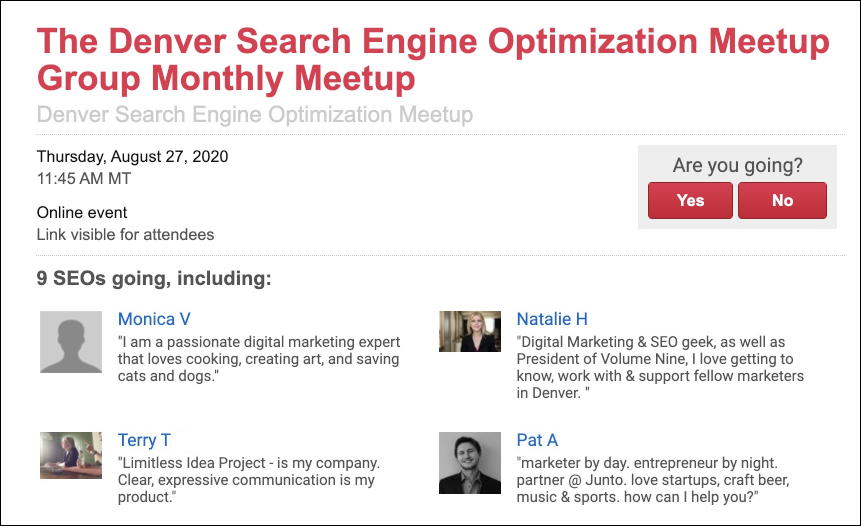 In this instance, you can see four bios included here, three of which also have a profile photo. Monica's apparently a bit shy in this venue, which is completely fine! But what do other people see about me once I RSVP for this meeting?
I can click "Yes" or "No" to update my attendance status, but I still don't get any useful information other than a confirmation pop-up: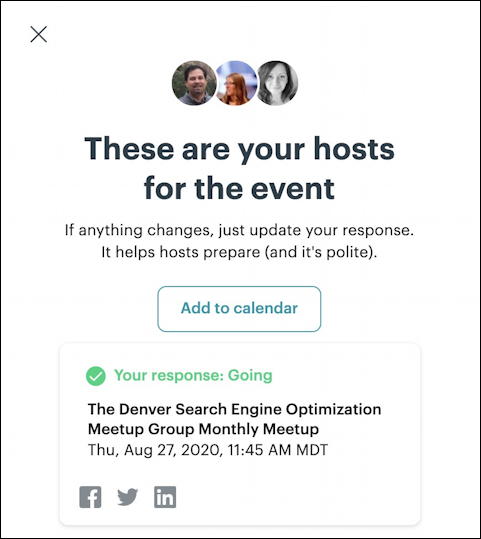 To get to this pop-up, however, I'm now on the meetup.com site, which is darn useful. You can see more information about attendees on the event information page, but, interestingly, profile biographies don't show up at this point:

At least here I can see my bio pic. And… it's a few years old so it might be time to update that too. In both instances, you'll want to go to the top right (in the Web browser interface to meetup.com, of course. The mobile experience is similar, but not quite identical) and click on your tiny profile pic to bring up the main Meetup.com menu:
I've highlighted your choice: Profile. Click on that and you'll be able to finally see your current profile bio and more: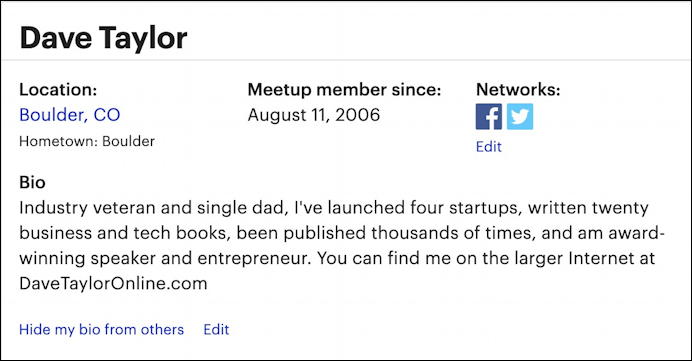 August, 2006. As I said, I've been on Meetup.com for rather a while! More to the point, however, I can see that my bio is outdated. If nothing else, I don't have DaveTaylorOnline.com up and running at this point. Definitely time to fix things up…
But notice the link "Hide my bio from others". If you want to keep your bio but become a bit more anonymous for a period of time, that's what you should click. Really want to get rid of your bio? Edit and delete it all. Easy.
But speaking of Edit, click on that link and you'll be able to wordsmith your succinct profile/bio all you want: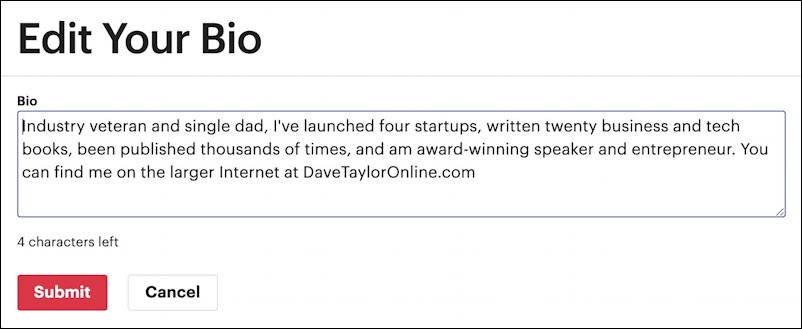 Here you should pay attention to the character count (it shows "4 characters left" in the above). You really need to keep things succinct, no question, but my suggestion is write what you want, then prune and trim to make it fit. Here's what I ended up with as my updated bio:

Much better in my opinion, and more accurate too. And that's it. Done. You can also update your bio photograph in the same spot if you want to ensure that shows your best side 🙂
Pro Tip: I've been on Meetup for a long darn time and written a number of Meetup help tutorials along with quite a lot of general computer help. Please do check it all out while you're here. Thanks!