Just put a Blu-Ray movie into my Samsung player and got a warning that my "firmware" might be out of date. What is firmware and how do I update it?
While you might not realize it looking at your TV, smartphone or Blu-Ray player, but they're all computers. They have very specialized jobs, obviously, but like your computer, they have an operating system, peripherals and benefit from Internet access. They also get software updates and OS updates with some regularity, sometimes a bug fix, sometimes new features and capabilities. Which means that it's not only a good idea to keep your devices updated with their "firmware" (as the operating system is generally called on devices) but sometimes is critical to their continued effective use.
Blu-Ray players are particularly interesting because the discs mastered today aren't in exactly the same format as they were even a few years ago. Turns out that Blu-Ray changes and updates too! Since most discs don't require the very latest immersive 3D tech or interactive features, it's often something ignored by the player or simple told to you as a warning or notification. Still, it's only going to get worse as the tech evolves, so it's time to learn how to update your Samsung blu-ray player firmware!
I'll show you how I most recently pushed an update onto my own Samsung 4K Blu-Ray player, model UBD-K8500. To start, you'll want to grab the actual Samsung remote and go to the HOME so you can get to Settings. The first option is "Picture", and it'll look like this: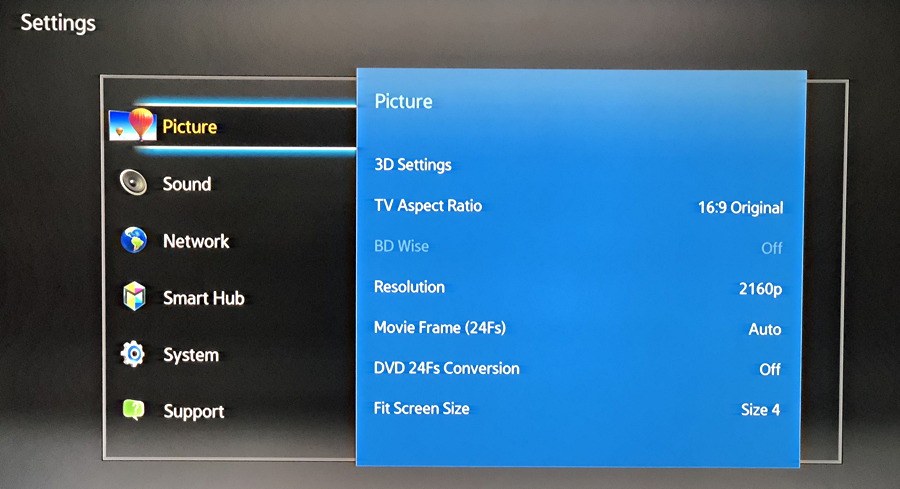 First stop will actually be the "Network" option because your player will need to be on the Internet to be able to work properly. You'll want to end up seeing something that reports it's online and ready to go: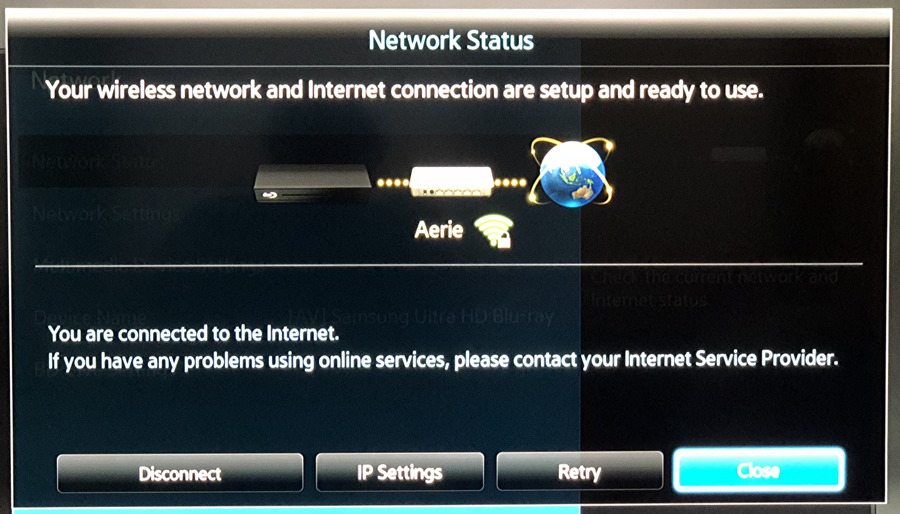 If you're not connected, you'll need to choose a wifi network and enter the password, a fairly tedious process. Ready to proceed? Good, because the Internet connection is a requirement!
Now from Network go down to Support: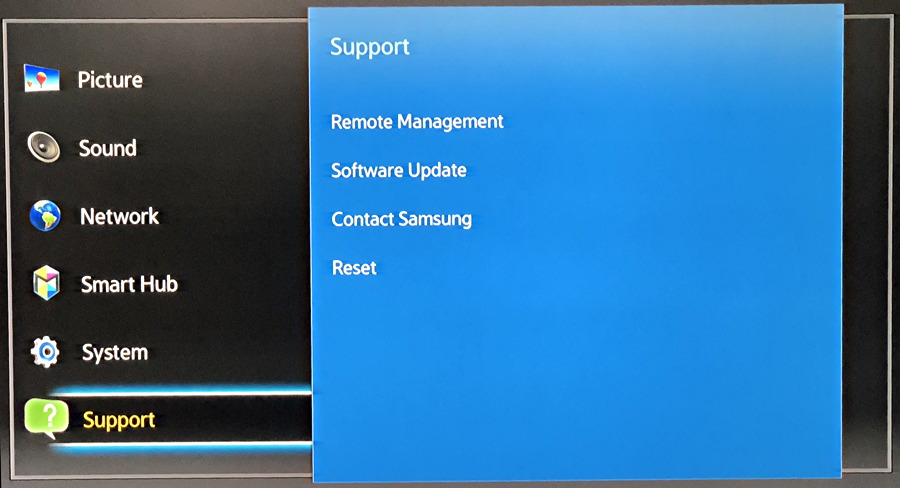 You can guess what choice you need here: Software Update. You're right!
Choose "Software Update" on your Samsung Blu-Ray Player to proceed…
At this point it'll go out to the network and check to see what the latest version of firmware (operating system) is for your particular device, and display it along with your current version: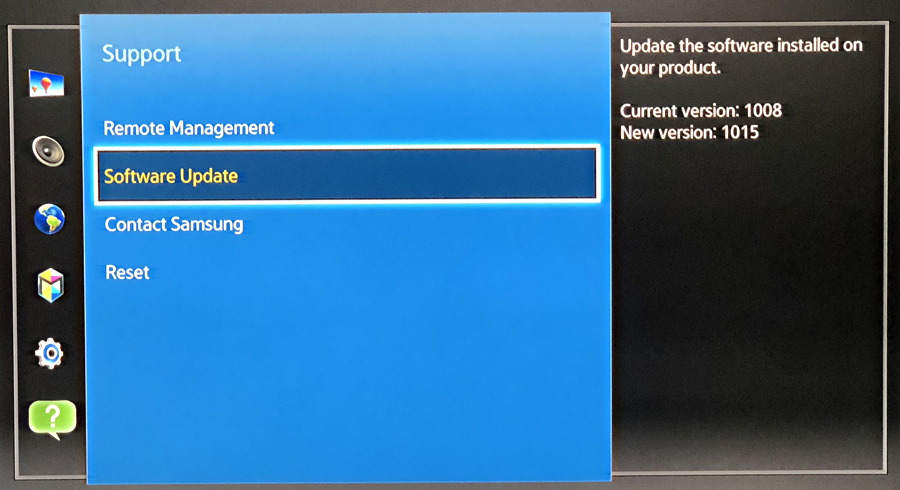 As you can see, my Blu-Ray player is running firmware version 1008 from Samsung but the latest is version 1015. Time to update! That'd done by actually choosing "Software Update" to step into that menu option.
Here's what you'll see: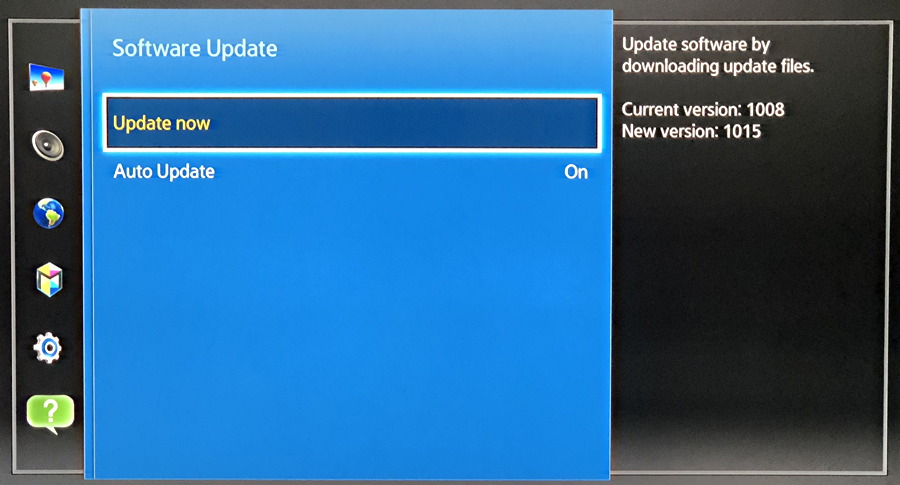 Auto Update is turned on, but that could be days or even weeks until it updates, depending on when I leave the player on through an auto-update cycle. Instead, let's force the update by choosing "Update now". It prompts you to confirm that you really do want to update your Blu-Ray player or other peripheral: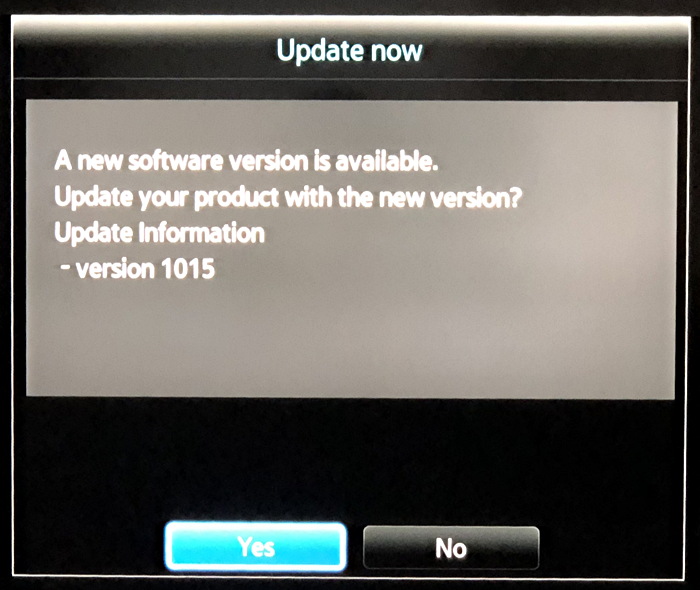 A "Yes" gets things started and it'll probably take just a few minutes with a fairly random progress bar and estimate of completion (I found it kept bouncing all over the place with its analysis of how long the process would take):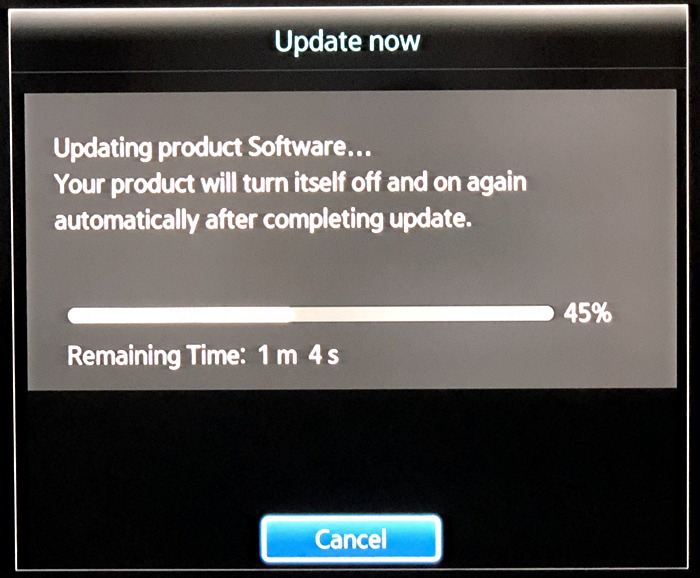 Eventually the download is done and the device will restart, installing the new firmware as it does. Don't unplug your device while this is happening (though I can't imagine a scenario where someone would unplug their device!) but you'll see this graphic on screen while the update is happening:

Yours will probably be in a bit better focus, though! 🙂
Anyway, that's it, once it restarts you're good to go and can try that new Blu-Ray disc, most likely with far better results and some cool new capabilities you didn't have before the update.