Generative AI is showing up everywhere on the Internet and if you're using Microsoft Edge, Microsoft's Bing AI is now built-into the browser. Google has Bard, but what about search? Welcome to Search Generative Experience…
In many ways, Web search has always been a do-it-yourself experience, where the search "engines" could sort through millions of Web pages to find what it thought were the best matches, but it was still on you to figure where the information you sought was on the page. Often that translated into having to browse a half-dozen or more search results to find the actual information you sought. Inefficient, to say the least.
Imagine instead if you could have a smart search companion that could analyze the content that resulted from your searches, synthesize all the data, and offer up an answer on the search results page. This is the next step in search engine evolution, coming on the tail of years of search engines showing so-called snippets from the top result that were already intended to save you the hassle of clicking through and visiting a site. Good for search, not so good for information publishers like us here at AskDaveTaylor, but that's another story.
Anyway, Google recently enabled a test version of what it clumsily calls Search Generative Experience or "GSE", which really does change your search experience. If, that is, you're using Google Chrome as your Web browser and it's the very latest version (at least v115): Even with GSE enabled, Google search in other browsers omits all of these features.
ENABLE GOOGLE GSE AI EXPERIENCE
To start out, go to google.com from within Google Chrome. It works on ChromeOS, Mac, Windows, even Linux. If you're lucky, you'll see this prompt:
The color scheme isn't great, but it says "Try a new AI-powered experiment with helpful overviews when you search" along with a "Turn on" button. This is one facet of GSE. Click "Turn on" to enable it and you'll get a disclaimer that the Google lawyers have undoubtedly spent a lot of time writing:
Basically it says "we're not sure what will happen with GSE. You cool with that?" to which you can keep it disabled by clicking "No thanks" or enable it with "I agree". Choose the latter!
Not seeing this in-line prompt? Look for the tiny lab flask icon on the top right of your Google search page instead. Click on it – it's "Search Labs" and you'll see that there are a couple of aspects to SGE you can enable:
Notice it says "SGE may appear when you search", so sometimes it won't be part of your search results, other times it will. Kind of exciting, I suppose!
GETTING STARTED WITH GOOGLE SGE AI SEARCH RESULTS
Once enabled, my earlier search for "chromeos what's new" gets an AI generated result instead of the usual list of possible Web pages:
Notice that it's a bit wonky with the ordering of results; a smarter AI would rank these from newest (115) to oldest. It's a work in progress, however, so this kind of thing is to be expected. Also note the Google disclaimer: "Generative AI is experimental, info quality may vary." Still, it's pretty handy to be able to summarize the results!
Going back to the regular search results page, notice that SGE just shows up as an added window along the top, and even invites further queries or interaction: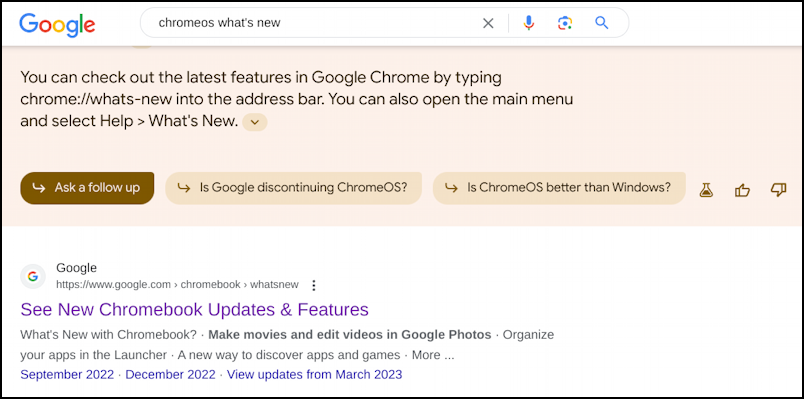 (The answer to "Is Google discontinuing ChromeOS" is no, if you're wondering!)
Ask a follow-up or reset your interaction to start afresh and you'll see a new and quite unusual Google screen:
I really like the design, though it does highlight just how dull most of the Google user experience is by comparison.
Since I'm already on a Chromebook, I'll ask a question I've been wondering about for a while: does Chromeos run on apple hardware MacBook? by simply typing it into the prompt box. That moves up to the top and the AI-generated response is shown immediately below it:
What's interesting is that are citations offered for the information displayed, but they're very subtle: The tiny "v" buttons can be expanded to show the source of that particular sentence, concept, image, or bullet point. This is critically important for ascertaining the veracity of the information produced.
Click on the "<" to the left of the search button on the top and you'll go back to a more typical search result, though you can't quite escape the new SGE enhancements:
It's a cleaner design and will be even better once we can choose to have a different background behind the top and bottom portions, an additional UI tweak hopefully just around the corner.
START A NEW AI GOOGLE SEARCH
Click on the "Reset" button on the lower left and you can start afresh with a search. Those of you with eagle eyes, however, will notice a new button along the top:
The "Converse" button lets you take any general search query and turn it into an AI query, leaning on Google Bard and SGE to improve your experience. Easy enough!
SGE POWERED GOOGLE SEARCH CROSS PLATFORM
In case you're curious, if you remember to use Google Chrome, you can now also see this "Converse" button with Google search queries on Windows:
and on MacOS:

In fact, it's remarkable how similar these queries look across the major operating systems. Well done, Google. Now, let's watch SGE evolve…
Pro Tip: I've been writing about Google's search tools and experience since the very beginning. Please check out my extensive Google Help Library for lots of useful tutorials while you're visiting. Thanks!