My friend is on a very tight budget and I help her out by letting her share my Netflix account. Now I hear that Netflix password and account sharing is going to cost money? How will that work?
According to both Netflix and other industry sources, the company loses billions of dollars in subscriber revenue each year because of people sharing their accounts with others that aren't in the same home. One estimate places that figure at over $9 billion dollars each year in lost revenue, but I have to say I'm skeptical because the assumption is that every out-of-house login is a different user and that they would pay for their own subscription if they couldn't share.
But what about if you take a business trip and access your Netflix account while in a hotel for a few days? What if you watch Netflix at work because you're working the help desk and get bored between calls? Perhaps more to the point, I would guess that way less than 50% of out-of-home users would subscribe anyway, so even if your son who's in college wants to watch Netflix from the dorms, that doesn't mean he'd be paying $$ to do so.
Years ago I shared my Netflix account with my father (who wanted to watch a few shows but would never have paid for a subscription) and we found we couldn't simultaneously watch different shows. No worries, I paid to upgrade to have additional streams available. Perhaps that will become an option? Meanwhile, here's the full scoop on Netflix password sharing…
HOW MUCH MONEY DOES NETFLIX REALLY LOSE?
I earlier mentioned the projected loss of revenue for Netflix due to password sharing, and thought people would find this graph from Aluma Analysis interesting: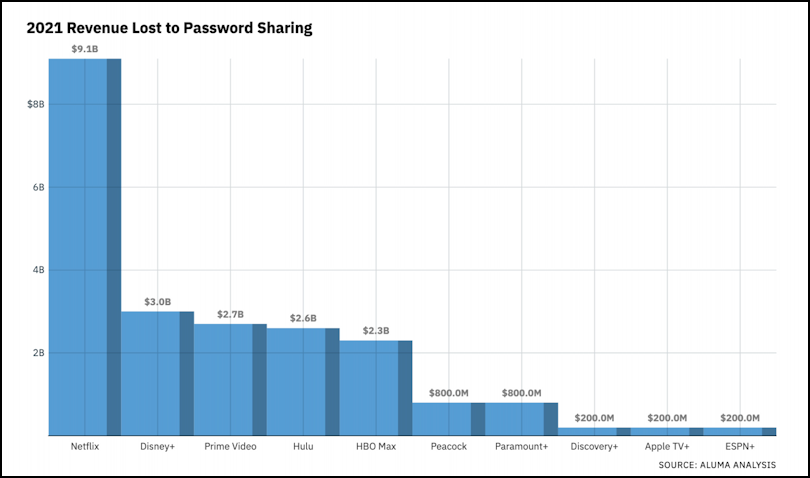 It suggests that Netflix lost over $9 billion in revenue in 2021 alone due to password and account sharing. Well, maybe. Similarly, it notes the same for Amazon Prime Video (a projected loss of over $2.7 billion) but given that everyone with Amazon Prime access has Prime Video, that's another number that's a bit hard to fathom.
Netflix has announced that its approach for US-based accounts, at least, is that any device being consistently used out-of-home will need to log in to Netflix from the account holder's home network at least once every 30 days. Failure to do so, however, will not freeze out that account or block that access, it will simply require an authentication verification, almost exactly like how 2-factor authentication works.
Netflix says: "When a device outside of your household signs in to an account or is used persistently, we may ask you to verify that device before it can be used to watch Netflix or switch your Netflix household. We do this to confirm that the device using the account is authorized to do so."
HOW TO VERIFY A DEVICE ON NETFLIX
So let's say your friend is busy watching the latest episode of The 90s Show or Lockwood & Co. and suddenly is prompted to "verify the device" because she hasn't used it at your house for 30 days or longer. What's that going to look like? Here's what Netflix says:
    To verify a device:
Netflix sends a link to the email address or phone number associated with the primary account owner.
The link opens a page with a 4-digit verification code.
The code needs to be entered on the device that requested it within 15 minutes.
Assuming that the company isn't going to make further changes, which it might well do, that's not particularly onerous.
CHANGE YOUR ACCOUNT TO SUPPORT MORE STREAMS
What if you find that you and your friend can't simultaneously access Netflix? There are a variety of different accounts available, including a new ad-supported $6.99/mo account. Here are all the current choices and prices (in the United States, prices vary by region):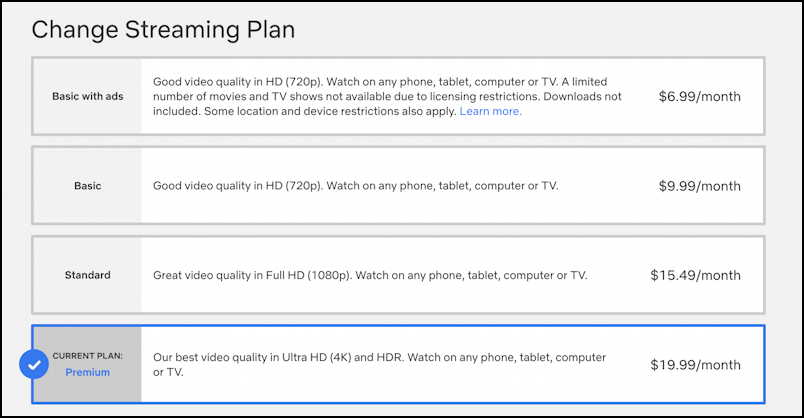 My current plan is the top tier so I can enjoy full 4K content when available. More importantly, however, it allows the greatest number of simultaneous streams, as explained in the small print on the account info page:
In other words, if it's just you, then a Standard account will be plenty enough that you can have Netflix on your TV and watch a second show – even simultaneously – on your phone. Want your friend to use the account too? Then you'll probably be pushed to upgrade to the Premium plan to enable 4 different devices to access shows at the same time.
THE FUTURE OF SHARING NETFLIX
As it is in early February 2023, the cost of sharing your account with someone outside of your home is pretty benign; just an occasional verification that will require you to communicate a code with them via text message or similar. This might well change as the rumors suggest that there's going to be another change in Netflix's anti-sharing approach in March.
One possibility is that devices that are out of the home area will be granted a 7-day "access pass" through the authentication process noted above. How often you will be able to offer those has not yet been announced, but if it's only one or two per month, that's going to be onerous, but if it's a half-dozen passes per month (or a different number based on account level), well, that's manageable.
Personally, I'd rather just see a $1.99/mo additional fee for each out-of-home device on the same account, but I'm not in charge of Netflix pricing plans.
We shall see what changes as the year progresses. If it's significant, I'll update this article. For now, if you and your friend or family member can successfully navigate 2-factor authentication then you'll be able to re-verify their access every month, as required.
Pro Tip: I've written quite a bit about how to work with Netflix and make it work for you. Please check out my Netflix help area for more useful guides so you too can enjoy this popular streaming service.