Now that we're moving into the dark of winter, I would like to have the lights in my house turned on at a specific time every evening. I hate walking into a dark house! Is that easily done with Alexa-enabled lights?
Alexa has quite a lot of cool features and capabilities that most people never explore, one of which is scheduled events. Turns out that you can have music start playing, lights turn on, your coffee maker power up, even have your bedroom Echo speaker start telling you the weather forecast at sunrise, all with the Alexa app. These are all considered "routines" by Alexa and are easily set up in the app (tho you cannot set them up by just talking through the process with your favorite Echo device, however friendly it seems).
Walk into a hardware store and you can still buy cheap little timers that plug into a wall socket and let you "program" a lamp to turn on at one time and off at another. This is the digital version of that gadget, though since Alexa is so much more sophisticated, it's a lot more flexible (and complicated, as you'll see). I'm going to set up a routine that will set my couch light to 50% brightness at 4:30pm every day. Let's do it!
ADDING A NEW ROUTINE TO ALEXA
The first step is to ensure that you have the latest version of the Alexa app. There are always bug fixes and new features showing up, so it's good to ensure you're always running the latest and greatest. [Alexa for Android or Alexa for iPhone] Ready? Fire it up!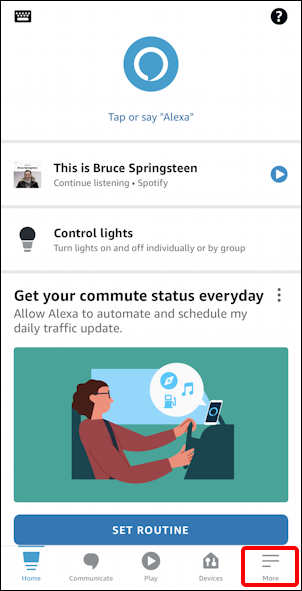 The home screen content changes every time you launch Alexa, so while this time I conveniently have the blue "SET ROUTINE" link, better to use the standard path in case you don't have the same. Tap on "More" on the lower right, as highlighted.
This brings up the main menu for the Alexa app:
You can check out the various features here, but for our task, choose "Routines", again, as highlighted.
If you've never created a Routine, your list will be very succinct. I have just a couple: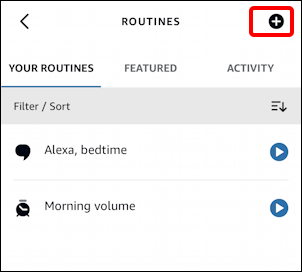 I have some speakers that I automatically reset to being soft each morning, if you're wondering what "Morning volume" is all about. Life with teenagers. 🙂
Time to create a new Routine!
HOW TO CREATE A NEW ROUTINE IN ALEXA
To create the new scheduled routine, tap on the "+" button on the top right. This produces a template for every possible routine in the Alexa app, as shown: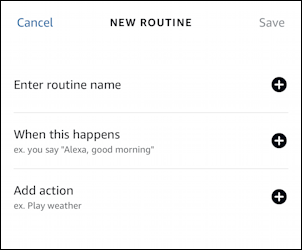 Once named, the basic routine logic is "when this happens – do this action". In our case, it'll be "when the time is X, turn in couch light". Give your new routine a mnemonic name – I'm calling mine 'vacation couch on' to denote its purpose – then tap on the "+" adjacent to "When this happens". Home automation folk would call this the "trigger" event.
Here's what you'll see: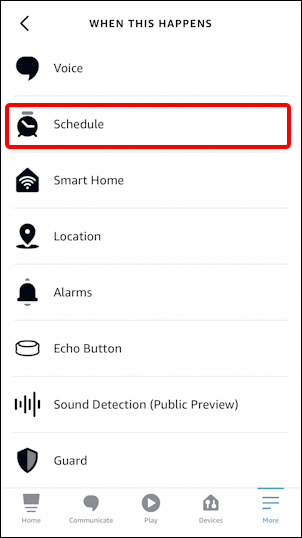 Lots of amazing options that really show how flexible this feature is in Alexa. You can have routines trigger by saying something, reaching or leaving a specified location, an alarm being triggered, even someone pushing on an Echo button! Clearly having a timer for my light is quite mundane by comparison. But… so it goes.
To set up a scheduled event, tap on "Schedule".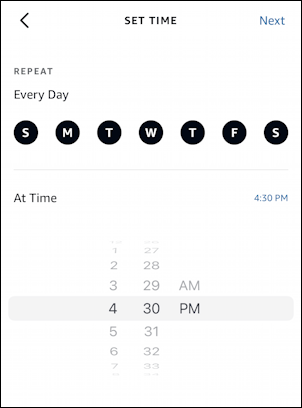 You can specify which days of the week (the default is "every day") and then at what precise time you want the event to occur. I'll specify 4:30pm.
Tap on "Next" on the top right and it's time for the fun stuff; what to do when that time is reached!
WHAT TO DO WHEN A ROUTINE IS TRIGGERED
There are as many things that can happen – even a sequence of multiple actions – as there are things you can say to your Alexa device. And more…
Want to hear the latest news update, have Alexa say something (like "it's 4.30! time to go home!"), or even call someone on the phone? You can do that. To turn on an Alexa-enabled light, however, that's in the Smart Home category:
Tap on "Smart Home" then find your light or other device. Specify what should happen to that device when the routine is triggered (for me it's "turn on", "brightness 50%") and tap on "Next" again.
You'll be shown a summary of your new Routine just like this:
Looks like exactly what I want to have happen. Perfect. A tap on "Save" and it's saved and enabled!
That's it. You've just set up a scheduled Alexa event and it will run every day until you delete it or run out of Internet. Since I like to have clear and simple automation, I've set up a second "vacation couch off" scheduled event to turn off the light at a specific time, but you could also do the same by setting up a Wait action on the same event that turns on the light. perhaps I might have it turn on at 4.30pm, wait 6 hours, then turn off, for example. You can experiment with that if you want more sophisticated Routines – along with having events timed to sunrise or sunset – or you can just set up simple Routines and get on with your day. Either way, now you know how to set these up in the Alexa app. Have fun!
Pro Tip: I've been writing about Amazon products, from Kindle to Echo, for quite a while now. Please check out my extensive Amazon Echo help area for lots more tutorials. Thanks!