I read a lot of ebooks on my Kindle, and love being able to bring up my latest title at work if I have a break. The Kindle for Mac app works well, but sometimes it won't let me remove books when done. What's up with that?
While there are some great competitors on the market, there's still a lot to like about the Amazon Kindle ecosystem. Millions of books, terrific standalone devices, and an app that ties into your account for Mac, Windows, Android, even iOS. Since they stay in sync, it also means you can easily start reading on your Kindle Reader, pick up at the exact spot on your Android phone, then consume another chapter or two while at work, utilizing your PC or Mac system.
But what a lot of people can forget is that the Kindle world also includes loaner books and while you might think they'd auto-return and vanish from your reading list automatically, they don't. It's more akin to cleaning the guest bedroom and finding that long-lost library book that's been sitting there for years!
Let me show you what I mean…
THE KINDLE FOR MAC APP
First things first, here's my library, as seen in my Kindle for Mac app: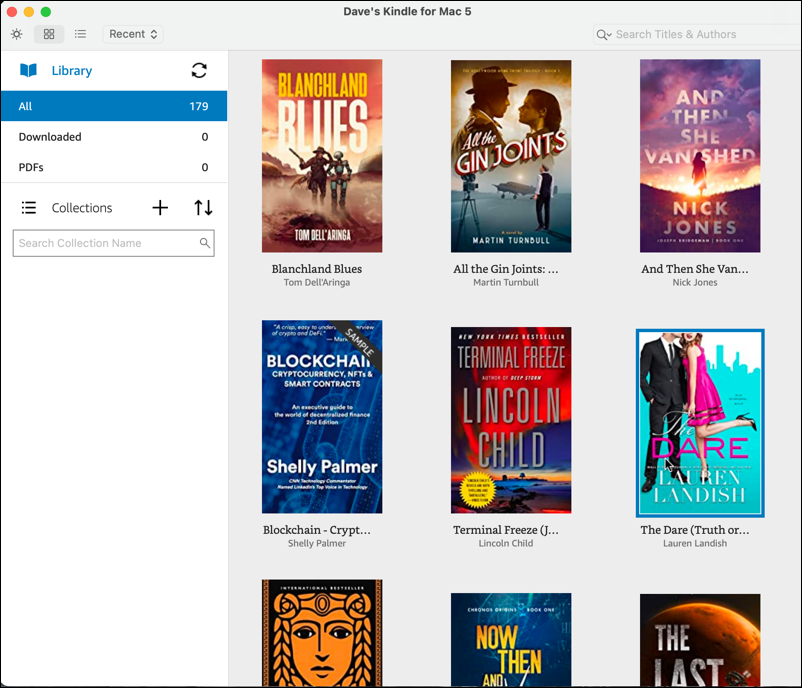 Two things to notice here: The name of this virtual Mac Kindle device – "Dave's Kindle for Mac 5" – and how you can see which of these books my daughter was reading, as it is quite unlike all the others: "The Dare". I'm going to get rid of "The Dare" too, since she long since finished it.
A right-click (okay, on the Mac, it's a Control-click) and a menu appears with options to "Go to Last Page Read", "Go to Beginning", "Download", or "Add/Remove from Collections"…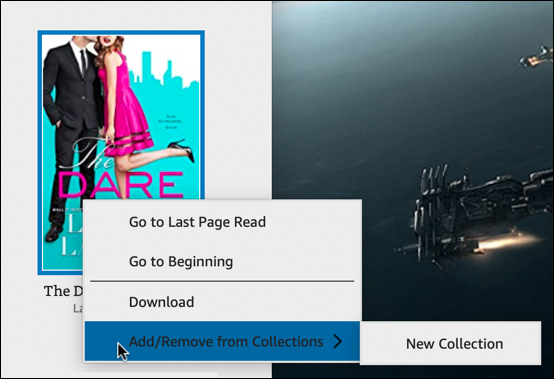 No option to actually delete the book from the collection, however.  So how do you actually delete it?
Through the Web interface, not through the app itself. Go to the "Tools" menu.

Once you choose "Manage Your Content and Devices…" it'll open up your favorite Web browser and let you proceed.
MANAGE KINDLE CONTENT THROUGH THE AMAZON WEB SITE
The browser might require you to log in to your Amazon account, but once you've done that, you'll be taken to the "Content" management area: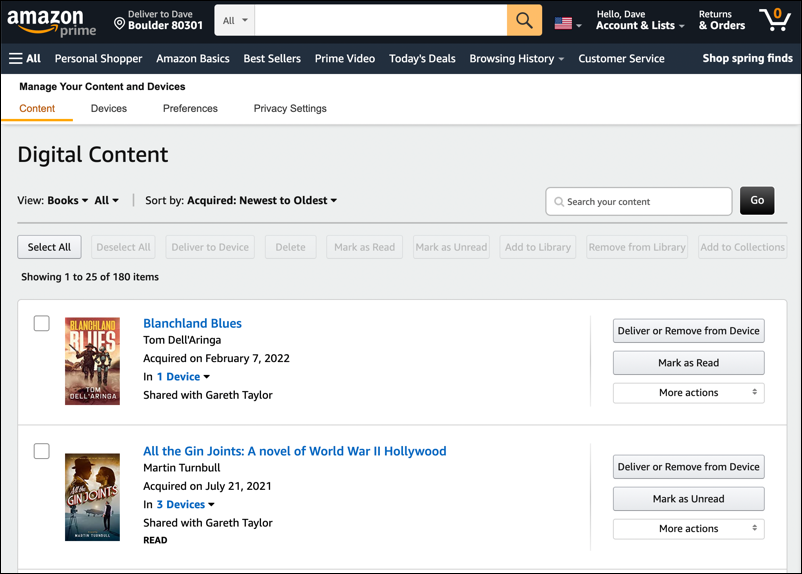 There are a lot of areas and features shown, but notice near the top, against the white background, are the choices "Content", "Devices", "Preferences", and "Privacy Settings". We'll switch to "Devices" in a moment, but for now, notice that these top two choices, Blanchland Blues and All the Gin Joints: A Novel of World War II Hollywood, both list an "Acquired" date.
When I find "The Dare", however, the small print is different:

The second button on the right has also changed from "Mark as Unread" to "Return this book". Ahhhh! That's the issue.
HOW TO RETURN A KINDLE LOANER BOOK
As you might expect, it's time to "Return this book". A click and…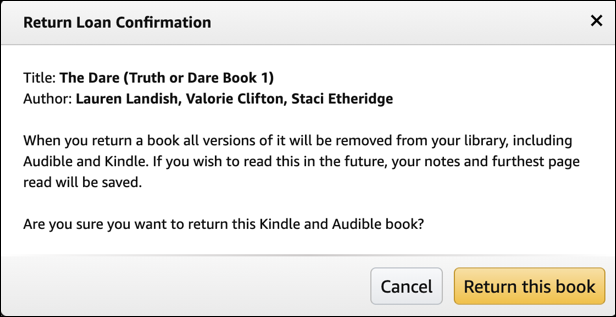 "When you return a book, all versions of it will be removed from your library…" as you would expect. That's the intention. Click on "Return this book" to confirm and success will be briefly confirmed:
Mission accomplished. While we're on the site, however, I'm going to also rename my Kindle app on my Mac system.
HOW TO RENAME A KINDLE DEVICE OR APP
That's done by going to "Devices" on the very top, finding the specific app or device (yes, you can rename your Kindle device too, if you want). Mine, as you'll recall, is "Dave's Kindle for Mac 5".
A click on the adjacent "Edit" link and a small window pops up: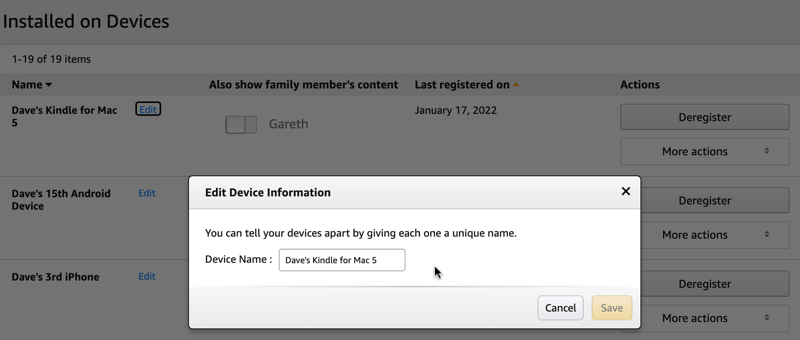 Simply enter a better name, click "Save", and you're done.
Well, almost. You'll need to restart your Kindle for Mac application to have it see the new name, but once you do, everything will be updated: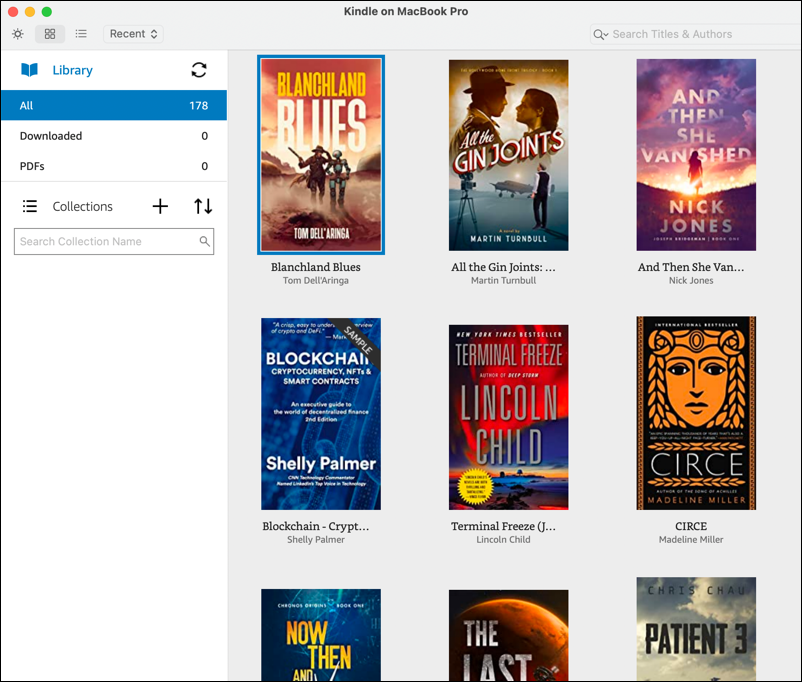 Notice both that "The Dare" has vanished from the list and that the app is now known as "Kindle on MacBook Pro". Done. Now, to get to Blanchland Blues, which is next up on my reading list!
Pro Tip: I've had Kindle devices for many years and have written quite a few Amazon Kindle Help tutorials here on my site. Please take a few minutes to check it all out!