I want to record my voice on my PC, specifically when I'm singing certain songs. I don't need a fancy mixing app or studio microphone, etc, I just want to be able to record myself talking or singing. What app do I need in Windows?
As you suspect, there are lots and lots of applications for audio recording on the Windows platform, ranging from free to hundreds of dollars or more. If you're in the studio with Taylor Swift, you probably need the very top programs available to get just the right sound, but for most of us being able to sing Happy Birthday to Grandma is plenty. Fortunately, Windows includes audio recording tools, though they aren't particularly elegant.
The challenge, as with any program on a PC that you've never used before, is finding it on your computer. To help you out with that, I'm going to show you the process of finding the app, rather than just tell you that it's called "Voice Recorder". Why? Because next time you seek an app on your PC you'll know the process of tracking it down among dozens or perhaps even hundreds of possible programs.
WINDOWS: ALL APPS IS A GOOD STARTING POINT
One Windows feature that's underutilized is "All Apps". It's as austere a view as imaginable, but when you just want to be able to scroll through a list of all installed programs, it can be quite helpful. Start with the search box by simply clicking within it on the Taskbar to bring up the search window: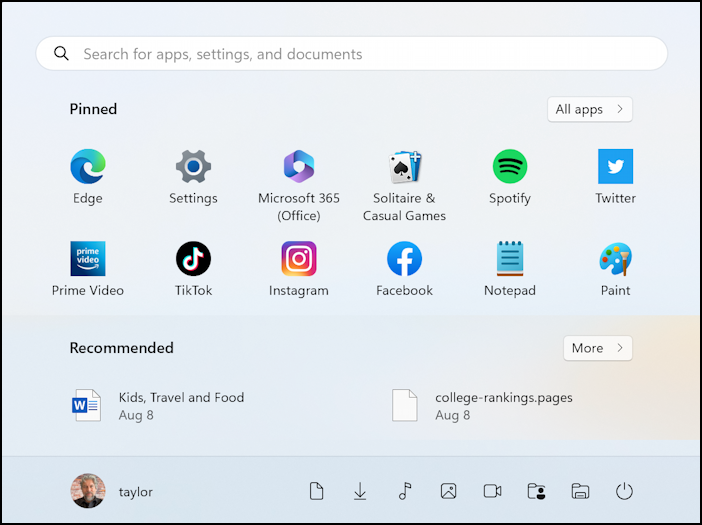 You can see that I've "pinned" my favorite apps here to make it easy to launch Spotify, Prime Video, even Microsoft 365. Windows is also offering up a few "recommended" files if I want to jump back into my prior work. Notice on the right side, above the (now obsolete!) Twitter icon, the tiny link "All apps >". A click on that and a scrolling list of all known apps and programs on this PC is shown:
How this isn't a grid of icons is beyond my explanation, but while it's very minimalist, it's still useful to scroll through and see if any apps catch your eye. Like in the "V" section:
A ha! Voice Recorder seems like a good guess for an app that can record your voice, doesn't it?
RUNNING VOICE RECORDER
From the All Apps menu you can click to launch a program (or you can search for "voice" in the Taskbar search box, another way to find if you have an app on your PC: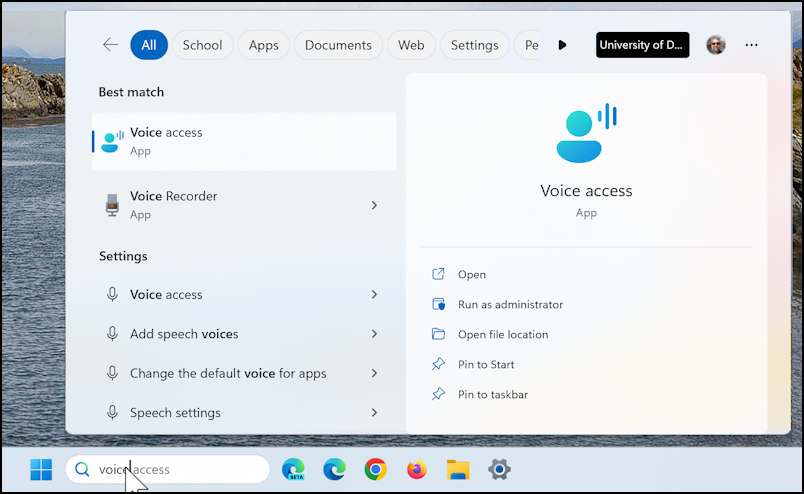 Notice in the above that it's suggested "voice access", which isn't what we seek. Below it on the left, however, is "Voice Recorder". A second way to fire up the app. Let's do so!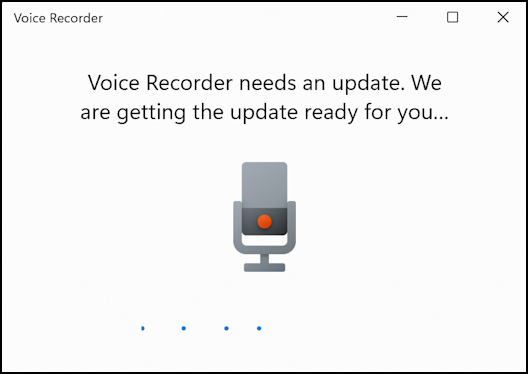 Oh, I guess I haven't run this application in a while. Fortunately, this process is automated, even to the point of it restarting itself with the updates applied. Finally, a big, empty window with a red Record button at the bottom. Click on it, grant the app any needed permissions, and you'll be recording your voice in no time: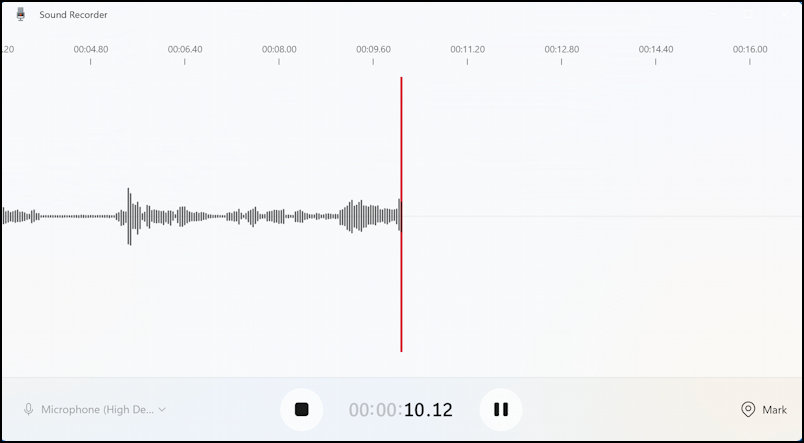 Generally speaking, you should adjust your singing or speaking volume so that you get the tallest possible lines. This is know as "amplitude" and without having it go all the way to the top and bottom, the taller, the better. Press the black square "Stop" button when you're done, then you can replay it to hear your recording.
Ready to save it? Right-click on the recording's entry on the left side of the window and a menu will appear:
If you "Show in folder" you'll find that Voice Recorder automatically saves every recording and can then easily drag it to the Desktop as desired. I recommend you utilize "Rename" too to give each recording a mnemonic name. Like "shake it off – take 7 – 8/15/2023", as an example!
FINDING YET MORE VOICE RECORDING APPS
Another way to find an app that might already be installed on your Windows PC is to search for it – or its functionality – within the Microsoft App Store. For example, a search on "voice":
Notice that I've just typed in "voice" and one of its suggestions is "voice recorder". Easy enough!
I'll choose "voice recorder" and it produces dozens and dozens of apps!
Notice that Windows Sound Recorder is listed as "Installed". Another option for recording your voice, right there on your PC. Handy enough. But if you wanted to try another one, there are plenty that are Free, some that are Free with in-app upgrades, and plenty that cost a small fee.  But to get started, I think you might find that Voice Recorder is a good starting point. There are some audio trim features [ see this tutorial from Microsoft ] but there are multiple versions of Voice Recorder / Sound Recorder and yours might not have the edit and trim features.
Pro Tip: I've been writing about Windows for many years and now have an extensive Windows 11 help area. Please check it out to find lots of additional tutorials and guides while you're here. Thanks!