The boss insists that we all have Linux computers at work, but when I'm having lunch I miss my daily Minesweeper game. Can I play Minesweeper on a Linux system with Ubuntu Linux?
Ah, Minesweeper. I think that's one of the original two or three games on the very first version of Microsoft Windows, actually. According to Wikipedia: "Microsoft Minesweeper is a minesweeper computer game created by Curt Johnson, originally for OS/2, and ported to Microsoft Windows by Robert Donner, both Microsoft employees at the time." Yeah, that was a while ago. Still, there's something oddly compelling about this simple puzzle where you pick a space and learn either that it had a mine (you lose) or how many threats are adjacent. But you know that, you already know how to play!
Turns out that a huge number of games have been ported to Linux over the years, though the more complex the game, the less likely it's available. Minesweeper is pretty easy, so there are actually quite a few versions available and, as is not uncommon with Linux, multiple "branches" of a version as different developers have tweaked and changed things. But… let's get into it!
First off, launch the "Ubuntu Software" program and search for "mine" or "minesweeper":
Lots of options. Interestingly, you can see that GNOME Mines is already installed. Great, let's just have a quick look at that!
A click and here's the information you'll see. The layout should be familiar to anyone who has checked out the Google Play Store, iPhone App Store or similar:
Let's play! Click on the green "Launch" button to fire up GNOME Mines (GNOME, btw, is the name of a popular window manager in Linux, it's nothing to do with Lord of the Rings or similar)…
First step will be to choose grid size:
Let's go with 8×8 as a basic grid, though notice you can do grids as large or small as you desire. (tip: try 30 x 3 for a simple puzzle!)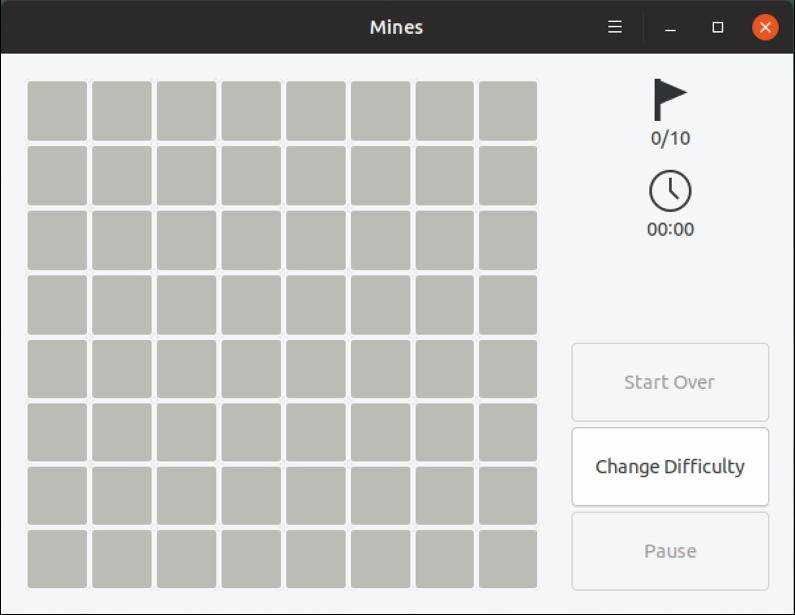 You know the basics from here: click on a square and you'll find out if it's a bomb or "sweep out" and find out the closest squares that are adjacent to > 0 mines:
I know, you're already considering next moves here. But before you get lost in this particular puzzle, a few quick highlights about GNOME Mines to consider. The biggest is that if you click on the three horizontal lines button on the top right, there's a menu that offers up Appearance as a setting:
Choose Appearance and you can pick one of a couple of different themes for the game. Pretty nice, actually. Here's my favorite:
This is all well and good, but what if you don't have GNOME Mines already installed on your Ubuntu Linux system? Well, let's go all the way back to the Ubuntu Software application and choose a different app to show how easy it is to install one of these games. This time I'll choose a different minesweeper program:
This time it's kmines – a Minesweeper game written for the KDE window manager (KDE functions similarly to GNOME). Since it's not already on the computer, the buttons have changed. Okay. Click on "Install" to install it and it's leap directly into action!

Once it's downloaded and installed you'll see that "Launch" button and you're ready to go!
Now, happy minesweeping. Want to up your game? There's a Web page for that: How to Play Minesweeper Like A Pro. 🙂
Pro Tip: I've been writing about Linux forever. Please check out my Linux help area while you're here!