I've been posting images on Pinterest and it's really fun. Now I want to learn how to optimize image size. What should I be aiming to post?
While the vast majority of social media sites are horizontally oriented – including this very Web site – it turns out that Pinterest is one of the very few that is actually vertically oriented. Look at the home page on Pinterest and you'll see the images that are taller than they are wide get more screen real estate and therefore attract more clicks and pins. Making this a bit complicated, Pinterest has two different display modes; images when they're part of a board or stream, and pins after you've clicked on them to get more information or see them bigger.
There's also the issue of what device you're using, because any smartphone user tracking Pinterest already knows that vertical is good, horizontal not so much. Nonetheless, there is an optimal size for Pinterest images, and that's 735 pixels. Height can be whatever you want to keep the image proportional, but if you're just posting horizontally oriented photos from your smartphone, for example, you're wayyyy off on the size.
The good news is that every device has a graphics editor that lets you crop and resize to produce the best possible result, whether you're on an Android phone, an iPhone or even a Mac or PC. For this demo, I'll use my Mac system and the terrific shareware program GraphicConverter for basic image editing. To start, here's the okay photo I took of some hot sauce I want to post on my Pinterest account [tip: Follow me on Pinterest as @d1taylor]: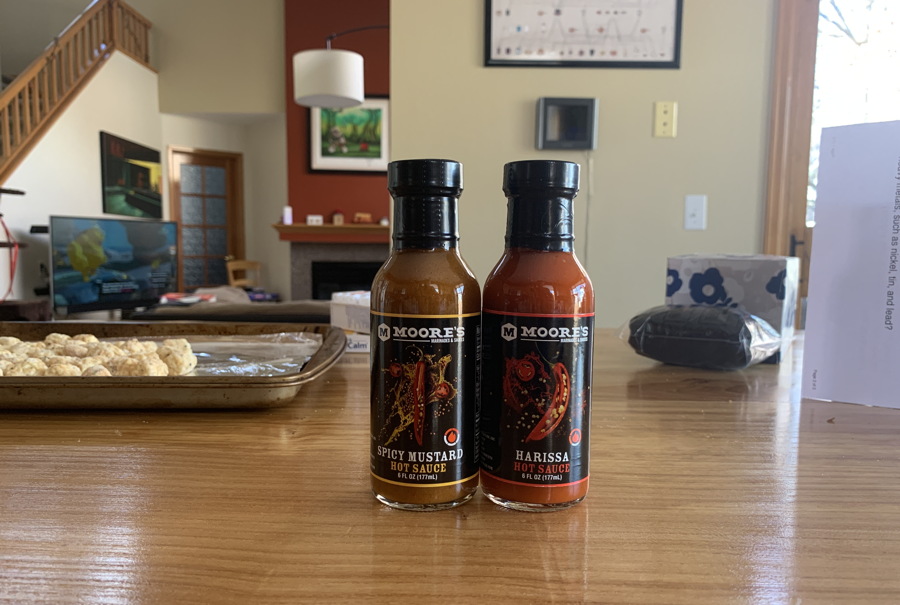 The sauces are in the photo, front and center, but there's so much else going on that it's a bit of a distraction and certainly not going to work well on Pinterest. It's also horizontally oriented in that it's wider than it is tall. There's even data to show that you'll get more shares if your image is taller too: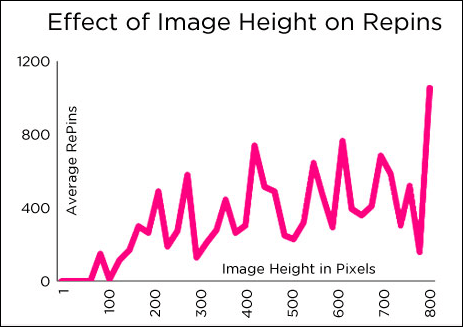 So let's fix it! I'll import the image into GraphicConverter, which lets me then tightly crop it to eliminate all the distractions in the photo:
I'm a big fan of really tight cropping. Eliminate random clutter and distractions and people can better focus on what's important in an image! In this case, cropping gets rid of so much chaos!
Once cropped, though, how big is the image? That's easily answered in the Information Window in GC: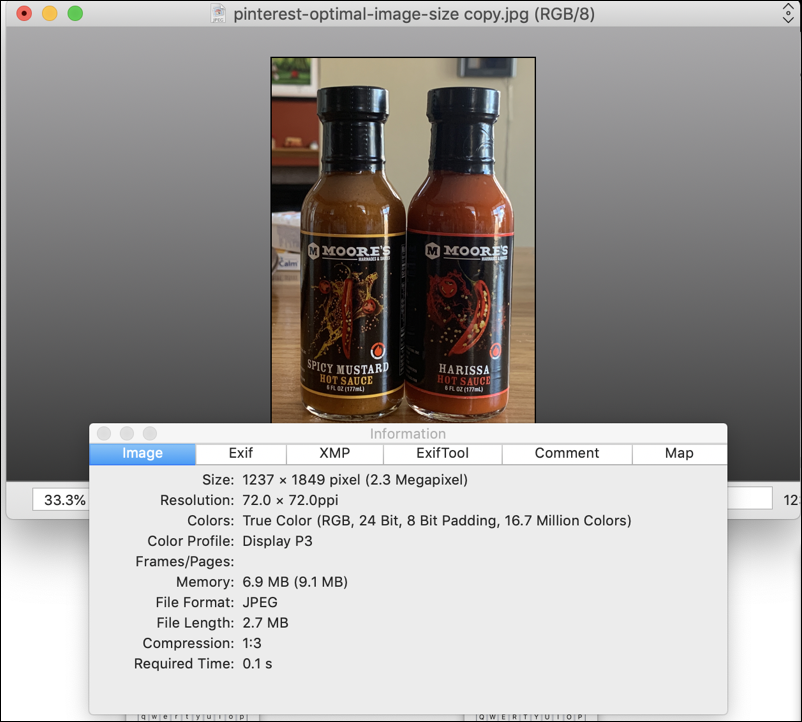 You can tell just how enormous the original image was from my iPhone XS when this cropped region is still 1237 x 1849. Remember, our goal is to get it to a width of 735, the optimal image size for Pinterest. That's done by scaling it and letting the height be whatever retains the original proportions:

Still pretty big, actually, but now the image is tight and ready to go: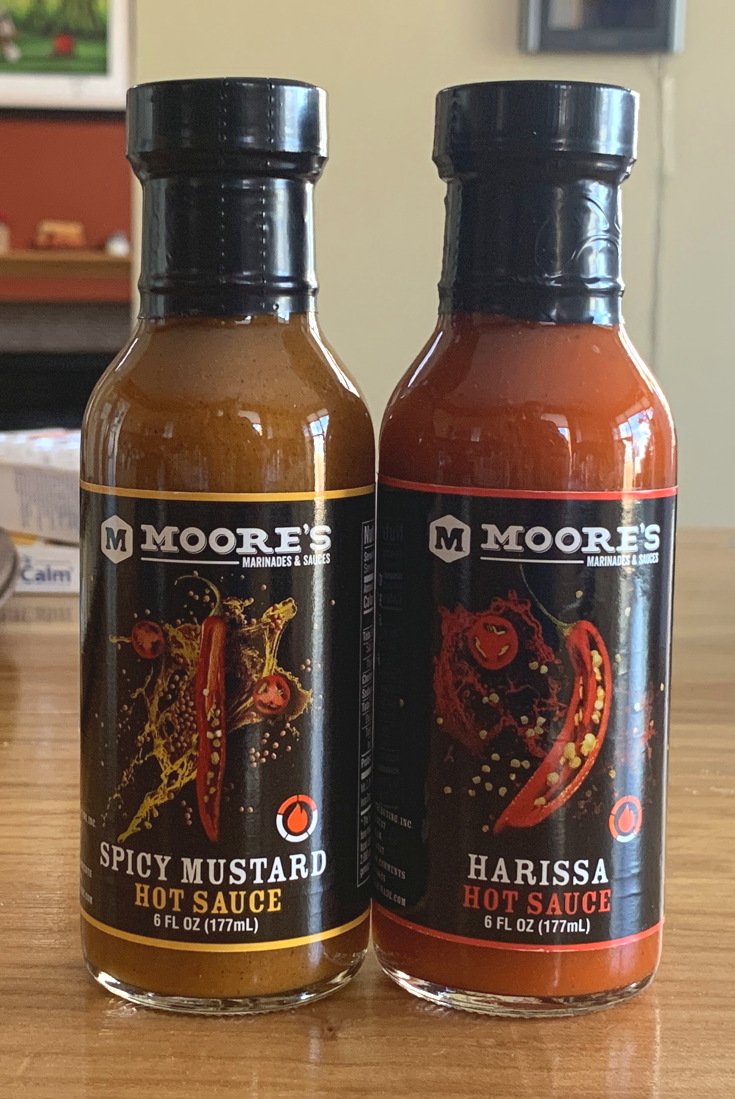 Huge improvement, isn't it?
To post it to Pinterest, just click on the "+" on the top right of your Pinterest home page, then upload the image and fill out all the fields as appropriate. For me, it looks like this: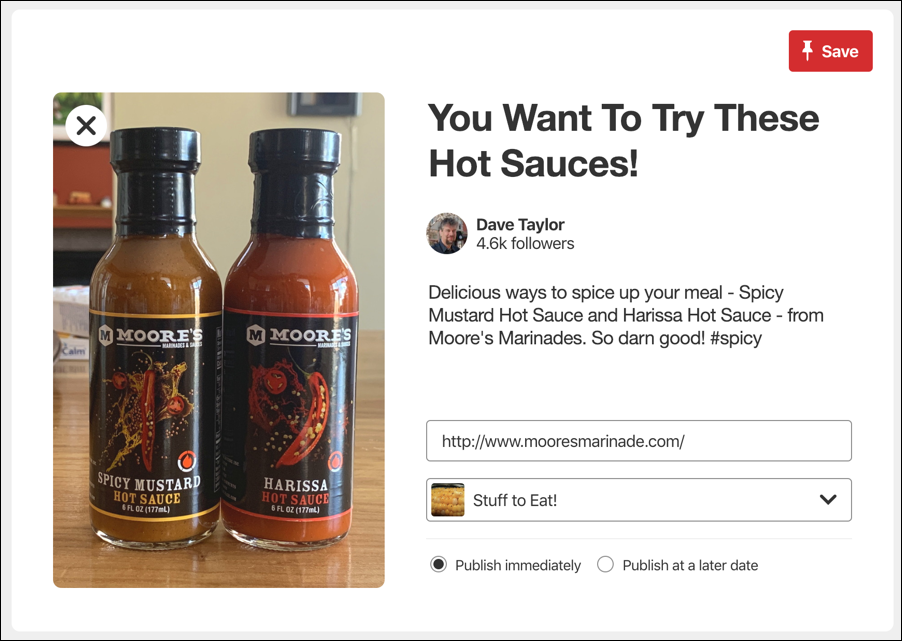 Now you can see how the image works really well with its tight crop and optimal size: we want the image to look as crisp and detailed as possible without wasting people's time having to download a massive image that's nonetheless just going to be shown at the 735px width anyway.
This also shows how to add a URL – mooresmarinade.com – pick a board, etc. Looks good? A click on "Save" in the top right and we have a solid and attractive Pinterest pin on the Stuff to Eat! board!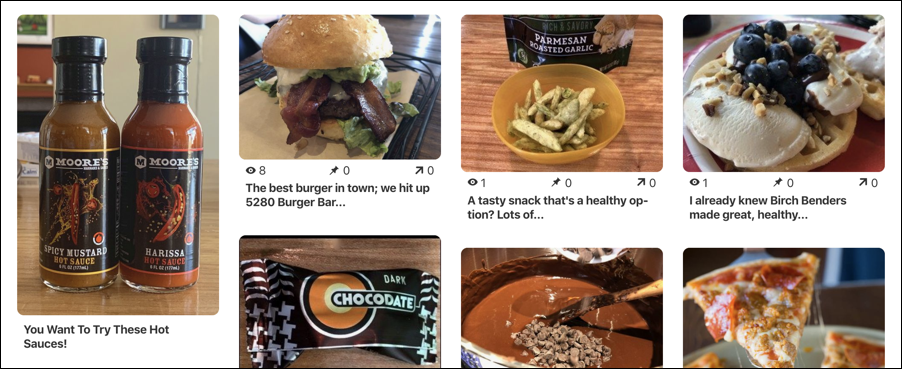 Notice how the other images tend to be horizontal on this board. Well, ya can't be perfect at everything, right? 🙂
Pro Tip: I have a lot of Pinterest help tutorials. Please check 'em out while you're here on the site.