I am new to Android and am trying to figure out how to add and alter the widgets on my phone. Can you give me a quick tutorial on how to fine tune things, please?
Whether your new to smartphones entirely or are migrating from the iPhone world, there's a lot to figure out to get your new Android phone working exactly as you desire. Since we adults tend to be a bit reticent about just trying things out, one strategy is to hand it to a teen and ask them to show you things, because somehow they most all seem to just grok electronics in a way that stymies older generations. No 16yo around? You can do it!
The biggest suggestions I have overall are that 1. You should spend some time exploring all the hundreds of different settings and preferences in the "Settings" app, and 2. There's a big difference between a tap and a long-tap. Both of these are true for iPhone users too, of course, but Android does even more with long taps so some experimentation is definitely in order. For example, long-tap (also referred to as "tap and hold") on a blank spot on the home screen. What happens? Let's find out!
CUSTOMIZE ANDROID WIDGETS: CLOCK
As a baseline, here's the home screen of my Google Pixel 6 Pro: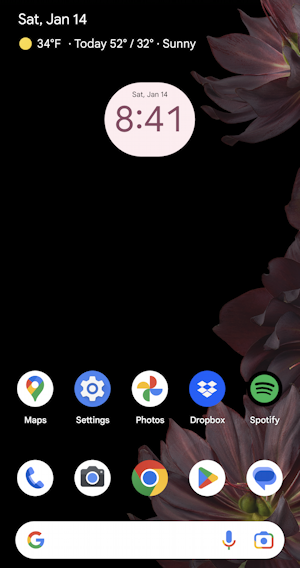 Strightforward, but that clock has a somewhat weird background, a bit too rounded at the corners. My first question is whether I can widen the clock display so it's a bit more aesthetic. How to find out? I long-tap (tap and hold for about 2 seconds) the clock display itself. It changes to this: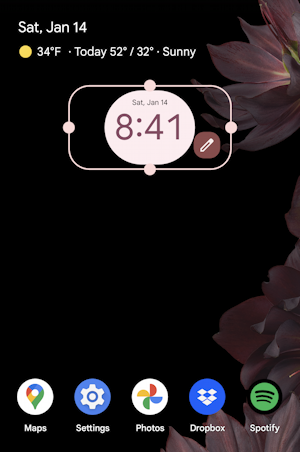 The big circles on the line are known as resize handles and you can tap and drag to move any of them. Many widgets change their displayed information based on the amount of space you allow them on your screen (as we'll see in a moment). Clock doesn't have any fun features so while it can be made wider or narrower, it's not going to change the actual appearance on the screen.
More of interest is the pencil icon, which denotes that you can change the settings to customize the widget. If I tap on the pencil icon here's what is revealed: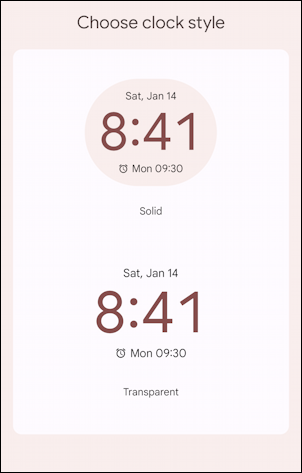 Solid is what's giving me the background color, so I'm going to switch to Transparent by tapping on the lower time display. That immediately changes the home screen and it's an aesthetic improvement!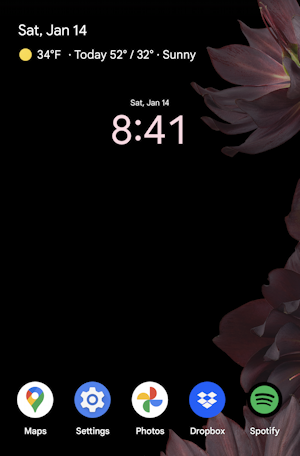 If you've followed along on your phone you noticed that while you had your finger on the screen a "Remove" area has shown up along the top. That's because while your finger is on the screen you are able to drag and move widgets around: Move it to the Remove area and it vanishes. But you can also move it left, right, up, down, etc, depending on available space. App icons will be pushed out of the way as needed. If there are settings, there's also a "Settings" area to which you can drag the widget, but why not just tap on the pencil icon instead?
ADDING A NEW WIDGET: BATTERY
Now that you've got the basics of moving and configuring your Android home screen widgets, let's add a new one! This can be done by long-tapping on any blank spot on the home screen. After a moment or two this appears: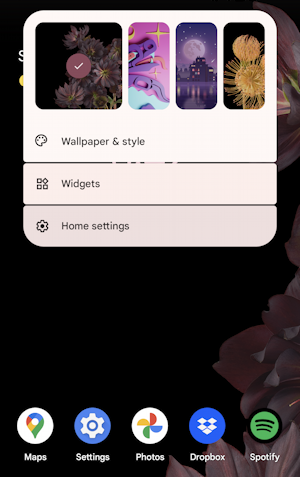 This is entirely analogous to clicking and holding on a Windows or Mac desktop, of course, and entirely logical. Tap on "Widgets" to see the full list of every possible widget you can add to your Android home screen.
Android highlights a cool widget that's gaining popularity at the top – in this case the Notes List widget – but swipe upward to get to the full list of every app that has an associated widget. There are a lot!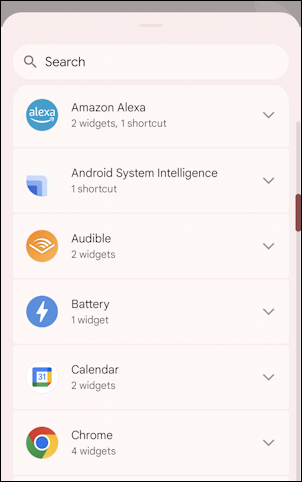 I'm going to add a battery widget to my home screen to make it really easy to see if my phone needs charging or not. With enough space it can also show the battery status of other connected devices too, including Pixel Buds if it's a Pixel phone. A tap on "Battery" shows the widget in its biggest form: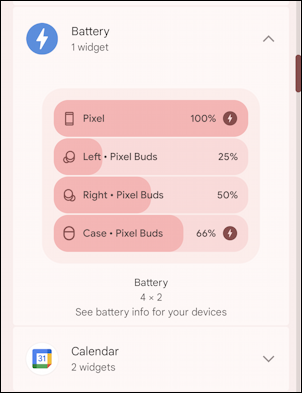 See that "4 x 2" on the bottom? That shows how many app icon spaces it would consume in its largest form. I don't really need that so I'll resize it once it appears on my home screen.
Note: The phrase 'home screen' is used to refer to any of the screens on the phone that can contain widgets and app icons, and most Android phones have at least two set up (swipe left and right to find out). You can add more and even drop a widget onto its own screen if you want too. Try it!
To add a new widget, tap and hold the widget. After a moment you'll see a somewhat shrunk version of your home screen. Drag the new widget to its approximate target location on the screen and lift your finger. You'll then see the resize handles (as we saw earlier) and can resize the widget to fit your needs. I've changed mine to be full width (5 units wide) and minimal height (1 unit):
That's pretty darn slick and a far easier way to ascertain if my phone needs charging than peering at the tiny icon on the top right corner. Colors-wise, it can be adjusted in the "Wallpapers & style" area, accessible in Settings or by long-tapping on an empty spot on the home screen. Done!
Pro Tip: I've been writing about Android forever! Please check out my extensive Android help area for hundreds more useful tutorials and guides! Thanks.