I subscribe to SiriusXM radio in my car and am wondering if there's a way I can also listen to it on my computer, either at home or in the office. Is that even possible?
I'm a big fan of SiriusXM but I have to admit that the company's pricing strategy and subscriber plans are a bit confusing. As of a while ago, they announced that all subscriptions would include online streaming, so theoretically your car XM subscription should allow you to have an online streaming subscription too. Maybe. Then again, when you go to sign up online, it might tell you that you need to upgrade, so I'm not entirely sure what will happen!
Let's hope for the best, however, and hope that your in-vehicle subscription also entitles you to listen to their streaming service online. Then I can show you how I use the online service, which I probably listen to more than XM in the car, particularly nowadays.
To start, go to the SiriusXM site from your computer. That's at www.siriusxm.com. On the top right you should see "manage my account" or "login" or similar. Click on that and you'll see the main customer menu:

Notice the choice highlighted on the left: "Get My Username to Listen Online". That's what you'll want to choose. Then enter your billing information and if your account supports online listening, you'll be able to easily set up a siriusxm.com account! If not, well, I suggest you reach out to customer service and find out why it's not included and whether they can add it to your subscription. Good luck.
Once you're set up, log in to the SiriusXM.com site and you'll see a big cheery home screen like this: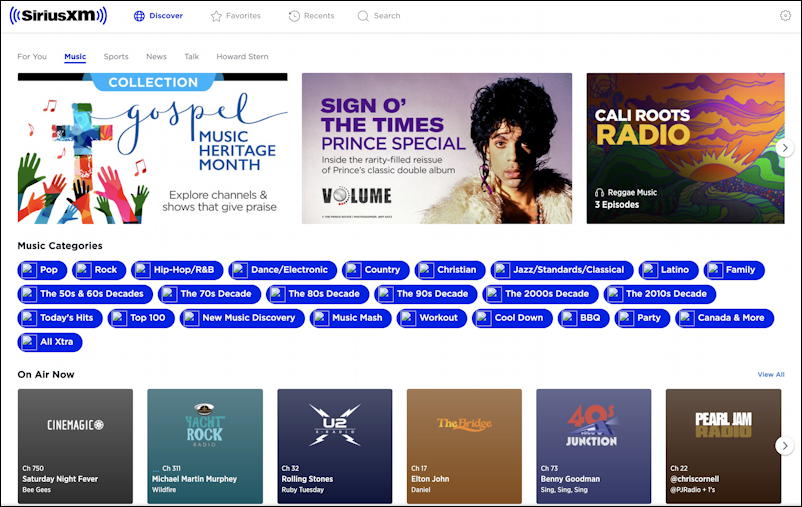 The strip along the bottom is based on my favorites and we'll get back to those momentarily! For now, let's focus on the top menu:

Unfortunately your in-car favorites aren't saved so you'll have to reselect them. Go through Discover if you want to maybe expand and add a few new channels – and there are hundreds of streaming only channels too! – or you can use the Search feature to find and favorite your old, well, favorites.
Here's one great thing about the online interface; once you've set up your favorites, clicking on "Favorites" not only shows them, but shows what they're all playing right now: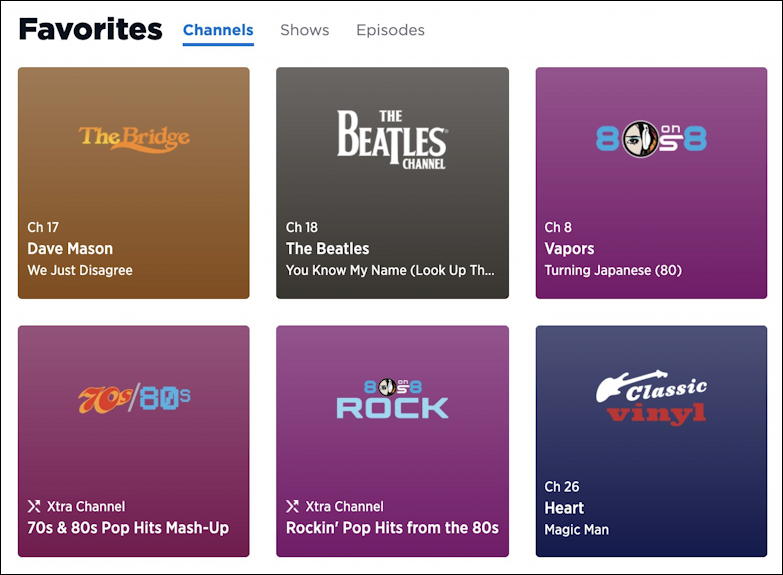 The "Xtra Channel" are streaming only and they don't show what's playing, disappointingly, but notice that four of my six do show current songs. "Turning Japanese" by the Vapors? Haven't heard that in a while! A click and I'm listening.
Next up, "Mad World" from Tears For Fears". A much better song in my opinion!
Here's what the little XM player on the bottom of the Web page shows:

The player is a bit rudimentary and for years customers have asked XM to have a standalone player app – or even a Web interface you can shrink down and float – but so far, nada. There are some third party apps you can investigate, but I haven't had much luck with any of them, sorry to report.
I just have a bookmark for https://player.siriusxm.com/favorites/channels and leave it open in a tab within my browser. Easy enough as a less optimal choice. Functional.
Oh, and if you're listening while in Google Chrome, you can use Chromecast to push the audio to any Cast-compatible device in your home or office too. A click on the Cast icon on the right side of the player pops up a menu of your options: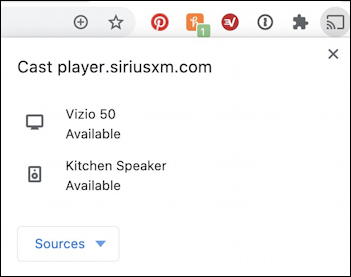 So I could very easily push XM to my Google Home speaker in my kitchen, as you can see. All in all, once you get used to the quirks of their interface, it is pretty darn functional and a great way to enjoy all those XM stations outside of your car. And don't forget, once you have it set up, you can download the Sirius XM app for your iPhone or Android, log in, and listen from your mobile device too!
Pro Tip: I've been writing about computer and Internet basics for many years. Please check out my extensive Internet help library for hundreds of other useful tutorials while you're visiting. Thanks!