When I'm out in the wilderness, is there any easy way to identify my current latitude and longitude so I can write it down or share it with friends or colleagues?
Imagine, every single spot on our planet, from the middle of the Sahara desert to the top of Everest, a flyspeck of an island in the South Pacific to the SE supporting base of the Eiffel Tower in Paris, has a unique two value numeric address. Not only that, but we've had this addressing system for a surprisingly long time: The ancient Greek astronomer Hipparchus (190–120 BC), was the first to specify location using latitude and longitude as coordinates. Of course he wanted a spot in Greece marked as zero meridian, which isn't quite what we got, but still, it's pretty remarkable that we've had the same system for over two millennia!
The way to think about it if you're unfamiliar with latitude and longitude is that they each split the Earth into two sections. Latitude zero is the equator, so anything north of the equator is a positive latitude, and south of the equator is a negative latitude. The north pole is latitude 90, the south pole is at latitude -90. Longitude is a bit different, as there's no convenient north-south line like the equator, so it's an at an arbitrary point, slicing right through Greenwich, England. That location was selected as an international standard in 1884 and is generally used today. Positive longitude is east of Greenwich, negative is to the west until you get 180-degrees around the Earth and it all starts over again. 0,0 is a spot in the ocean just off southwest Africa. Got it?
Now it turns out that you can identify your latitude and longitude from either Apple Maps or Google Maps on your iPhone…
IDENTIFY LAT/LONG WITH APPLE MAPS
The easiest is to open up Apple Maps and make sure it know where you are:
Here you can see it's correctly identified my location as being just off Ken Pratt Blvd in Longmont, CO. Now tap gently on the current location (the blue circle). After a moment you'll see this: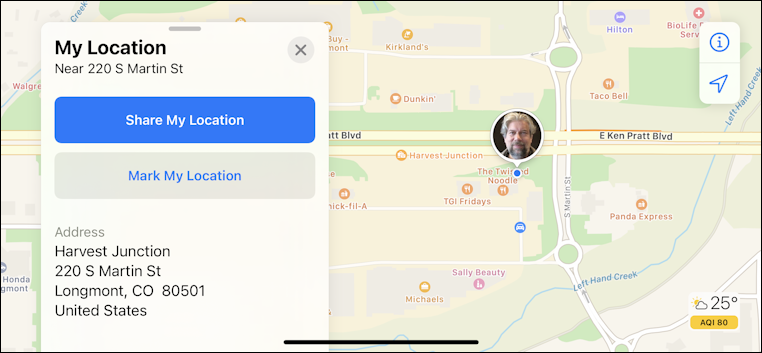 Just about there. Now just swipe to scroll down on that information window just below the approximate street address: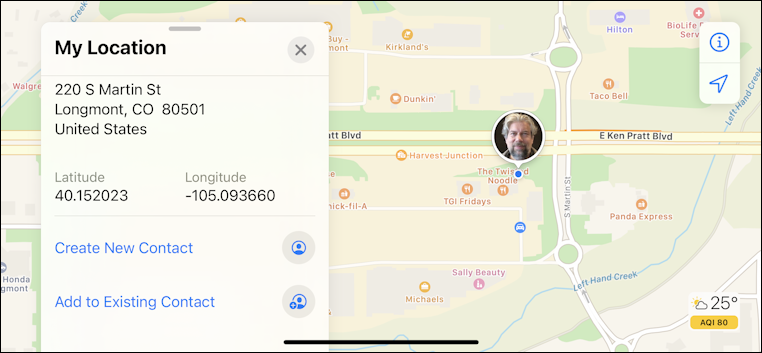 There we are! I'm at Latitude 40.152023, Longitude -105.093660. Sometimes you see lat/long described in terms of degrees, minutes, seconds, but that's the old school format. Modern times uses this simplified decimal notation. You can also check by searching online for just the two numeric values. In Google Maps you can search for 40.152023,-105.093660, for example!
FIND YOUR LAT/LONG WITH GOOGLE MAPS
Prefer Google Maps on your iPhone instead of Apple Maps? Ok. The process isn't quite the same but it's still pretty simple.
Start by finding your current location:
This time instead of gently tapping, you want to tap and hold on your current location for a second or two.
An information window will pop up…
Again, just swipe down on the information in that window and near the bottom you'll find your current latitude and longitude: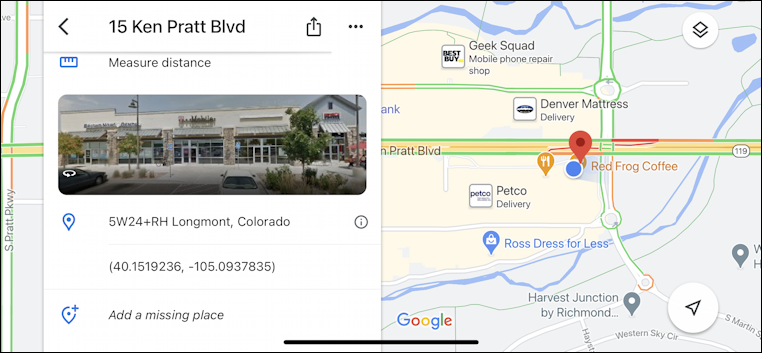 In this instance it's in parenthesis, but it's the same spot, or pretty darn close: (40.1519236,-105.0937835). You can copy and paste those coordinates into a mapping program like Mapquest to confirm it's the same spot if you prefer, but that's where I was when I took this screen capture!
So that's it. Two easy ways to identify your lat/long and share it with others as desired. My example was by a road, but it should work fine if you're in the middle of nowhere, halfway down a mountain trail too. As I said, every single spot on Earth has its own lat/long!
Pro Tip: I've been writing about iPhone tips and tricks for quite a while! Please check out my extensive iPhone help area for lots of useful tutorials while you're visiting. Thanks!