I'm running the Bing dynamic desktop tool on my Windows PC and get a cool new desktop image every day. Every so often I wonder where the photo's from, but there's no obvious way to identify it. Got any tips?
Bing does such a great job of supplying interesting, vibrant and colorful wallpaper images on your PC that I can't really imagine anyone who would just stick with the stock Windows "window" or even "grassy hillside" desktop image. You can learn how to enable it here: Explore the world one photo at a time. If it's on the lock screen, there's typically some additional information superimposed over the image, but if you never log out or log in, you never see that information. So where's today's photo actually from?
The standard way to identify the location of images on the Internet is to use image search, but sometimes that doesn't work either. Still, let's start there, with the image I have as today's desktop wallpaper on my own PC. It's definitely stunning:
As you can see, it's a group of tree stubs that have been carved into totems. That narrows down the possible location (as does the lush green environment) but still, where is this stand of totems?
As a first attempt you can simply take a screenshot and search for that image directly on Bing. How do you do that? I'm glad you asked!
Go to images.bing.com and click on the tiny camera icon on the right side of the search input field…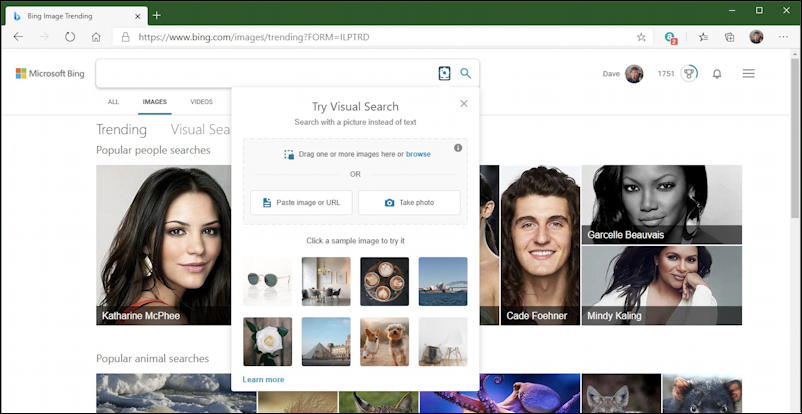 As you can see, it lets you drag and drop an image file, paste an image or even take a photo, if you're so inclined. Since I took a screen capture (with Windows+Shift+S, my favorite keyboard shortcut in Win10) it's easy to drag and drop the resultant file onto this pop-up window. It instantly uploads and compares results, suggesting:
It's suggesting Haida Gwaii, an archipelago off of Canada, but the small photo definitely doesn't look like what I uploaded. A click on the "Looks Like" tab, however, and at least we can read about this location: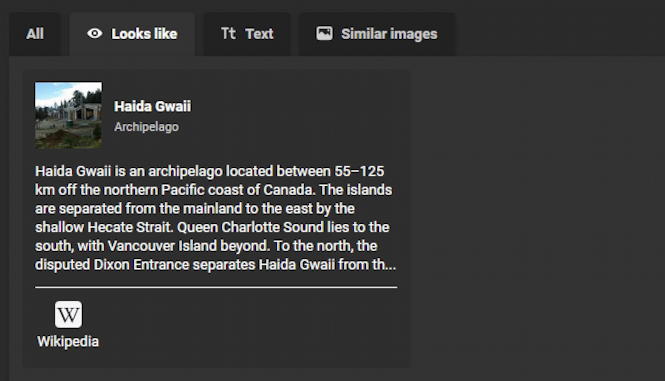 The location makes sense, an island off the Pacific coast of Canada, but the photo seems all wrong. Let's try Google image search instead!
For that it's the same process. Go to images.google.com and click on the tiny camera icon, then select the screen capture. Google doesn't do as well, however: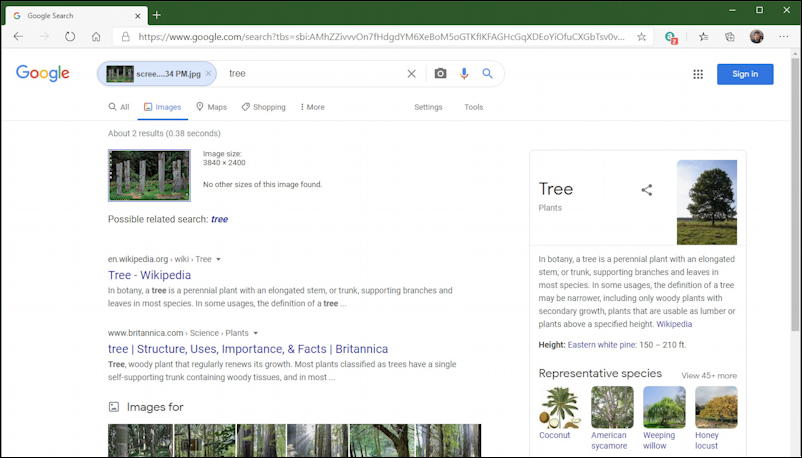 Basically, it says that they're trees, not noticing the carvings and totems at all. No bueno.
It's then I decide on a completely different tact; let's try opening up Dynamic Desktop itself. That's easily done by searching on the Taskbar for "dynamic" and clicking "Dynamic Theme" when suggested. And that solves the mystery: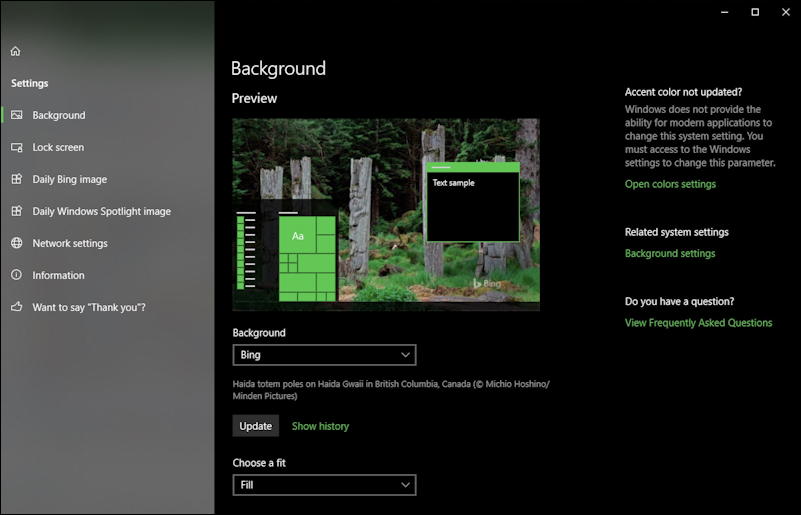 Probably hard to read in the screen capture, but it turns out that Bing Image Search was right all along. It says "Haida totem poles on Haida Gwaii in British Columbia, Canada" and lists photographer credit. Super useful and way easier than searching Bing or Google, right? Now you know.
Pro Tip: I've been writing about Windows 10 since, well, Windows 3. Please check out my extensive Windows help library for hundreds of other tutorials. Thanks.