I was trying to use Google Maps to figure out driving directions from my location to my friend's house and it wouldn't work, complaining that I hadn't granted it permission to figure out my location. How do I fix it? Running Microsoft Edge on a Mac system.
Back in the early days of the Internet, we were safe knowing that while our phones were being tracked, our computers had no clue where we were and therefore the Web sites we visited couldn't possibly know our location either. Initially basing calculations on visible wifi networks and now having more sophisticated ways of calculating probable location, it's no longer true that your operating system doesn't know your location. In fact, Windows, Mac, even ChromeOS, and Linux can ascertain your location with rather astonishing accuracy.
The current generation of systems primarily use your IP address to calculate an approximate address, then utilize what other wifi networks (technically called "SSID" names) are visible and how strong their signals are to triangulate your location to within a few dozen feet. Nowadays your laptop is almost as accurate as your phone (which uses cellphone towers to calculate fairly precise latitude and longitude, but that's another story entirely). Suffice it to say, your OS knows your location if you're online.
However, in the interest of user privacy, there are multiple layers of privacy protection to help you retain some sense of control over this information: Both MacOS and your Web browser can block sites from knowing your location. Have either disabled and Google Maps cannot do its magic, whether you're in Chrome, Safari, Firefox, or Microsoft Edge. Let's fix it!
GOOGLE MAPS CAN'T FIND LOCATION
Open up Google maps and you can definitely utilize it without revealing your location; simply start by searching for your location then proceed from there. Your view might be something like this: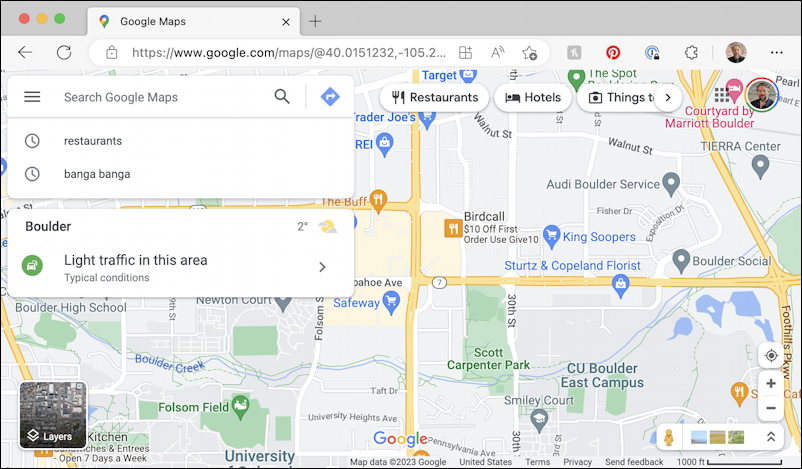 Can you see where I'm located? No, no you cannot. To have Google Maps try to find you, click on the tiny compass rose on the lower right (just above the +/- zoom controls). If it's blocked for one reason or another, you'll see this message appear:

While the "Learn More" link can explain how to fix the browser-side permissions, it isn't much help with the OS permissions. Let's start with the browser. Click on the tiny padlock icon just to the left of the site URL in the address bar. It's just to the left of "https://"…
You can see that in Edge I have location permissions set to "Allow". If yours is set to "Block", change it. The best option for people who care about privacy is "Ask", in which case you'll be able to decide on a case-by-case basis. Remember, however, that this setting can be different for different sites, so you can allow location sharing for Maps while you block it for other sites you visit.
What if you set this to Allow, however, and Maps still complains? One easy step is to reload the Maps page or even restart your browser. Still not working? Let's look at MacOS itself…
LOCATION ACCESS PERMISSION IN MACOS
Choose "System Settings…" from the 🍏 menu. (I know, it's not green, but you can find it on your menu bar, right?) and choose "Privacy & Security" from the long list on the left side of the resultant window: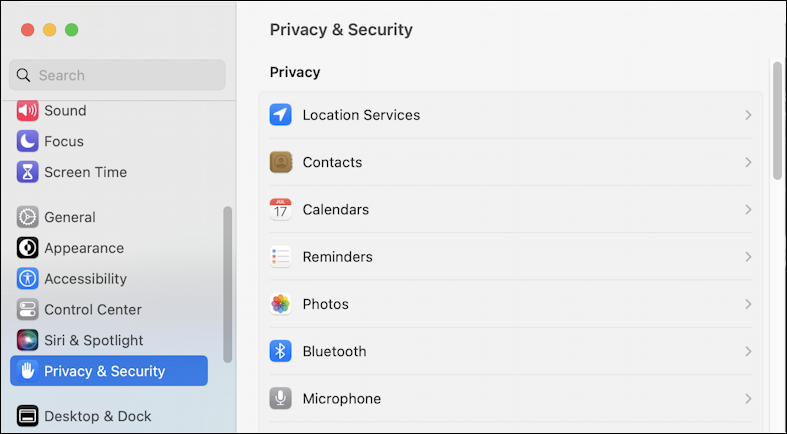 As shown, it's the very first option you want for this task: "Location Services". There's a lot to check out on this window, however, so if you get sidetracked for a few minutes, that's okay. Just come back when you're ready.
Ready? Great. Click on "Location Services".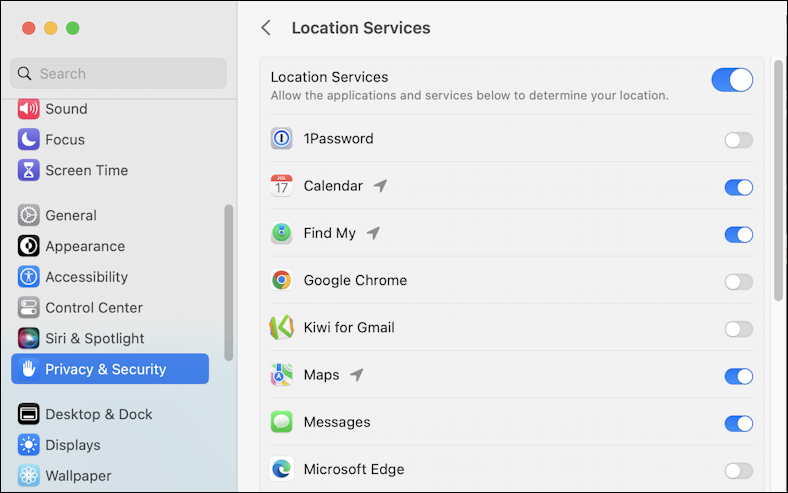 Here you can see a long list of every application and service you've granted permission to identify your location versus those you have blocked. You can see the issue here on my Mac: I have blocked both Google Chrome and Microsoft Edge. To grant permission, simply click on the slider switch to have it show blue, not grey. You'll probably be asked to confirm your identity (for security reasons):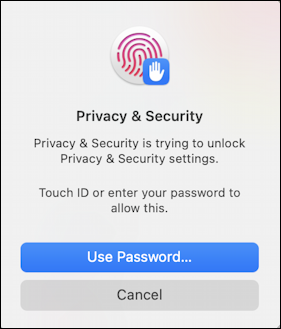 If you've enabled biometrics, this might be as easy as tapping the fingerprint scanner. Once you're done all is fixed and you can go back into Edge, Chrome, Safari, whatever, and try clicking on that "find my location" compass rose button. Still not working? Restart your browser! Finally, it can find me: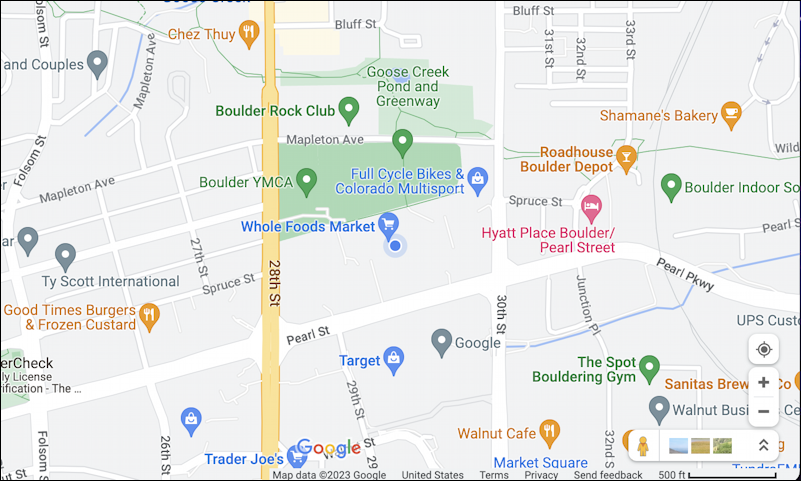 See my location? It's the (barely visible) blue dot in the middle of the map, just below the pin for Whole Foods. And, indeed, I am at Whole Foods café as I type in this article. Impressive.
Note: If you use a Virtual Private Network (VPN) to hide your location or masquerade as someone from another state or country, it can definitely confuse Google Maps, either causing it to locate you in the wrong place or just refuse to work at all since its data won't jibe and make sense.
Pro Tip: I've been writing about Mac and Google utilities for years and years. While you're visiting, please consider visiting both my extensive MacOS Help Library and my Computer Basics Library too for lots of helpful tutorials and how-to articles. Thanks!