In my discussion forums and email I see a lot of people posting shortened links, mostly through bit.ly but also sometimes goo.gl and ow.ly. But I don't like clicking when I don't know where I'm going first. Is there a way to expand these shortened URLs without actually clicking on them?
Huge props to you for realizing that URL shorteners are also a way for scammers to mask links, which means that while you might be getting an email "from your bank" the link is actually going to take you to somewhere else entirely. Sometimes they're phishing scams designed to look like a legit site or malware sites that prompt you to allow notifications or install new software "updates". Other times they're just sites you'd rather not visit, from gambling to adult content. Heck, there are also people who post affiliate links while masquerading as innocent, non-commercial posts. Not so good.
This isn't to say that URL shorteners don't have their place. They do, of course, most commonly on the Twitter platform. Turns out that most social media sites get shorteners and redirection in the process, however, even if it's not shown and visible to the user. This also helps avoid search engine spamming where companies seek inbound links to their sites from anywhere and everywhere.
Anyway, yeah, any time you see a shortened URL of any sort, it's smart to be skeptical and suspicious. As I was when I saw this post show up on a board game group I'm involved with on Facebook: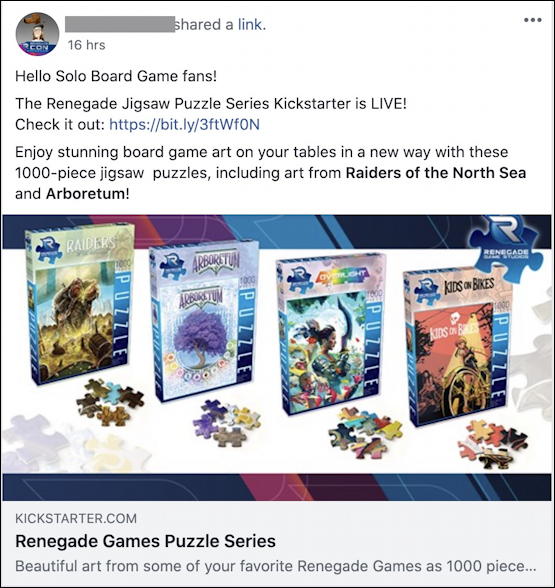 This struck me as a bit curious; why post a shortened URL when the link is clickable right there on the image? I decided I'd expand the bitly url to see where it would actually lead me and whether there was any undisclosed additional tracking involved.
Turns out that there are quite a few URL expanders online, so I thought I'd try ExpandURL. Here's the home page info:

Easy enough and logical. I copied and pasted the link from the Facebook post – bit.ly/3ftWf0N – and here's what it reported:

I was right in my suspicions! It's not just leading you to the Kickstarter page, but adding some tracking info. In case you can't see it, the full expanded URL is:
https://www.kickstarter.com/projects/renegadegamestudios/renegage-games-puzzle-series?
ref=alys1a&utm_source=solobgfb
Long and complicated, I know, but the key elements appear after the "?" and are a ref value "alys1a" and a utm_source of "solobgfb". The former is typically an affiliate link ID value while the latter is a tracking source code (solobgfb = solo board gamers on facebook, the group where this particular link was posted). Nothing untoward here, though the Facebook group itself doesn't allow affiliate links, which this appears to be with the ref=xx value.
Turns out that Bitly itself has a way for you to expand a link too, if you prefer not using third party services. Just append a "+" on the end of a link and go to that instead. In this instance, that gives us a URL of bit.ly/3ftWf0N+ which, when visited, reveals this:

Same expansion, though perhaps with a bit less information. Still, plenty enough to see the destination of the shortened URL before you click and go somewhere you might not have wanted to visit. If nothing else, it's just good to know.
Now in terms of other URL shorteners, you might be interested to know that the Google URL shortener goo.gl has been shut down and the ow.ly shortener is only available through Hoot Suite, a professional social media management toolkit.
Pro Tip: I've been writing about how to work with the Internet and avoid scams for quite a while now. Please check out my many spam, scams, and security help articles for more useful tutorials!