If you have an Apple credit card – an Apple Card – then you really need to enable a few privacy and security features, notably Advanced Fraud Protection. Here's how to do so from the Wallet app on your iPhone, step by step…
While other computer companies had released co-branded credit cards prior, Apple Computer really wanted to rethink the entire experience of having a credit card when it released the Apple Card in August, 2019. The physical card itself was platinum, much heavier than a regular credit card, but more innovative was the support for the card and transactions within the companion app on your iPhone (or iPad). Surprisingly, the app is not called "Apple Card", it's "Wallet" and it's included as a built-in iOS application. Don't have an Apple Card? You can still use Wallet to keep track of your other loyalty and credit cards.
With a fixed number and security code, credit cards are inherently insecure: If someone gets your info, they can use your card for unauthorized transactions. That's why banks have spent millions on building AI-powered transaction analysis tools that can recognize when an unusual charge occurs, whether it's an unusual amount at a common spot, an unusual type of merchant, or a geographically unexpected location. But we can do our bit too, and that's what Advanced Fraud Protection is all about.
ENABLE ADVANCED FRAUD PROTECTION ON APPLE CARD
Start out by grabbing your iPhone and opening up the "Wallet" app. Mine looks like this: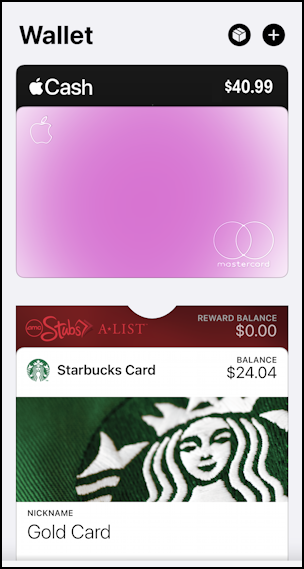 The purple card is the Apple Card (the color changes randomly), and I have a balance of $40.99 "cash" in the Wallet app too, along with an AMC Stubs loyalty card and my Starbucks card. To get to the Apple Card settings, tap anywhere on the card image.
You'll be able to see more specific information about your card usage, including a list of recent transactions (if you swipe upward):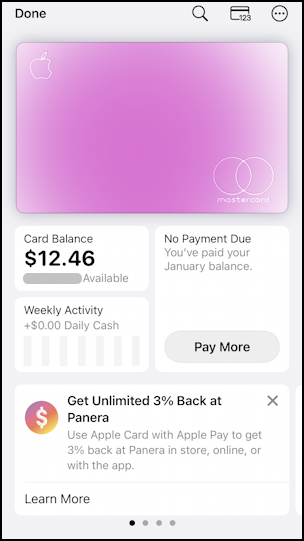 You can see that I'm $12.46 in arrears but don't have a payment due at the moment.
The important buttons are along the top: the magnifying glass icon lets you search for specific transactions, the tiny card with the '123' gets you to the Card Number view, and the "•••" offers a menu of additional features and settings. To enable Advanced Fraud Protection, tap on the card number icon (the middle choice).
You'll need to pass face recognition: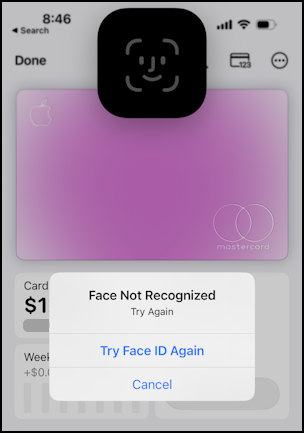 Not to worry, when I "Try Face ID Again" it works just fine, dropping me onto a screen that offers an actual credit card number, expiration date, and the 3-digit security code "PIN":
For obvious reasons, I'm not sharing this information with you. If you're ever on a Web site that prompts you to enter payment information, this is where you can get the info to use your Apple Card. Handy to know!
But what about that Security Code? While not all merchants prompt for it, the majority do nowadays and it is yet another critical bit of information, particularly given that it's kept secret and not included on transaction receipts or (typically) stored along with the rest of your credit card information. It's still not hugely secure, however, since it's the same 3-digit code every time.
Or is it?
That's the beauty of Advanced Fraud Protection: Enable it and that 3-digit number will actually change at regular intervals, meaning that if someone does have you name, card number, expiration info, billing zipcode and security code, future transactions will fail, not go through.
Wait! Does that mean that recurring transactions will all fail? Not at all. As Apple explains: "You can … use Advanced Fraud Protection without affecting your recurring purchases and subscriptions, such as streaming services or memberships, because these merchants use your security code to authorize payment just once when you first sign up."
To enable Advanced Fraud Protection on your Apple Card, simply tap on the control on this screen. It will mark as enabled and you'll see a timer icon appear adjacent to the PIN:
Mission accomplished. Well done.
While we're exploring the Wallet app, let's check out one more important Apple Card feature in the Wallet app…
HOW TO LOCK YOUR APPLE CARD
Let's say you loaned your card to a family member and they lost track of it. Alarming, because it can ostensibly be used for transactions without any additional proof of ID or similar. Time to lock your card. This, it turns out, is easy to do by tapping on the "•••" button on the top right in the Wallet app. A menu appears: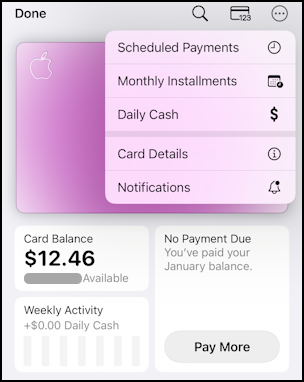 Tap on "Card Details" and you'll get additional information about your card:
Swipe to scroll down further and you'll find the section desired: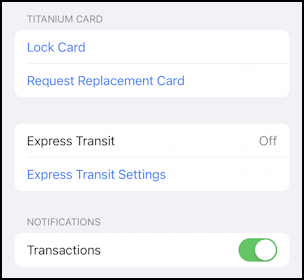 You can guess what's required: Tap on "Lock Card"  and after a moment or two, your card is locked and cannot be used. Found the card and want to re-enable it? Just tap on "Unlock Card":
You will at this point verify your identity by logging back in to your Apple ID (more than facial recognition) as an additional security step, but that's it. Now you know how to enable Advanced Fraud Protection and lock your credit card if needed.
Pro Tip: I've been writing about the Apple Card since it was launched, along with a lot more about shopping online, etc. Please check out my Amazon, eBay and Online Shopping Help for more tutorials on this subject!