I use Facebook on my phone quite a bit, constantly posting photos. But sometimes I want to tweak or enhance the images as I go. Does Facebook for Mobile have any photo editing capabilities and filters like Instagram?
Since Facebook also owns Instagram, one of the sites that originated the entire concept of fun photo filters (though probably we should give Snapchat most of the credit for the zany animal ears and bulging eye images), you'd think that it could easily add a rather sophisticated photo editing piece to all of its online tools and properties. This turns out to be mostly true with Facebook for Mobile, but rather surprisingly, the Web-based Facebook interface for computer users is still quite lacking. In fact, Facebook Web for Mac or PC basically lets you crop and add a text overlay. That's it. No filters, no enhancements, nada.
Choose the same basic photo on your smartphone, however, and you'll find that the Facebook app has a built-in photo editor that, while it isn't exactly Photoshop Express, can help you do a lot to make an okay image turn into something quite visually engaging and interesting. Let's have a look!
PHOTO EDITING BASICS IN FACEBOOK MOBILE
I'm going to post a photo of my cat from Facebook for Mobile on the Apple iPhone. Once the image is selected, here's what I'm looking at: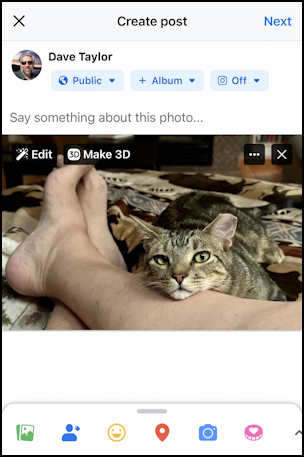 It's pretty cute as is, but we can do more with this image! One easy step, if you took the photo with a compatible phone, is that you can tap "Make 3D": If you don't see that option, it's not an image taken with a proper smartphone. Instead, however, I'm going to make some changes and improvements to the image by tapping on "Edit". We can add a smart caption a bit later…
There are lots of different tools along the top to explore, and a tap on "Effects" gives you the middle row that are filters. The display is quite unhelpful, but you can tap to see what it does to each. We'll come back to that, however. Start by tweaking the brightness, something that's often wrong with mobile photos. Tap "Lighting".
If you are going to tweak brightness, make sure you have your phone's display brightness turned up so you don't overcompensate. Looks good? Tap on "Done" to go back to the basic edit view.
ADDING OVERLAY TEXT IN FACEBOOK PHOTO EDITOR
The next task will be to add some text. This is done by tapping on the "Aa" button along the top of the screen. A simple text entry overlay will appear: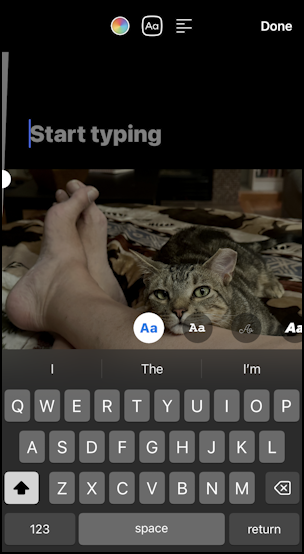 The best way to do this is to type in the text you want to be shown, tap on the various "Aa" font options to pick your favorite, then use the slider on the left edge to size it properly. Then you can tap and drag the text to the location you prefer. I've entered some text and chosen the font and size:
Want to change the text color? Tap on the rainbow color selector wheel on the top left. Or, as I said, tap and drag the text to position it perfectly…
That looks good and adds a lot more humor to the image!
FILTERS AND EFFECTS IN FACEBOOK PHOTO EDITOR
For our last step, let's add a filter. As suggested earlier, tap on "Effects" to access the row of filters and effects available in the Facebook for Mobile app: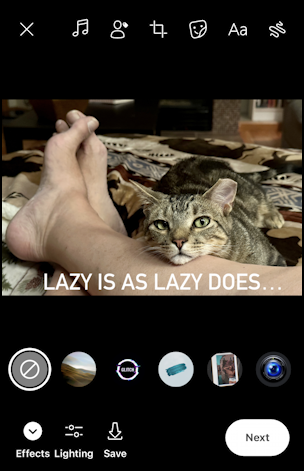 There are lots of filters that can change colors, remove all color (dramatic black & white image, anyone?), and do lots of other strange and interesting transformations to your image. I'll settle on this:
I don't know the name of this filter, but it's sure interesting, isn't it? In fact, I'm ready to post this once I add a caption. To proceed, I'll tap on "Next" (well, actually I choose to "Save" the image first, just for fun). Then I'm back at a regular Facebook post screen, except the image is way better than in the beginning…
POSTING AN EDITED PHOTO TO FACEBOOK
The rest of the process should be quite familiar and you've probably done it a zillion times. I've added a caption and even snuck in an emoji:
Time to post – a tap on "Post" and it's up and ready for everyone to enjoy:
Click on the ">" and it even animates some sparkles in the top portion of the image. Perfect!
Pro Tip: I've been writing about Facebook since it first came online. Please check out my extensive Facebook help library for hundreds of useful tutorials and insider tips and tricks. And why not follow AskDaveTaylor on Facebook for even more great content? Thanks!