I like to post photos on Instagram while at concerts and other events but later I notice misspellings and errors. Is there any way to fix them after they've been posted?
With the notable exception of Twitter, just about all social media sites allow you to edit, change and update content you've posted. That includes Instagram, which offers a lot of flexibility so you can post while you're live at an event, then go back and add just the right hashtags, tweak comments, fix misspellings, and so on.
Which might be a bit of a surprise since so many people leave typos or grammatical fails instead of fixing them. Like Facebook, where people will leave a comment apologizing for the spelling mistakes instead of just fixing the darn mistake in the first place. Very puzzling!
Anyway, back to Instagram. I had a recent experience that gave me a perfect demo for this question. Using Instagram for the iPhone I posted a photo of a very nice Chevy Traverse, just to find out a few hours later that I'd missed a few hashtags that the Chevrolet team had asked me to include. No worries, here's how I fixed it…
First, the post:
You can see that it's already picked up some likes, and that there are already three hashtags in use: #roadtrip #college #chevy. To edit the comment, tap on the "•••" on the top right.
It brings up a menu of options: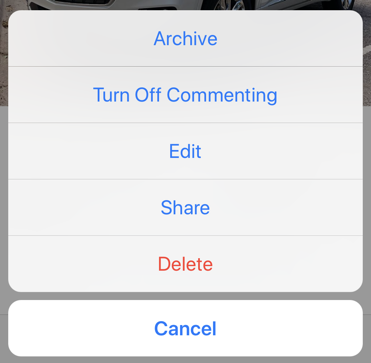 I encourage you to tap on a few to see what happens, but for this task, the choice is "Edit". Tap on that to proceed.
Now you'll see the original post – and you can't tweak or edit the photo, by the way – including the comment box. I start typing in a new hashtag and Instagram instantly shows the frequency of use of the hashtag specified and its variants:
It's a bit hard to read, but my comment is in that tiny space between the list of used hashtags and the keyboard. You can see that #findnewroads has been used over 97,000 times, while #findnewroadschevy has only been used 185 times. Since one goal fo using hashtags is to increase visibility, choosing the most popular variant is almost always a good idea.
Once I'm done with the hashtags, the pop-up popularity list vanishes and it's a LOT easier to see what's going on: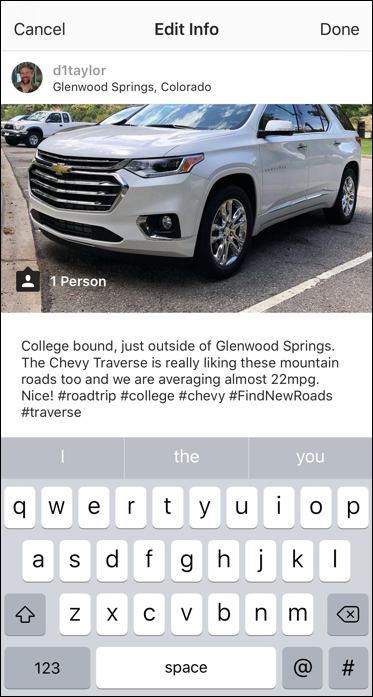 A close look shows that I've added two hashtags: #FindNewRoads and #traverse. Easy enough. You can obviously edit the phrase, update spelling, fix grammatical gaffes, and so on, all at the same time.
Ready with the modifications to your post? Tap on "DONE" on the top right to have it update the Instagram post.
You can double check it by now looking from the Web interface. With the updates, this post looks like:
Easily done, once you know the secret menu behind the "•••" link. Oh, and it's a really nice car too. 🙂
Pro Tip: We have lots of Instagram help here on the site, please do check it out!