I need to time various tasks on my PC and am tired of having to use my phone for 5 minutes, 10 minutes, even 30 minute timers. Isn't there a timer app in Windows? If so, how can I easily set and manage a timer so I can see its progress on my screen?
Given that our computers are incredibly precise with time and clocks and all, you would think it would be quite easy to set and manage timers, stopwatches, and the like. Rather surprisingly, however, they're not so much, though a recent overhaul of the Clock app in Windows has given it a lot more useful features and capabilities. Your phone's hard to beat in this regard, however, particularly if you have the voice system set up: "hey siri, set timer for five minutes" is as easy as it gets (or the Android equivalent "hey google set timer for five minutes"). Windows does have Cortana, its own voice system, but that's become more on the sidelines over the last year or two, though it's still included in your Windows system.
As someone who can type quickly and precisely, I don't mind non-voice systems as long as there's a convenient prompt, and the latest generation of Cortana doesn't need access to your microphone or anything else. In fact, it's just an app, though you can enable its always-listening mode if you're so inclined. Let's start there with your timer needs…
SET A TIMER WITH CORTANA ON YOUR PC
As I said, Cortana is now just an app, so search for it with the Windows 11 search tool and launch it once matched. The default screen looks like this: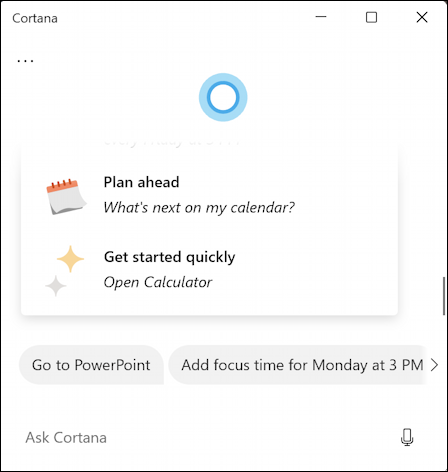 Since it's expecting queries written as full sentences, you can simply type in "set timer for 5 minutes" and…
There's a five minute timer set up and running. Easy enough. It's not a great display if you want to keep track of the remaining time, however, so for that task let's move over to the Clock app.
SET A TIMER WITH THE CLOCK APP ON YOUR PC
The Clock app got a facelift in the recent past so it might be a bit fancier than you remember. Most notably, it now has "focus", a feature that lets you disable notifications for a specified duration so you can, well, focus on what you're doing. Launch Clock from your apps list or Windows search and the opening screen reinforces this new feature:
You don't have to use Focus if you don't want to, however. To get to timers, click on the hourglass icon on the left side (on a wider layout it might have the word "Timers" adjacent, to make that even easier). The resultant layout is definitely designed for a really big monitor: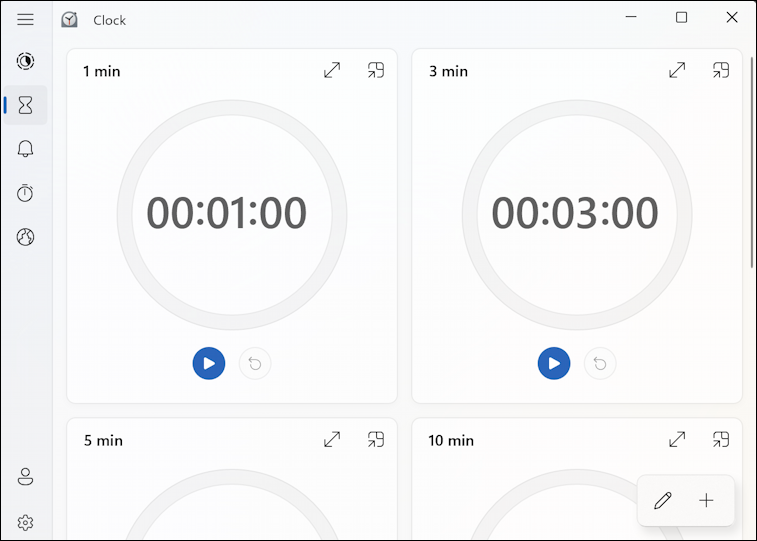 The secret, however, is the tiny icon on the top right of the timers, the one with the big square, tiny square, and arrow. Click on it on the top right of the "5 min" timer (near the bottom of the window) and that big window will vanish and a tiny floating 5 minute timer will appear on the top right of your display: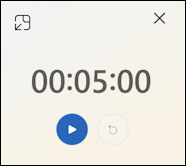 Easy enough now: Click on the Play button to start the timer, the "X" to hide it, the dual-square icon on the top left to go back to the big window view of Clock. I'll start the timer…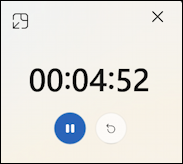 You can pause the timer if needed, and you can restart it with the circular arrow button. That's it. Easy, simple, effective. Now that you know how to use Cortana for simplicity or Clock for the ability to watch your timer as it decrements, you should be all set!
Oh! And we should cancel that Cortana timer while we're at it! Easily done with "stop timer", as shown:
That's it. Have fun timing your tasks throughout the day.
Pro Tip: I've been writing about Windows since the beginning. While you're here, please check out my extensive Windows help area for hundreds of other useful tutorials and how-to articles. Thanks!