I need to schedule some meetings with colleagues through Zoom and am wondering if there are any shortcuts to make the process quick?
Over the last few years, the Zoom teleconferencing program has evolved at a remarkable pace, from security improvements to entirely new features and functions. One area that's remained a bit lacking, however, is scheduling meetings. It's not that you can't schedule meetings easily enough, is that it's on you, the meeting organizer, to send out the invitations. Every other meeting tool out there, from Skype to Google Hangout, can email other attendees, but for some reason Zoom still hasn't implemented that functionality. Okay, so it's a matter of copy and paste, but still, why not just implement it?
Okay, I own it, that's kind of a "first world problem" so let's just get into it. In this article, I'll show you how to schedule and create a meeting for your own Zoom calendar, then share that meeting link with friends, family, and colleagues through email, text message, even Facebook Messenger. Ready? Let's do this!
HOW TO SCHEDULE A MEETING IN ZOOM
You've probably started up Zoom hundreds of times, but do you actually look at the four buttons on the main window? Mahy people don't, and it does, of course, require that you have an account and are logged in. Don't worry, there are free accounts. Sign in and this is what you'll see when you start up Zoom:
Since most of us just click on Zoom links to join meetings, plenty of people really do just, uhhh, "zoom" past this screen entirely. 🙂
This time you want to click on the "Schedule" button on the lower left. Do so.
As you can see, there's a lot of optional configuration you can change to make the meeting work perfectly for you. You'll want to give it a good name and specify the time and date (we'll come back to that in a moment), then there are a bunch of choices:
Meeting ID – You already have a personal meeting ID that you can use, but by default, Zoom generates a unique ID for each meeting. This is more secure and is probably what you should choose.
Security – I've never had an issue across hundreds of Zoom meetings, but you can specify a passcode (or use the default random passcode) and enable or disable the waiting room. If you ever have random folk – or bots! – showing up in your meeting, the Waiting Room can stop 'em cold.
Video – Set whether your video – and that of the other participants – is on or off by default. Yes, per meeting. Neat, eh?
Calendar – Choose the type of calendar you have. "iCal" is the horribly outdated name for Apple's "Calendar" program on Mac and iOS, if you're curious.
Lots to consider, but probably the defaults are fine for most meetings and digital tete-a-tetes.
Since it's likely going straight into your calendar, take the time to specify the exact date and start + ending time.
Then there are the Advanced Options:
Probably you don't need to mess with any of these, but depending on your meeting, they can be useful. Perhaps the most useful of them all is "Automatically record meeting on the local computer". Very helpful with business meetings!
A click on "Save" and you've created your Zoom meeting. Well done.
Since I've specified I use the Apple Calendar program (again, not iCal, sorry Zoom), it hands off a meeting schedule event to the Calendar program, which promptly pops up this confirmation:
Great. Now it's on my calendar. In fact, in Zoom, click on 'Schedule" along the top and it'll show you all your upcoming events, including the meeting just specified:
A click on the meeting – now called "Catch up Convo – Lisa & Dave" and it'll show me more information and offer up some link options for sharing.
That looks like this:
So at this point I'm all good and it's on my calendar, but how do I share it with Lisa?
HOW TO SHARE SCHEDULED ZOOM EVENTS WITH OTHERS
You can choose "Copy Invitation" which includes information on various ways to connect, dial-in numbers and more. You can also "Show Meeting Invitation", which turns that invite into an email (so yeah, I was wrong earlier, but why isn't this part of the actual meeting scheduling task?). Since I'm busy chatting with Lisa through Facebook Messenger, I'll just click on "Copy Invitation".
This will flash on the screen for a moment or two:

Great. Now I can just paste this into Messenger, knowing it'll have everything she needs: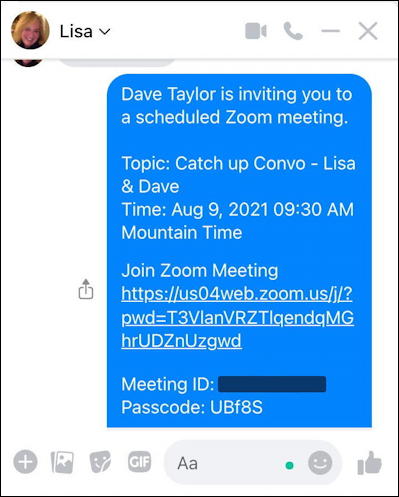 If you're sending a text message or email, remember that you can paste this then delete everything except the actual Zoom link in the middle. Not too difficult, but, again, it could be simplified even further to help make people's lives easier. Note that there's no "add to calendar" for the invited guests either… In any case, that's how it's done, and now you know how to create Zoom calendar events and share them with others!
Pro Tip: I've been writing about how to get things done online forever. Please check out my extensive Zoom help area while you're here! I promise it'll help make you more productive with this useful tool.