I'm inspired by the AppleTV movie "Tetris" and want to download a copy onto my Ubuntu laptop so I can play this simple and elegant puzzle game. How do I download games onto a Linux system?
One of the very first computer games, Tetris was indeed a great puzzle game that has managed to remain popular even decades later. Its big boost was as the default game included with the incredibly popular Nintendo GameBoy – as featured in the terrific AppleTV film Tetris – but it's available for dozens of systems and devices. Even an Ubuntu Linux system.
To be fair, however, there's not an official Bulletproof Software version but rather a number of implementations and variations from open source software developers, but if it plays the same, for all effects and purposes it's the same game, right? Let's have a closer look, utilizing the Snap Store for adding additional software to an Ubuntu system. I'm running Ubuntu 22.04.2 LTS, if your version looks slightly different…
FINDING GAMES IN THE UBUNTU "SNAP" STORE
Launch the Ubuntu software store – now known as Snap – on your system. It's probably one of the icons on your taskbar (or "the panel" as some Linux folk call it), actually, making it really easy. Then click on the magnifying lens and search for "tetris":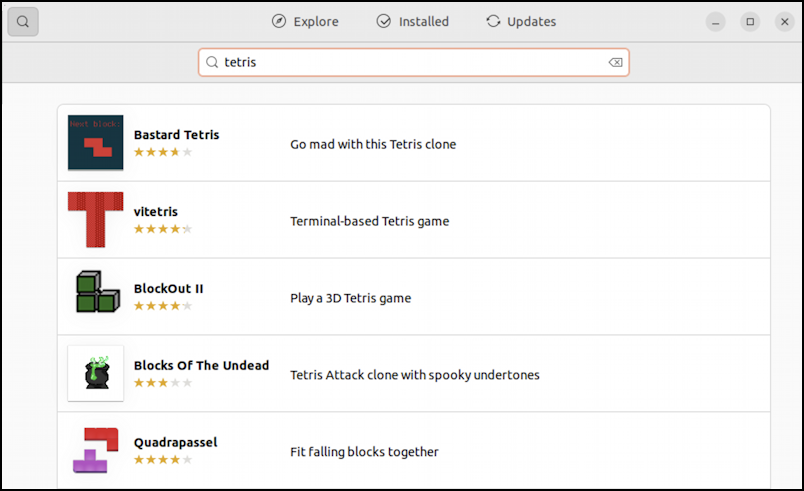 As you can see, there are a number of different implementations with different styles of blocks and even some unusual themes that might – or might not! – appeal to you. One thing I look for with software is that the Snap Store marks it as safe and not a security threat, something you can see when I click on "Quadrapassel":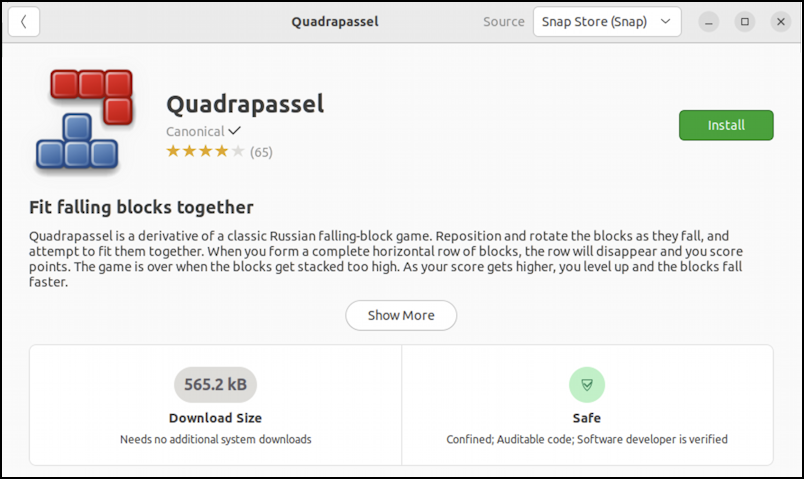 If there's a "Safe" option like this, I recommend you choose it over one that has an untested third-party software warning shown. Why wouldn't you want the least risky alternative? In this instance, it also turns out to be one of the very best Tetris clones for Linux.
To install it, click the green "Install" button, then verify your system password for install permissions. It'll take a while to download and install, but it's all automated:
After a bit (mine took a few minutes) this pops up:
Time to play!
HOW TO FIND NEW APPS
One of the classic challenges with a Linux system is where to find apps once they're installed. Unlike Windows, they don't just show up with a shortcut on the Desktop (thank goodness). Instead, click on the 3×3 grid icon on the Taskbar to bring up the All Apps view, then scroll as needed to find the new game:
You can see it's the last app on the list, which makes things easy. Now right click on the app to bring up the context menu: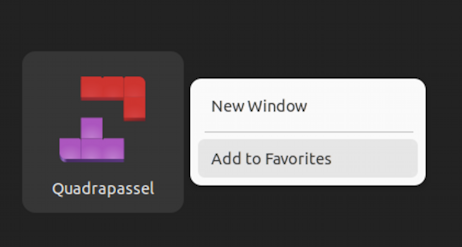 If you'd like to add the game to your own Panel (Taskbar), choose "Add to Favorites". Easy. If not, well, you can click it to launch the game, or choose "New Window".
PLAYING TETRIS ON YOUR LINUX SYSTEM
Finally, let's fire up Quadrapassel and see how it looks: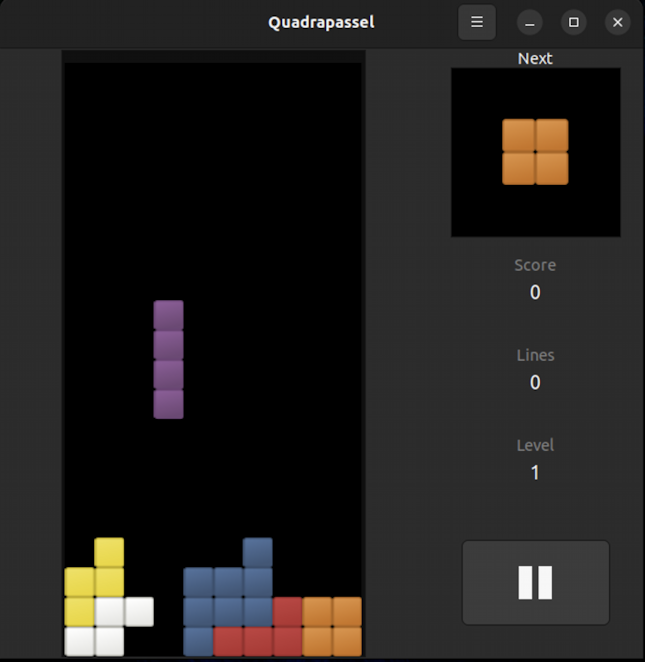 Turns out that it's a very good implementation of the basic game, with everything you'd want, from attractive, slightly 3D Tetris pieces to a preview of the next piece and simple cursor-arrow controls that let you jump right into the game, as I've done here. There are no fanciful Russian images in the background and no audio at all (the latter being a pretty typical characteristic of Linux games), but you can always play Spotify in the background, choosing traditional Russian melodies.
Quadrapassel also has a lot of configuration options, accessible from the three-line button along the top: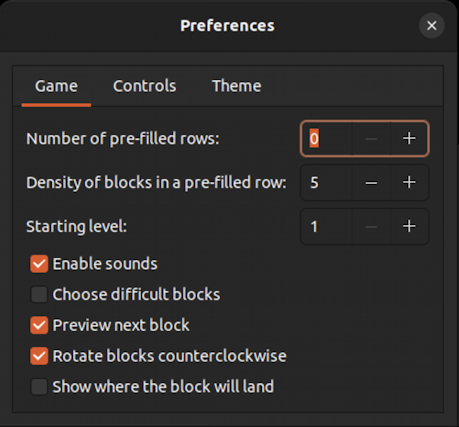 Lots to check out and try. In fact, I'm outta here because I haven't played Tetris in a while and now I want to see how many levels I can clear before I run out of space…
Pro Tip: I've been writing about Linux since the dawn of the operating system, and Unix before that. Please check out my extensive Linux help area for lots of additional tutorial content while you're visiting. Thanks!