I only use Safari occasionally on my Mac system, but every time I do, I'm surprised by what shows up in the new window and every new tab. How can I customize this New Window information on MacOS 13?
Safari is tightly woven into all of your other Apple apps, no question. From knowing what text messages you've received in Messages to the most recently visited Web pages, it can be a bit startling to open up Safari and see so much information displayed. If you don't use Safari a lot, this can be even more surprising: Where is it getting all that information from if you're not using Safari? The answer is iCloud. Turns out that not only does iCloud do a neat job of keeping all your photos backed up and your devices in sync, it also shares data between apps too.
Fortunately, you can enable or disable whatever you'd like in Safari, both through the actual blank window view and within the overall Safari app settings, as desired. You can also change the background wallpaper for the empty windows (if you even have one set) and much more. Let's check it out…
MAC SAFARI: DEFAULT NEW TAB INFORMATION
I have to admit that I don't use Safari on my Mac anymore, though I know that Apple keeps improving it, speeding up page loads, and adding slick enhancements. As a result, when I open up Safari on my Mac, I'm just like you, surprised at what it's showing:
The Favorites are based on what I've set in the Favorites area on Safari itself and can also be viewed by choosing View > Show Favorites Bar. The Shared with You is a bit surprising, however, as it's links from friends and family based on recent interaction in Messages. I had no idea Messages was sharing information with Safari.
To remove an icon from the Favorites grid, simply Control-Click on it: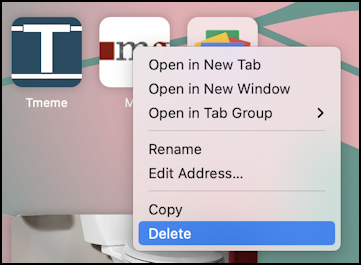 You can open that page in a new window, new tab, even a new tab group, rename etc, etc, as you can see. Or you can just get rid of it with "Delete", as highlighted. Note that this will also delete it from your Favorites toolbar.
CUSTOMIZE BLANK SCREENS IN SAFARI
To get to the main customization feature, click on the tiny three-horizontal lines icon on the lower right. A different menu appears with lots of options: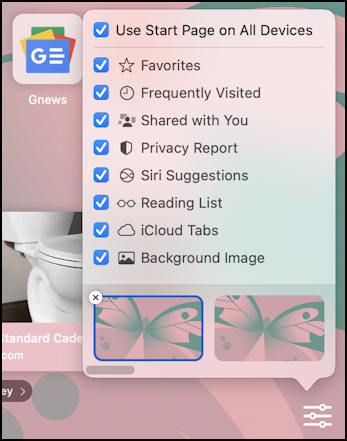 Notice you can disable "Shared with You" from this menu if you, like me, prefer not to have information from your text messages and chats appear in Safari. You can also get rid of Favorites, Frequently Visited, and just about everything else, resulting in a pretty blank view. iCloud Tabs is worth highlighting too: When you visit a Web page on your iPhone or iPad, it'll also show up on your Mac too unless you disable this.
You can also get rid of the background image on the blank windows too, if you prefer. A click and before you even close the menu the background changes on screen: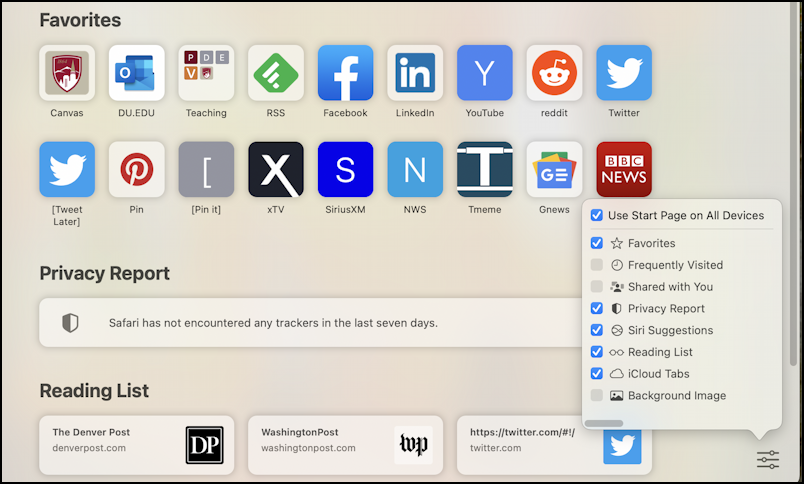 Truth be told, I kind of like the background image, though it might be time to change it from the pink and green colors to something a bit more pleasant. There are a very small number of choices, but you can try different ones to pick something that works best for you.
Ultimately, here's what I set up for myself: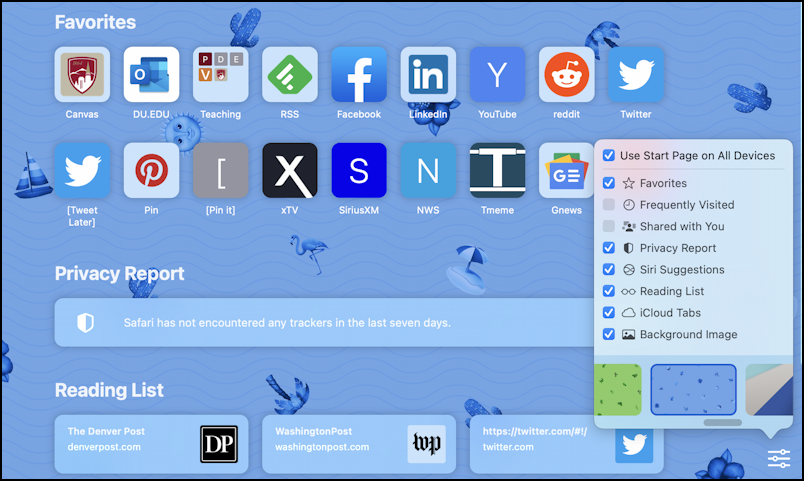 Looks good. But there's one more thing to consider while you're customizing your Safari experience…
SAFARI PREFERENCES FOR NEW TABS AND WINDOWS
Before you get back to work, open up Settings and make sure you're viewing "General" settings, like so: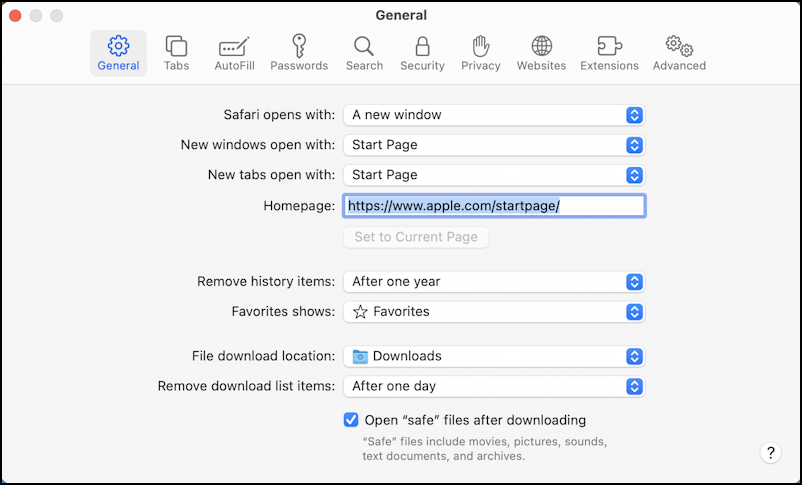 These don't change the color or icons shown on a blank tab, but they do let you decide if you want something more helpful instead. Perhaps the home page of your favorite publication or your company's intranet or even sports scores or stock market data. All easily done by changing any of the first three values. You can see my setup, yours might be quite different. Experiment and see if you can shave a few minutes off your day by having a frequently visited page appear as the default for new tabs, for example. Good luck!
Pro Tip: I've been writing about the Mac since the very first system was released. I even started my computing career using an Apple II. Please check out my extensive Mac Help Library while you're visiting. Thanks!