My computer still shows up on our internal network with the name of the previous person who was using it, which is confusing to my colleagues and annoying to me. How can I change the name of my Windows PC?
Generally speaking, it's surprisingly easy nowadays to change the name of your computer, whether it's a PC, Mac, or even Linux system. Heck, you can rename your tablet, smartphone, and smart TV too, if you really want to. With everything else improving and gaining flexibility with international names and non-English letters, however, PC computer names are still stuck with a very basic alphabet, one that would earn it a C- at best in password choosing school!
On a day to day basis, you rarely see the name of your own computer, however, so most people don't even know their PC name. In a business setting, this might also be centrally controlled by your IT or information systems department, so if the following doesn't work, you'll need to reach out to them for clarification and assistance.
I'll show you the process for Windows 11, but it's pretty similar if for some reason you're on an earlier version of Microsoft Windows…
HOW TO CHANGE YOUR WINDOWS PC NETWORK NAME
I like to refer to this as your system's network name, actually, since that makes it clear where it's going to have the most impact. To find where to change your PC name in System Settings, search for "rename" from the Taskbar:
That's the match: "Rename your PC". Click on it and you'll see your current name and have the option of changing your network name both: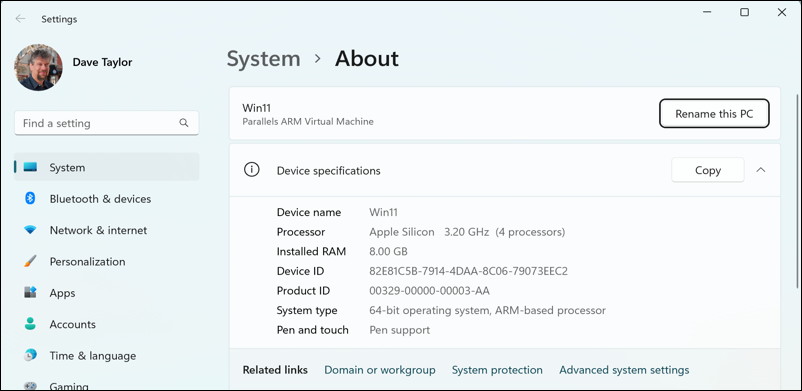 This offers a lot of information about your PC, as you would expect in a section labeled "About", including Device name (see, we can't seem to agree on the proper term!), processor, RAM, Product ID and more. On the top is the most important: The current name (mine is "Win11") and the summary system type (mine is "Parallels ARM Virtual Machine").
To change or rename your PC, click on the logically named "Rename this PC" button.
PICKING AN ACCEPTABLE NAME FOR YOUR WINDOWS PC
Once you do, this window pops up:
It's 2022 so I figure that spaces and other characters should long have been included, but when I try "Win11 ARM", well, here's what happens:
Okay, okay, I'll use "Win11arm" instead. That's acceptable to the system, so I get this after typing it in and clicking on "Next":

Not too difficult at all.
Deferred with the "Restart Later" and now want to get to the Restart your PC shortcut? No worries, it's accessible directly from the Start menu:
Restart, log in again and your computer has a new name. Shiny!
FUN WAY TO CHECK YOUR PC NAME FROM COMMAND LINE
You can go back to the "rename" search but a more interesting and really old school way to check your PC name is through the command line. Search for "cmd" and launch the Command Prompt, then type "hostname":
Mission accomplished. Now, about that space in the computer name…
Helpful Tip: I've been writing about Windows for many years and have an extensive Windows 10 & Windows 11 help area. Please check it out to find lots of additional tutorials and guides while you're here. Thanks!